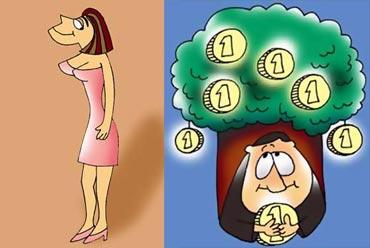 If you had a choice, what would you opt for -- money or good looks? Illustration: Uttam Ghosh

A survey has found that nearly a quarter of Americans would rather have a great body than be richer by a million dollars.

The survey by the Nutrisystem Diet Index showed that 22 percent of people would pass up on such a staggering amount of money to have their dream body for the rest of their lives.

It also found that Americans are attached to their favourite foods, with 45 percent admitting it would be more difficult to give up their favourite dessert than sex for
one month.
"These survey results help focus on where Americans can make improvements and hopefully serve as a springboard for Americans to take control of their health," the
New York Post
quoted Dr Bruce Daggy, a nutritional biochemist at Nutrisystem, as saying.
The Nutrisystem Diet Index analysed diet and other lifestyle behaviours based on a telephone survey conducted between February 22 and March 8 among 1,000 adults age 18 and over.