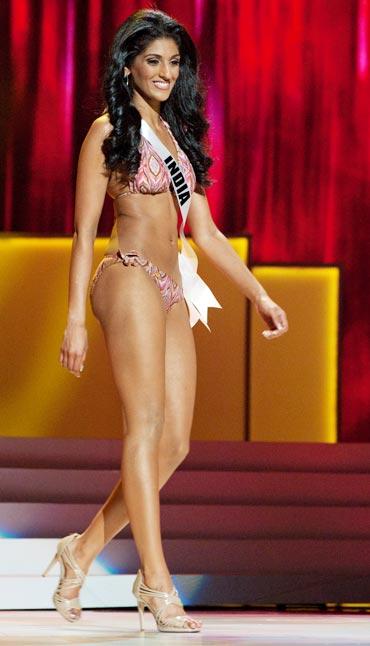 It seems our Miss Universe hopeful Vasuki Sunkavalli was left red-faced when her national costume failed to be delivered on time for a photocall at the pageant.

This one is definitely a puzzler.

With just a few hours to go for the Miss Universe 2011 grand finale, we are yet to spot a single photograph of Miss India Vasuki Sunkavalli in her national costume -- and it's likely we won't.

If the beauty's tweets are anything to go by, it seems that her outfit was held up by Brazilian customs authorities for a week. As a result, Vasuki missed out on the September 8 photocall segment, which sees contestants model their national
costumes.
A disappointed Vasuki tweeted: "u work so hard for something n u cant deliver for reasons not in ur control. my national costume was stuck at brazil customs for over a week".
While there's still no official word on why there was a hold-up, the leggy looker did manage to shine in the swimsuit round recorded on the same day, showing off her toned figure. Let's hope that makes up for our national costume no-show!
Image
: Miss Universe India 2011 Vasuki Sunkavalli, competes in Catalina Brasil Swimwear and fashion footwear by Chinese Laundry during the 2011 MISS UNIVERSE Presentation Show on Thursday, September 8 at the Credicard Hall in São Paulo, Brazil
Photograph: Patrick Prather//Miss Universe LP, LLLP