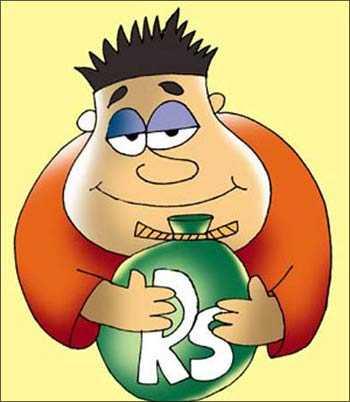 Rajiv Raj explains how you can get your financial life in order
Illustration: Uttam Ghosh/Rediff.com
Being financially healthy and secure is a must in unpredictable times of today or for that matter in stable times too! Obviously one needs to plan for making their future secure financially and if you have not done it already then the sooner you do the better it is.
Let us look at five simple steps that can help you do the same. The focus is not only to secure your financial future but to make it better than it is today.
Debt management
Most of us are likely to have debt in some form or another whether it is in the form of loans (education, auto, and home) or in the form of credit card dues. It is important that one manages her/his debt well; by debt management we mean not only paying the dues on time. It is important to review your debt position from time to time; check if it makes sense to repay some part of it earlier.
If the current interest rates are low then one can consider making a balance transfer after considering the cost versus benefit. Of course paying your dues on time is essential and not being over-leveraged is also so.
Delaying payment on credit cards can attract some huge fines and of course late payment charges. Being swiping happy is not good for your financial future so resist the urge to splurge.
Insurance is a must
For a secure financial future it is must to have the requisite insurance cover. Get the right insurance cover for health, life and all assets. Unpredictability is a part of life, while one cannot do much to alleviate the emotional distress that may accompany an unfortunate incident like an accident, health crisis or death of a loved one can be prepared to deal with it at least financially. Thus make sure you have an adequate insurance cover for your family, auto insurance is mandatory but take care to insure your home too. Last but not the least is getting the right amount of life cover so that in case of the absence of the sole or primary bread winner the dependants are left in a financial lurch. Assessing one's insurance cover from time-to-time is also recommended.
Have a investment plan
Ideally savings should start with the first paycheque one receives but better late than never. So in case you do not have a savings plan already in place it's not too late to start and if you already have one then better review it.
Keeping in mind the life stage you are and the responsibilities, one should formulate a savings plan. Just planning how much to save is not enough; depending on your risk appetite invest in debt, equity or mixed options.
Do not put all eggs in one basket; divide your investment among various classes and types of products. High risk instrument like equity give high returns while debt instrument are low risk and give lower returns.
Budgeting is important
Budgeting is an integral part of any financial plan; prepare a realistic and comprehensive budget.
Carefully consider your income flow and all expenses when budgeting and also keep in mind that amount you need to save every month; do have a contingency plan in place. Preparing a budget is useless unless one sticks to it religiously; thus it is important to have a realistic budget and not one which may be difficult to stick to.
Budgeting is a continuous process and not a onetime one; this does not mean on prepares a new budget every month but the budget must reflect the changing income flows and lifestyle too.
Have realistic financial goals
There is no point starting a journey unless you know where you are headed yeah unless you want to become a wanderer but that discussion is for some other time. So coming back to a better financial future, have realistic financial goals in place so that you can work towards them.
This will help you in budgeting and investment decisions and will also let you assess if you are on the right path and if some course correction is required. Have practical financial goals that are achievable, no point having huge ones if you can't meet them. Have long term as well as short term goals.
So get set and go! Get ready right away to start your journey to a better and secure financial future so that you do not find yourself face to face with a financial crisis.
The author is a credit expert with 10 years of experience in personal finance and consumer banking industry and another 7 years in credit bureau sector. Rajiv was instrumental in setting up India's first credit bureau, Credit Information Bureau (India) Limited (CIBIL). He has also worked with Citibank, Canara Bank, HDFC Bank, IDBI Bank and Experian in various capacities.