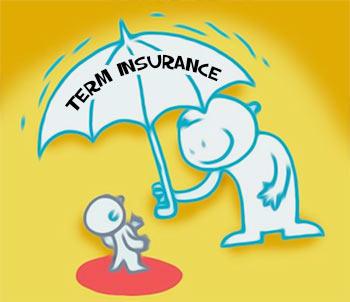 You can then reap the true benefits of a term insurance plan, says Harjot Singh Narula
Illustration: Dominic Xavier/Rediff.com
Term plans cover you for a contract period in return for the premium paid by you to keep the policy active. During the covered period, in the event of your demise, the insurance company gives a lump sum payout called 'sum assured' under the policy to your designated nominee or nominees.
But before buying a term insurance plan you need to know certain vital facts and information.
Term insurance plan is a long term contract and while purchasing the same it is important to avoid the following common and recurring mistakes at the time of purchase:
Mistake 1: Purchasing an inappropriate sum assured
Buying a sum assured which is not sufficient to take care of your family's regular expenses, family's long-term goals and objectives, family's liability and debts is of no benefit.
Usually, most of us wrongly choose a sum assured which is adequate enough to save our tax liability or whatever the agent suggests, rather than protecting our family's financial interest.
This mistake can lead to being either under insured or over insured, but not appropriately insured.
Also, the condition aggravates, if we do not consider the 'Inflation' factor. The future value of Rs 50 lakh policy will be minimised to Rs 28 lakh in 10 years down the line, considering 6 per cent inflation year on year.
How to avoid this mistake
It is important to find the future value of the sum assured, which is appropriate enough to take care of the actual financial requirement of your loved ones in case of your absence.
Jot down your financial household expenses, your debts, and liabilities like any personal loan, car loan, housing loan, your future goals like higher education of the children, their marriage expenses, etc.
The thumb rule says that you should ideally be insured at least 10 times your annual income.
There are online calculators which could suggest an ideal sum assured to be opted under a term plan. You may also consult online or offline financial experts to gain more insight. It is important to accommodate the inflation element as well before you finalise your term insurance sum assured.
Mistake 2: Opting shorter policy tenure
Since term insurance plan does not offer any return on the completion of the term as maturity benefit, many of us opt for a shorter policy term.
Covering your life for a shorter time period is another blunder which many of us make.
Suppose, if you are 30 years of age, and you opt for a 10 year policy term, and fortunately you survive the policy term. Your policy will mature when you are 40 years of age.
This 10-year term is the tenure when the risk is lower. But when you turn 40, you are ideally left with no cover when you need the most.
The financial risk and liability are at the highest during the 40s. Also, at 40 if you intend to buy a policy it will cost you much higher than the premium you paid for the term policy at 30.
Also, you may be denied a term policy if you have acquired any medical conditions in the best of your health at that time.
How to avoid this mistake
Consider the number of years in which you anticipate all your listed present and future financial goals, objectives, debts, and liabilities will be accomplished.
You should be adequately insured for that specific time period till the time you have the majority of the financial liabilities on your shoulders. Another advantage is paying a level premium throughout the policy term.
Example: Suppose you have taken a policy when you are 30 and have opted for a 30-year policy term. For the entire 30-year policy term, you will be charged with the same amount of level premium and most of your financial goals and liabilities are accomplished.
Short term investment in term plan is of no use. Rather it is advisable to opt for a longer policy term under the term plan to avoid financial risks.
Mistake 3: Providing wrong information or not filling the proposal form yourself
Giving wrong information in the proposal form regarding your age, smoking details, medical condition, family history, other insurance details, etc. is the major mistake.
Any wrong information can lead to rejection of your claim filed by your nominees in case of your unfortunate demise. Life insurance is a legal contract, which is based on the Principle of 'Utmost good faith.' A breach of contract will make the life insurance contract null and void.
Mostly, we allow the agents to fill the proposal form and do not bother to check the details of the form, assuming them to be correct. This mistake can seriously land your loved ones in trouble at the time of claim.
How to avoid this mistake
Gather all the relevant information which needs to be disclosed in the proposal form. Don't misrepresent or hide any factual information.
It is advised to fill the proposal form yourself and read the fine print carefully before submitting the proposal form.
Mistake 4: Not comparing the term plans before buying
It is the most common mistake people commit before making a final decision of buying a term plan. There are numerous life insurance companies offering the term plans.
Not comparing the plans may not fetch you the best term plan as per your requirement and need.
How to avoid this mistake
It is imperative to compare the term plans online as it is less time-consuming and hassle-free compared to doing it offline.
Online comparisons will enable you to compare the cost or premium of the plan, key benefits, policy coverage, exclusions, etc. Do compare and make a prudent buying decision.
After all, it is a long-term decision which cannot be left at the mercy of agents, friends or relatives.
Mistake 5: Mixing investment and insurance
The basic human trait is to get something in return fir what you are paying. The same holds true with term plans too.
Most of us consider term plans a sheer waste as it does not give anything in return at the completion of the term. There are term plans in the market which offer maturity benefits and the insurance company returns all the premiums paid back to the policyholder if the policyholder survives the policy term.
To get the invested money back, some of us might purchase the term plans offering maturity value.
How to avoid this mistake
It is prudent not to mix insurance with investment. There are other financial investment tools which can be opted for the purpose of investment.
Also, the term plan with return of purchase premium comes at an enormous cost. The cost of such plans is far more than plain vanilla term plan.
It is advisable to opt for a pure term plan to avail large sum assured at low cost. Make your financial portfolio in a way that clearly distinguishes between investment and insurance to gain long term benefits.
Harjot Singh Narula is founder and CEO, ComparePolicy.com