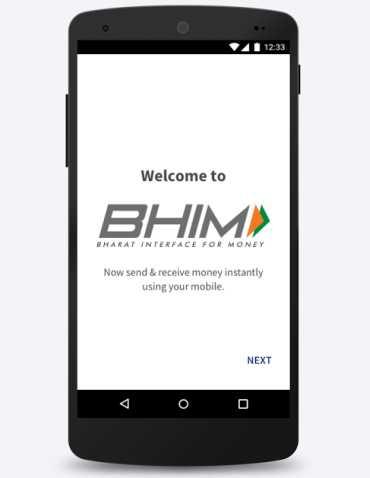 Tripti Rai explains the unique features of Bharat Interface for Money (BHIM) app developed by the National Payment Corporation of India.
Announced in December 2016, the BHIM App has become a nationwide hit, proving that the government initiative to make India Digital has been well received.
The app operates like every other online payment apps in the market. But there are some features that differentiates it from other e-payments apps. These are:
1. BHIM app is an advanced app with an auto tech mechanism. In case your phone fails to see the auto-generated OTP, you can also enter the OTP yourself, without having to wait for your phone to read it.
2. The app logs out mechanically after 90 seconds when it is not in use. It secures any misuse of your account in your absence or when you have given your phone to someone to use, forgetting to log out.
3. The app lets you make direct transactions from bank to bank without having to load any money from some third party source that again saves your time while doing online transactions.
4. Unlike debit cards, credit cards, or other digital cards, the app does not need any swiping machine or POS terminal to transact money. An easier payment feature, that has been discussed later, is going to be implemented this month.
5. As far as the transaction history and notifications go, you will get a flash message of all the failed and successful transfers on your device's screen. This notification service will also be given to you through SMS.
6. Inspite of moving from your current mobile operator to other operator, the app functions without any interruption. The feature gives one relief when switching from one SIM card to another.
7. While all the digital payments app have a limit on number of transactions that you can do, there is zero limit on money that can be transacted through the app.
8. One of the most secured feature of BHIM is that it lets you transact only when you have set up an UPI PIN. To set the PIN, you have to put in last 6 digits and expiry date of your card.
So the BHIM app has you protected through a three-way lock system: phone lock, app lock, and the app PIN.
Made available in iOS earlier this month, BHIM App, developed by National Payments Corporation of India, is seeing a new rise in its current 50,000,000 number of downloads.
Along with all these features that differentiates it, the app is going to see another feature by this month end to make it easy for everyone to make payments online without having the need to remember passwords and pin numbers. Here's a little more about it…
Coming out on April 14, Aadhar Pay is designed especially for merchants to receive e-payments only with their Aadhar card number.
According to an NPCI official 20 of the major banks are expected to get on board with implementing Aadhar Pay in their current BHIM app.
The technology helps people to make payments even if they don't have any devices. All they need is a bank account that is linked to their Aadhaar card and they will be able to make payments by using their thumb impression as authentication.
As for the merchants, they will have to pay the respective banks a merchant discount rate that has been kept at 0.25 per cent of the total transaction amount.
Tripti Rai, presently associated with ChromeInfotech Technologies, a leading mobile app development company, has been writing on both technical and non-technical aspects of the world for the last three years