Installing some safety features is one of the steps you can take towards lowering your car premium, says Naval Goel.
Illustration: Dominic Xavier/Rediff.com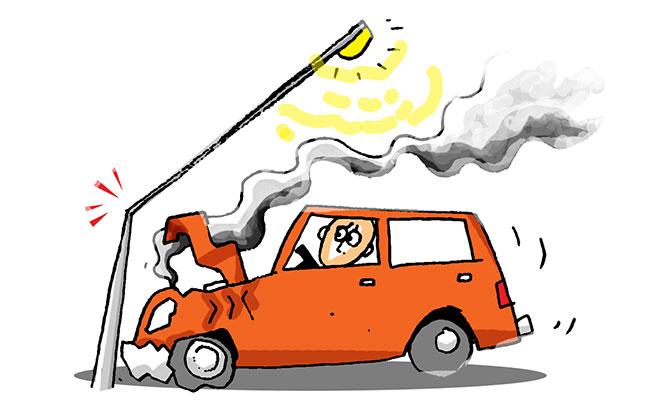 As is commonly understood, auto insurance is brought to avail protection for your car.
It saves you the trouble of worrying about spending from your own pocket in case of a mishap or an accident or any damage caused to a third party.
In return, the insurance companies need you to pay a fixed premium for the peace of mind that they offer through their products.
Your attitude towards driving safely also determines the amount of premium that you have to pay.
Your car, without any doubt, is one of your most valued possessions but simply insuring it does not makes sense to your insurance company.
Insurance companies share the responsibility, that is, they want you to be equally responsible for your car.
They expect you to take care of it in a smarter manner which goes beyond just acquiring insurance.
How does safety features bring down the premium rate?
When you approach a company to get car insurance, it considers various factors like your gender, age, the locality in and around where the car is to be driven, your car's make and model etc. But it also takes into account the safety level you maintain for your car.
It examines how each feature you have added to your car saves it from collision or from injuring you or the other passengers.
The insurance company while factoring in other aspects of your driving gives rating to each safety feature and then determines the premium rate.
Insurance companies do so because they want to bring down the possibilities of accidents as much as possible so that they do not need to entertain claims regularly.
The types of safety features installed in your car determine the level of safety for you along with your car as well as the risk perception in the view of your insurance company.
The better the safety features the more are the chances of no-claims or reduced number of claims. And lower possibility of claims means lower premium rate or higher discounts for you.
In India, cost is the primary factor for many while deciding to buy a car. Because of this reason, either the manufacturers refrain from installing high-end safety features like airbags or buyers refrain from buying cars with such features because such features mean higher price. But nonetheless such features are meant to protect you.
Let us explore some of them and see what you can acquire to make your car safer.
Airbags: These are meant to save your head and chest from colliding into dashboard or frontal objects in your car. They drop from steering wheel and door linings in case of a major crash.
Anti-lock brakes: These are useful when you suddenly want to apply brakes. Anti-lock brakes help prevent skidding of tires by maintaining traction between them.
Anti-theft device: Anti-theft device like security alarm protects your car when somebody tries to break in your car.
Electronic stability control: Similar to anti-lock brakes, this feature helps to prevent the car from spinning and sliding out of control.
Safety alerts like reversing sensors and cameras: This feature comes handy when an object is too close to your vehicle and can cause a crash.
Automatic headlights: They turn on automatically while driving through low light conditions.
They are helpful especially when the car is crossing the area that has dim or no lights.
How much can you save?
In India, discount of 2 to 5 per cent can be availed on your annual car insurance premium if you have installed any of the safety feature mentioned above.
It has been noticed that people are constantly on the lookout for cheaper insurance policies. There are many ways to lower your auto insurance premium rate but the best way is to add safety features to your car.
It not just brings your premium amount down but it also ensures your safety while driving your car and that is eventually what you are looking for. Isn't it?
Note: You need to mention the safety features added while buying car insurance policy to avail lower premium amount.