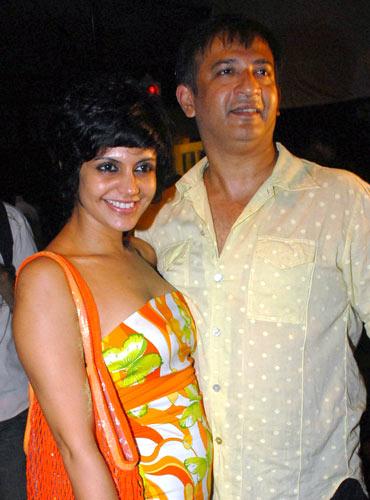 With 11 years of marital bliss, celebrity couple Mandira Bedi and Raj Kaushal will soon be giving 'Guru Gyan' on perfect relationships to Delhiites.
The die-hard romantic couple, who married on Valentine's Day, will soon be talking about the secret of their successful union on Big FM's new show Thoda Personal.
Raj, a producer-director, believes there is much more to a relationship than romance and says that a little bit of sensitivity and respect towards a partner can work wonders for a relationship.
"Today people are in so much stress. There are demanding professions and equally demanding relationships. So it is good to have people who can say 'we have been there, we can tell you' and that is where we come into the picture," Raj told PTI.
And the biggest mantra according to the filmmaker is 'Smile and Listen'.
"Smile often at your spouse and listen often to your spouse. If you have had a hard day and come home with a frown it is disturbing for the other person who has been waiting at home to see you. So smile… something like 'I have had a bad day but I am glad to see you at the end of it all'," Raj added.
Mandira, who admits to being hyper and impatient at times, seconds her husband's Guru Mantra saying that his patience has been crucial in their togetherness.
"He is a very good listener that is why we have such a good marriage. I think in a marriage you cannot have two people of exactly the same personality because that never works. So the two need to balance each other out. I think if we have lasted all these years it is because of his patience, because I don't have any," Mandira said.
When asked if Raj never fights, the model-actress said, "Of course he fights and he loses sometime and he has issues, but basically he is a very calm person by nature."
And what is that one thing that Mandira adores in Raj?
"The fact that he loves helping others no matter what. He is a guy with a good heart and believes in good karma. It is rare you find such people these days and I am just too lucky."
The couple is also planning to add a new member to the family. "Having a baby is beautiful. We have all the intentions to have a family soon," Raj said. "But I think it will happen when it is really meant to," Mandira added.
The filmmaker is busy with ad films these days while Mandira is happy doing shows around the globe and reading some Bollywood scripts.
Photograph: Pradeep Bandekar