ASUS ROG GT51CA Pascal is a beast of a PC, discovers Abhik Sen.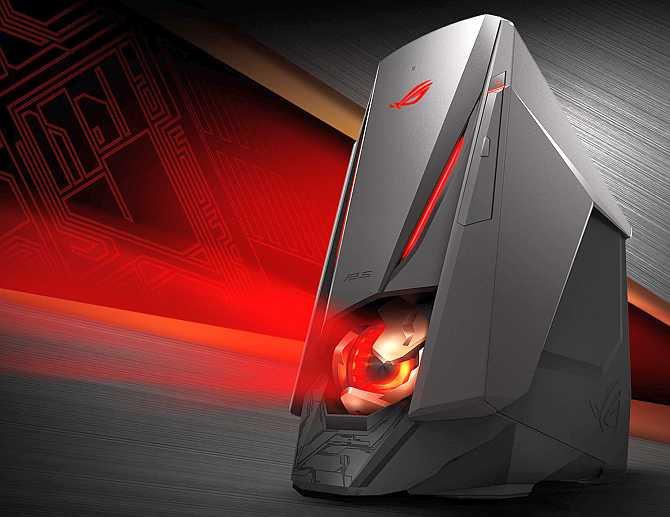 This year, Christmas came late.
Well, that's what my wife said the first time I turned on the ASUS ROG GT51CA Pascal (Rs 3.3 lakh) in a dark room.
With its flashing lights, customisable lighting and glowing innards, this monster gaming PC does manage to light up any room.
The massive 23-kg chassis looks good (if you like things bold, that is) though if you're bringing the beast home, please ensure you've the space to house it.
Now, the GT51's beauty isn't just skin deep.
Powered by an unlocked Intel Core i7 6700K at 4 GHz and a whopping 64GB of RAM, this beast is ready for anything one throws at it.
The review sample came with a 500GB primary and 3TB secondary storage.
And gamers, this PC's graphics are powered by two NVIDIA GeForce GTX1080 cards running in SLI.
Salivating, I turned to AOC's latest range of gaming monitors, the AGON X Series (starting from Rs 29,000), which supports a whole lot of bells and whistles, besides 4K.
I switched on the PC, the front air input lighted up like Iron Man's Arc Reactor, and I was logged into Windows 10 Home in a jiffy.
Next, I logged into my Steam and Origin accounts in the quest for gaming glory.
My tools of trade were Middle-earth: Shadow of Mordor, Crysis 3, Battlefield, Rise of the Tomb Raider and The Division.
As I burnt rubber, slashed through enemies, explored new worlds, undertook boss battles and tried escaping from a maze of enemies, one thing became clear: This rig was the ultimate pre-built gaming system available in the market now. Why?
That's because I cranked up the settings, yet didn't drop a frame; indulged in multiplayer gaming without lags; and attained aural nirvana while playing the games.
Also, overclocking (OC) isn't left to geeks anymore as one could enter OC mode by pressing a button on the chassis. And the cooling system is good enough to ensure the PC isn't fried.
Through it all, the AOC monitor played along.
The GT51 also bundles an NFC-enabled band, which unlocks a secret partition on the hard drive. One can also use this band to enter OC mode.
Also, the bundled mouse, with customisable weights, is a very capable one, comparable to my battle-weary Logitech MX518.
The mechanical keyboard is a treat to play and type on but doesn't feature any special keys.
The GTX1080 supports VR, but I didn't have a headset around to check this out.
The ASUS ROG GT51CA Pascal is the best pre-configured gaming rig you can buy now. But you need deep pockets for that.