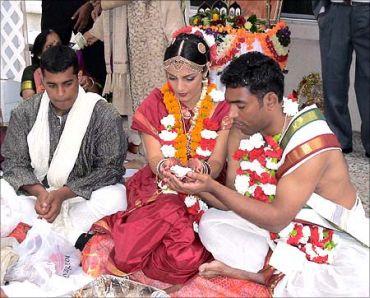 Share stories of how you met your spouse and interesting anecdotes about your wedding day!

Here comes the bride...all dressed in white...

Come to think of it, how did she come into your life?

It's the wedding season and as couples everywhere are sailing down the aisles left right and centre, we thought you might like to tell us how you got there.

Where did you meet your spouse -- on a matrimony site, at a party, on the seat next to yours in an aircraft?

How did you hit it off? Was it love at first sight?

We want to hear your love story. And what came after! Even funny or interesting anecdotes about your wedding day are welcome --
perhaps a grand aunt got a tad tipsy on the wine, or your best man tripped up as he tried to hand you your rings?
Share your romantic experiences with us! Write in to getahead@rediff.co.in (subject line: 'My love story') along with a photograph of you and your spouse if possible and we'll publish the best entries right here!

Just make sure you include the following information:

Where and how you met your partner

When you shared your feelings for each other

An interesting incident from your weddingPhotograph: Rediff Archives