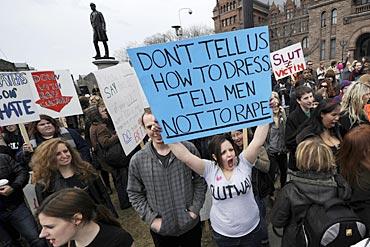 If a woman is dressed provocatively, it doesn't mean that she's inviting you to bed her, does it? Vote and tell us what you think!

A single comment by a Canadian police official has sparked off protests across that nation and the world, with women up in arms about the way they dress -- and now it's coming to India.

When in January, Constable Michael Sanguinetti stated in a Toronto-based safety forum that "women should avoid dressing like sluts in order not to be victimised", it created an uproar.

Three months later, the city saw its first 'SlutWalk' protest, with over 3,000 women taking to the streets in a march "against the belief that any aspect of a woman's appearance might explain or excuse rape".

Holding signs that read 'Sexy is NOT an invite for rape!' and 'Believe it or not, my outfit has NOTHING to do with YOU!' and chanting slogans, protesters in both ordinary and provocative clothing made their way to the Toronto Police Headquarters.

While Constable Sanguinetti apologised for his comment, it hasn't deterred people in other nations across the globe from holding similar 'SlutWalk' protests to express their solidarity --
New York, Los Angeles, Mexico, London, Stockholm, Johannesburg and Melbourne, to name a few.
And now, New Delhi will join the ranks next month. Over 4,000 Facebook users have pledged to participate and the rally in the capital promises to make a mark.
It's hardly surprising that New Delhi is the first Indian city to jump on the bandwagon, considering that it is considered one of our most unsafe for women; a quarter of all rapes that occurred in India last year were reported there.
While opinions are divided as to the method of protest and its effectiveness, New Delhi's SlutWalk seems to be well on track and the media is all set to document history in the making.
Tell us -- does the New Delhi SlutWalk have your support?
Photograph: Mark Blinch/Reuters