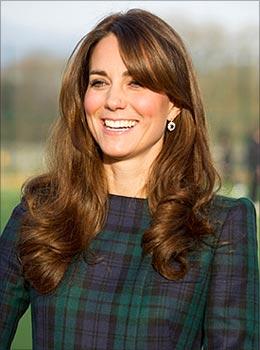 The Duchess of Cambridge is currently in hospital coping with a pregnancy condition that is not dangerous, but certainly unpleasant. In a bid to educate others about such little-known pregnancy complications and side-effects, we invite readers to share similar experiences.

Prince William and Kate were planning to keep the happy news that they are expecting a child private, until the Duchess was at least 12 weeks along in her pregnancy.

Unfortunately, the royal couple were forced to issue a statement announcing the impending arrival yesterday because Kate was suffering from a rare and severe form of morning sickness termed 'hyperemesis gravidarum', a condition that brings on acute nausea, sickness and vomiting.

Women with HG tend to lose weight, feel tired and dizzy and can have trouble retaining any food or fluids, which in turn leads to dehydration.

If the symptoms are severe, like in the case of the Duchess, hospitalisation is necessary in order to treat dehydration with
intravenous fluids and reduce the risk of nutritional deficiencies to both mother and child.
As a direct result of the fact that a public figure and celebrity like Kate is suffering from HG, a lot of information about the condition has come to light in the news.
So, in an attempt to share pregnancy-related health information, we want to hear from you.If you've suffered any complications during pregnancy other than the usual complaints of morning sickness and tiredness, please write in to us.What condition did you suffer from? What were the symptoms? Is it a common side-effect of pregnancy that not many women know of? How did you cope with it/recover from it? What was the outcome of your experience?Write in to us at getahead@rediff.co.in (subject line: 'My pregnancy problem') and we'll publish the most informative entries right here.Photograph: Arthur Edwards - WPA Pool/Getty Images