Veer Arjun Singh visits the eatery that began as a teenager's humble push cart and only 4 kinds of eggs.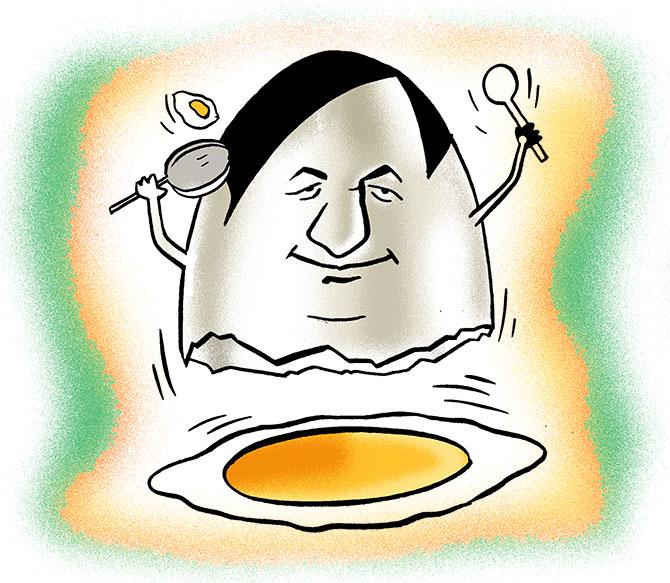 Illustration: Dominic Xavier/Rediff.com
Back in 1989, Rahul Mehra was at a crossroad that would shape the rest of his life.
His single mother suffered from a chronic allergy and could not fend for her children anymore. She told her son to choose between three meals a day and education.
Mehra, at the age of 16, was an average student with no specific skill set. Yet, he braved to find a midway.
In Class 8 then, he decided to attend school in the day and work in the evenings.
With his mother's modest savings, he bought a pushcart, a pan and some eggs, and started whipping the eggs on a busy street in North Delhi's Ashok Nagar.
From what he had learned from his mother in the kitchen, Mehra started with an oral menu of four dishes: Boiled, poached, half fried and the special omelette.
The customers who stopped for an evening snack on their way back home became regulars and Rahul Eggs came into being.
Skip to 28 years later: Rahul Eggs, now at Lawrence Road, still serves only egg dishes, albeit with some moderations.
It has been reviewed by over 500 people on Zomato and rated among the best eateries in town, and received many customer choice awards.
The teenager, who used to whip eggs in four different ways after school, at 44, now makes over 300 egg dishes.
The little street-side pushcart manned by one has turned into an eatery, serviced by a team of cooks-cum-waiters in red T-shirts and overseen by Mehra and his cousin.
How does one learn to make over 300 types of eggs?
In the pre-Internet era of the early 1990s, Mehra says he corroborated his raw ideas through magazines like Grihshobha (still in print).
He would save money to visit other hawkers and restaurants to try their egg dishes, spice it up with his ideas, and experiment on his regulars.
He kept adding to the menu the dishes approved by a majority of them.
Mehra's exhaustive egg menu divides the dishes in categories that are reminiscent of different eras.
For instance, the 'Monako' variety is inspired from the Monaco biscuits advertisement in the early 2000s that suggested topping it up.
The variety has a French toast as its base, mounted with boiled egg, chicken and chopped vegetables and condiments in different variations.
A few years ago, a Sikh man had been the subject of Mehra's experiments. His love for a dish that he said reminded him of the spicy Punjabi food in Jalandhar started the hugely popular 'Jalandhari' variety.
The latest additions have been inspired from Chinese dishes and tandoori flavours.
The 'water' variety, in which the eggs are cooked in water, are oil and fat free.
A few names such as the PCO and the PCM on the menu are crafted to start a conversation with the host.
Most of Mehra's recipes may be self-explanatory, but the unique taste is a closely guarded secret.
A house spice, a blend of many, is specially prepared by an employee at Mehra's home.
Though men in his staff, most of whom have been provided lodging by Mehra on sharing bases, claim to have prepared almost all dishes, Mehra says the ingredients and the exact recipe stays within the family.
On the menu are never-ending choices, but at the heart of Mehra's business is his customer relations.
Karan Panjrath, a 28-year-old software engineer who loves the experiments and the quick service, is now a regular.
But nothing compares to the loyalty of Sanjay Khatana, a property dealer, who hasn't yet tried all the dishes in his 20 years of association with the eatery. He alternates between his usual 100.
---
Recommended for YOU