Almost a year after it declared a ban on nude covers, Playboy is back to nudity!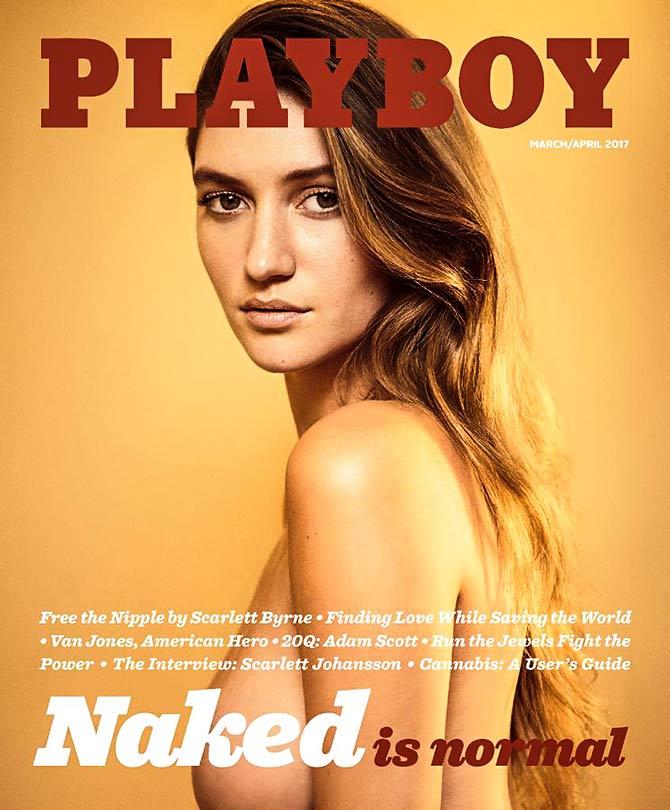 IMAGE: Elizabeth Elam sizzles in Playboy's latest cover for March-April 2017.
Photograph: Kind courtesy Playboy/Twitter
In 2015, American magazine Playboy hit the headlines when it announced that it would no longer feature nudity.
The January-February 2016 issue featured Pamela Anderson as its 'last nude model'.
The decision, the magazine said, was a conscious effort to stop the rise of Internet pornography.
While some of its readers thought it was a brave move, there were those who felt the decision would affect its 'Playboy' image.
From the time it was founded in 1953, the magazine has been hugely popular for its nude and semi-nude photographs of models and actors. From Naomi Campbell to Cindy Crawford, Playboy has featured them all.
In fact, readers will never forget the centrespread image of a nude Marilyn Monroe posing for the magazine's first issue, published in December 1953.
Playboy broke the news on Twitter after posting a photograph of its forthcoming cover featuring model Elizabeth Elam in the nude.
The March issue of the magazine is titled Naked Is Normal and features Free The Nipple by Scarlett Bryne among its top stories of the month.
The decision to feature nude photographs again was taken by Cooper Hefner, son of Playboy founder Hugh Hefner, after he took over as chief creative officer at Playboy in October 2016.
'Nudity was never the problem, because nudity isn't a problem. Today, we're taking our identity back and rediscovering who we are,' Heffner told The Telegraph (external link).
Dear readers, what do you think of Playboy's new cover?
Do you like the new pin-up Elizabeth Elam?
Take the poll below and tell us.