Indian fashion, mostly, has been either inexpensive streetwear or wedding wear lacking elegance Varana brings.
Kishore Singh drops by the brand's flagship store on London's iconic Dover Street.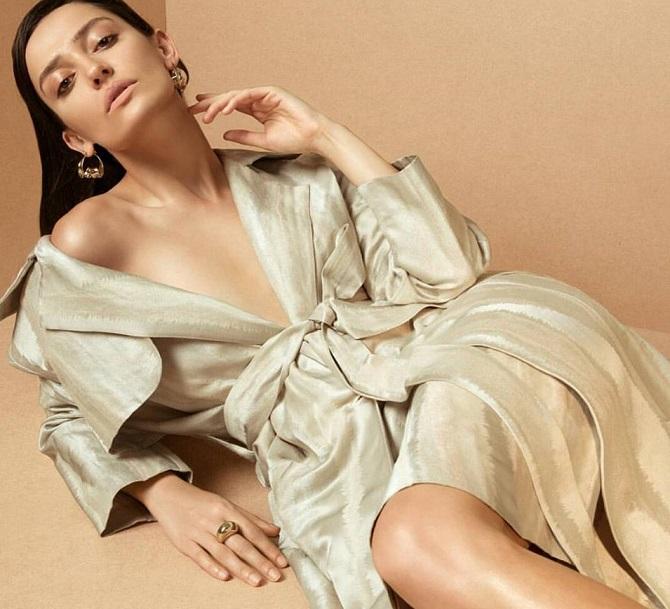 Varana's bespoke silk jacquard trench coat. They get their mix of East and West right to create the hush-and-whisper of luxury deserving of India's heritage.
Photograph: @varanaworld/Facebook.
The Arts Club on Dover Street is so toffee-nosed about its members-only policy that the top-hatted gentleman in tailcoats at its entrance probably wouldn't let the Queen past without inspecting her credentials. So, when India's leading collector arrived as a guest who hadn't been signed in, the British stiff upper lip curled imperiously in an attempt to deny entry.
It seems old-fashioned enough to have passed into Wodehousian lore, but is chugging along fabulously and has a cultic following among curators and collectors keen on a membership.
Directly across its discreet entrance in the posh Mayfair district, a bunch of us stood biting into our store-bought strawberries at Wimbledon time last year, peering into the Alexander McQueen store, till an assistant decided to put us out of our misery and invite us in. Were we looking for something in particular?
A single gown on a mannequin occupied one level of the building spread over four floors. Clearly, we weren't interested in its gorgeous feathers and frills. But the store itself was the focus of our attention. The curving staircase, the silk encased walls, the frontage with its bay windows, the elevators and office rooms and loft right on top that could be used as a service apartment.
Over the next few days, we turned up on several occasions, clicking photographs, quietly measuring spaces while trying not to annoy the staff.
Brexit had been announced, property prices were crashing, there was a sense of despondency in the air to which we hoped to add a little cheer by leasing the building to open India's most extraordinary art gallery bang opposite the institution we hoped would prove its greatest benefactor.
Months passed, there were occasional requests for paperwork, and then silence. A deal was being brokered, we were informed, let time bide itself.
Unfortunately for us, when news did come, it was that the property had been leased to someone else.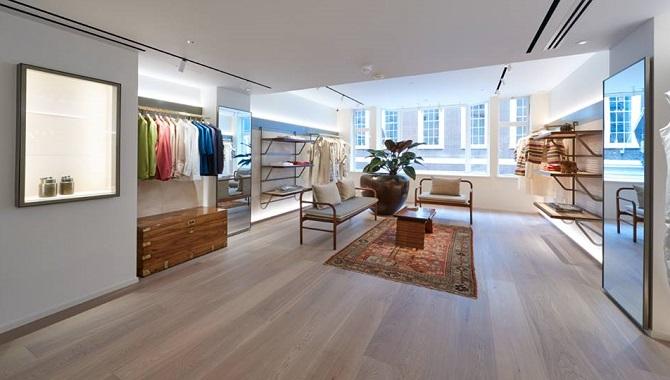 The flagship Varana store on Dover Street -- which is speckled with brands such as Victoria Beckham, Jimmy Choo, Christian Louboutin, Aston Martin and Acne Studio -- is spread across four floors.
Photograph: @varanaworld/Facebook.
In the crashing misery of our hopes, we failed to register that it was -- at least -- another Indian company that had claimed the space.
A new store, Varana, was to open. Something to do with Indian heritage and fashion. Really, we thought, what a waste of opportunity. Of course, we're chewing on our own bitter thoughts and eating our acrid words.
It'll be just another kitsch store, I consoled my colleagues, such a tragedy, really. Because Dover Street is speckled with brands such as Victoria Beckham, Jimmy Choo, Christian Louboutin, Aston Martin and Acne Studio. A higgledy-piggledy Indian fashion collection was hardly the kind to curry favour in this neighbourhood.
And so, when I met one of its promoters, Sujata Ray-Keshavan, I couldn't resist asking her what Varana had that was exceptional.
"India has so much to offer the world which is unique and rare. We have rich and deep traditions of art, craft and design that go back several thousand years. No other country can match the extraordinary weaving, printing, dyeing and embroidery techniques of our textiles. Yet, we had no brand that showcased these amazing things to the world," Keshavan said.
Nada, nada, nada, I thought to myself, they probably do Jaipuri kurtas and gypsy skirts and other ethnic jazz and pass it off as designer wear.
Could they even afford to pay the rent with that bourgeois trendy pop?
That's when Keshavan hit me, straight between the eyes, with how much their garments cost: £2,500 for a cashmere coat with brocade lining; £10,000 for a hand-painted and embroidered pashmina shawl.
Oh, look, that's just my scepticism seeping away...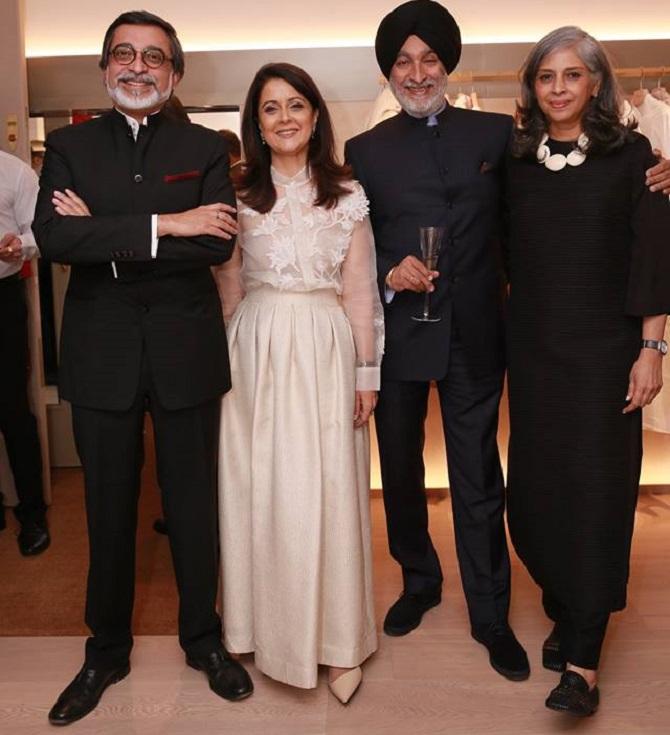 Varana's founders -- Ravi Prasad (left), Meeta Malhotra (second from left), and

Sujata Ray-Keshavan (right)

-- with Analjit Singh (second from right), founder of Max Group & Leeu Collection at the launch party.
Photograph: @varanaworld/Facebook.
To start at the beginning then, Sujata Ray-Keshavan, Ravi Prasad and Meeta Malhotra co-founded the design firm Ray+Keshavan in an old Bengaluru bungalow and went on to blow the design world's equipoise by winning every design award there was to be won, and then some, before the company was acquired by WPP.
Ravi Prasad went on to head the Himalaya Drug Company, and Meeta Malhotra is advisor to several companies. But, together, they still think like a team.
"In a very idealistic way, we wanted to say to the world, 'Look, look, see what we can do in India'." (Yes, I wanted to tell her, that's what we wanted to do too, only with art, not fashion, but hey, you got there first.
Varana is everything that celebrates "showcasing the highest quality craftsmanship that India has to offer", but hasn't done before at a brand level.
The co-founders realised that if they were to win hosannas in the world's toughest market for fashion, they had to get their mix of East and West right to create the hush-and-whisper of luxury deserving of India's heritage.
"We have a mix of international and Indian designers," Keshavan told me. "Our garment designers and pattern cutters are from Italy, France and Japan, while our textile and graphic designers are all from India. The textile designers are all trained at NID [National Institute of Design], and are very familiar with Indian craft techniques pertaining to weaving and printing. We do not have the skills to design complex, highly engineered luxury garments in India, so we work with people from France and Italy who are masters in the design of luxury garments. The collaboration of this multicultural team leads to rich and interesting results, very new for both India and the world."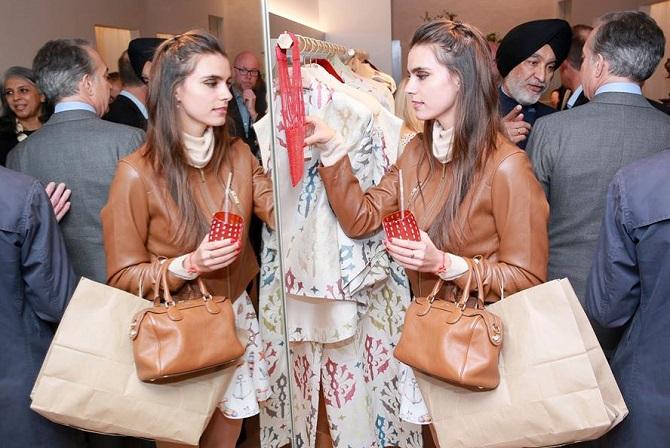 Actress Lara Heller takes a look at Varana's collection.
Photograph: @varanaworld/Facebook.
Indian fashion, for most part, has been either inexpensive streetwear or Indian wedding wear lacking the elegance that Varana brings as a brand.
"I used to wonder why there were hardly any customer-facing Indian brands to be seen in the world despite the fact that India had a sizeable export market and that we made a great deal of stuff as private label for Western brands," Keshavan said.
Varana, her response to that, retails from a William Russell-designed interior. Characterised by fine fabrics, clean lines and beautiful cuts, customised right from the making of the fabric to the styling of the garment, it emphasises craftsmanship, something India understands and the world heeds.
The top-hatted gentleman in tailcoats across the road has been more welcoming of Indians lately. Care to wonder why?