'There are many girls in my village who can't do even half of what I have achieved; not because they don't have the talent, but due to the resistance they face from their families.'
Three young designers from Kutch -- Lakshmi, Tara and Tulsi -- make their mark on the LFW runway for the first time.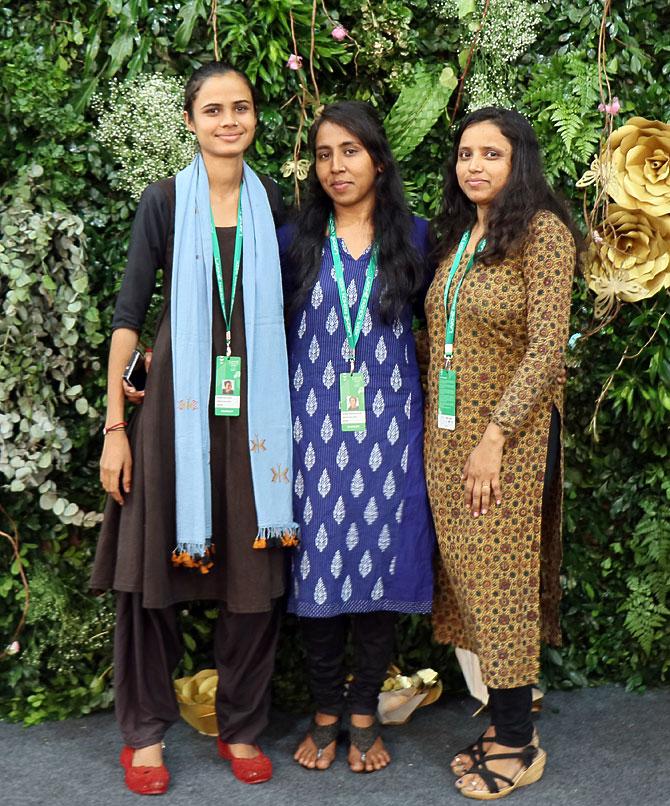 IMAGE: From left: Tara, Tulsi and Lakshmi. Photograph: Rajesh Karkera/Rediff.com
While people raved about the outstanding saris, which were part of the collection, it was hard to ignore the background of these girls.
None of them have studied above Class 7.
All three come from a village where women are expected to cover their heads with a ghungat, when they step out.
Their only education is the one they got at Somaiya Kala Vidya where they were introduced to the basics of design.
With no design degree from a fashion school, no financial backing, these three young women decided to stop making garments for their NGO and start their own business.
Just so that they could experience the thrill of being independent.
Rediff.com's Anita Aikara talks to Tara, Tulsi and Lakshmi about their journey and starting a business from scratch.
The LFW experience...
Lakshmi: We have come here thanks to our school, Somaiya Kala Vidya, and under the guidance of Judy Frater, who has guided us in creating some outstanding saris and garments.
We have just started, so we insist our customers to give us feedback.
This is our first time at Lakme Fashion Week, so we need to know what people think about our creation.
It helps, as we can design our clothes accordingly.
Good feedback also helps boost our self-confidence.
Every time, we see someone buying something from our stall, our heart leaps with joy.
How did you get introduced to your traditional art and craft?
Lakshmi: We are traditional artisans.
We learnt the traditional craft watching our mothers and grandmothers sew.
I got interested in designing when I was working with an NGO. I used to wonder what is the value of my craft in the market.
For a stole, we used to invest time on a daily basis and just earn Rs 600.
Our work involves the counting stitch, which means we have to literally count every stitch.
That was a huge task and used to strain our eyes too.
Tulsi: Girls in our village are not allowed to go out and have a career.
So the women in the village get involved in the traditional art and I have learnt from them.
We used to work for an NGO, but had no satisfaction as we didn't know what they did with our products.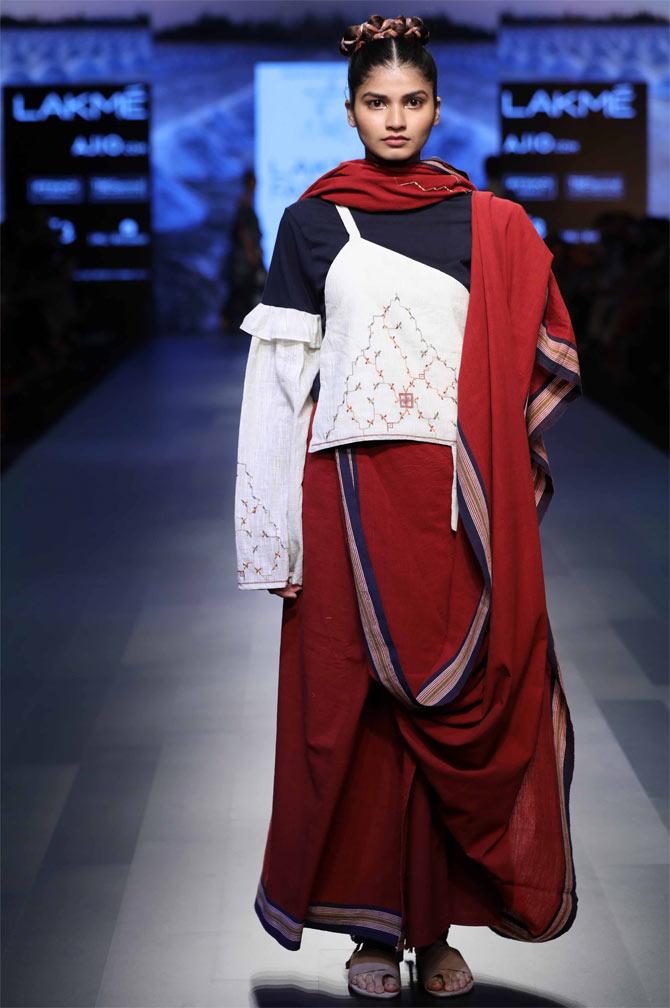 IMAGE: A model showcases their collection on the LFW ramp. Photograph: Kind courtesy Lakme Fashion Week
The collection...
Lakshmi: We picked the concept of a tree and its branches stemming out of a sari.
Rather than filling the sari with embroidery, we decided to stick to the pattern of a tree on the centre and let the branches spread across the sari.
Bed sheets, saris, kurtas and stoles are part of our collection.
We have worked with traditional designs to create a contemporary look for the collection.
What was your families' reaction when you told them about your decision to come to LFW?
Lakshmi: In our community, girls are not allowed to step out and work. There are several restrictions.
Sometimes girls get a little leeway in their parents' homes. But the scene changes post marriage.
Then it is a call that your husband and in-laws take on whether you work or not.
In our community, there are families who think that their girl child should not move around in public alone.
Even when we step out, we need to take the permission of the elders of the family.
We are expected to be fully clothed and cover our heads with a ghungat, while stepping out and also inside the house.
I also do it when I am back at home. But my in-laws also give me the freedom to be dressed in a salwar-kameez.
They are very supportive and are happy that I am doing something of our own.
Tulsi's father was very stern and not supportive.
It took a while for her to convince him, but she was persistent and look now, he encourages her and is really happy for her.
Tulsi: There are six members in my family including my sister, who is married, two brothers and my parents.
I think I am very lucky and fortunate that my parents let me work.
Often our neighbours keep advising my parents to get me to stop working.
My parents listen to them, but don't tell me anything.
At times the neighbours keep telling my parents not to send me out alone.
It is because of my parents that I got a chance to be a part of Lakme.
There are NGOs who work with women from our community. But the problem is that none of the artisans get noticed.
All the attention is on the NGO staff who sit in the stall and sell the products.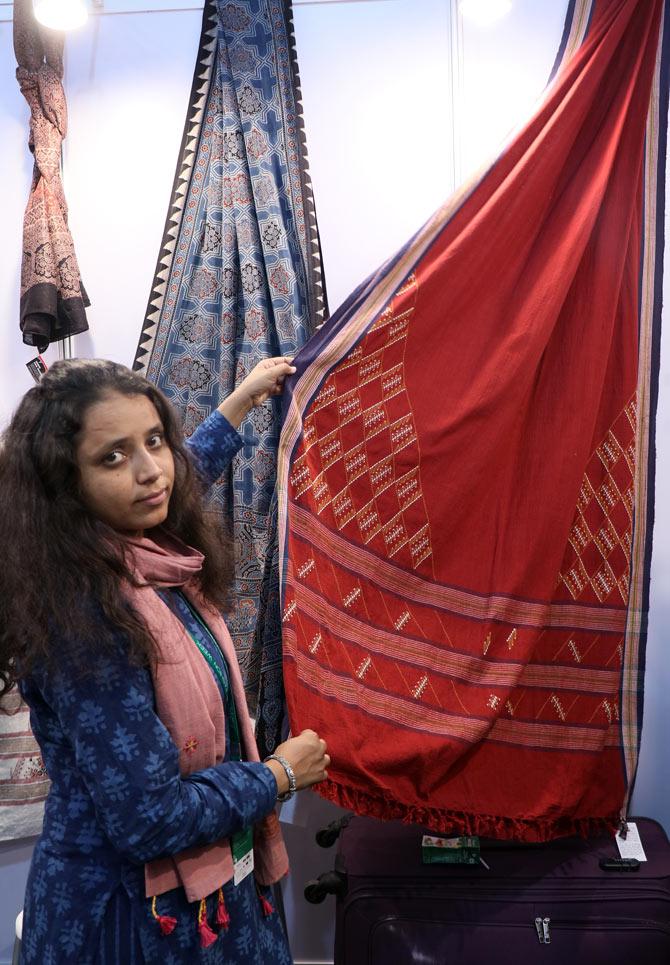 IMAGE: Lakshmi holds a sari designed by the trio. Photograph: Rajesh Karkera/Rediff.com
Till which class did you study?
Lakshmi: Seventh standard.
Around the time I was in the seventh standard, there was an earthquake (January 26, 2001) in my village.
Then I got scared to go to school because I used to fear that the roof of the school will fall on me!
Now we want to ace in our craft and do well.
We want to specialise in one subject and that is our craft.
Tara: Fifth standard.
My parents didn't stop me from studying further, but as none of my friends were interested in continuing to go to school, I gave up too.
Looking back, I do feel bad. Maybe I should have continued studying.
Tulsi: Seventh standard.
When we were young, most of our time was spent playing.
The school in our village was only till the seventh standard.
If we wanted to study beyond that, we'd have to go to the school in the neighbouring village.
Hence most of the girls in my village have studied only till the seventh standard.
The girls I was studying with refused to go to school after they completed their seventh standard studies.
So I gave up too because I didn't want to be left alone.
How much time goes into creating your garments?
Lakshmi: Our work starts with sourcing the fabrics. Sometimes we get fabrics from remote locations of the country.
We have contacts and know of artisans whom we have worked with in the past.
So we directly get in touch with them and order the fabric.
We then get the fabric dyed in natural colours.
Then we get the embroidery done, cut the fabric and sew it together.
What's the cost involved? Where do you get your funds from?
Lakshmi: My family members are employed. So I am not the bread earner of the family.
When I need money, I ask them.
Right now whatever money we make, we reinvest it in the business.
So the cash flow is constant. We haven't borrowed or taken a loan from a bank.
We have invested around two lakhs for the Lakme Fashion Week.
Whenever we go for exhibitions, we know that we will be going there in advance.
So we talk to our families and try to raise the money.
Usually for exhibitions, we end up spending around a lakh, but that keeps changing according to the venues.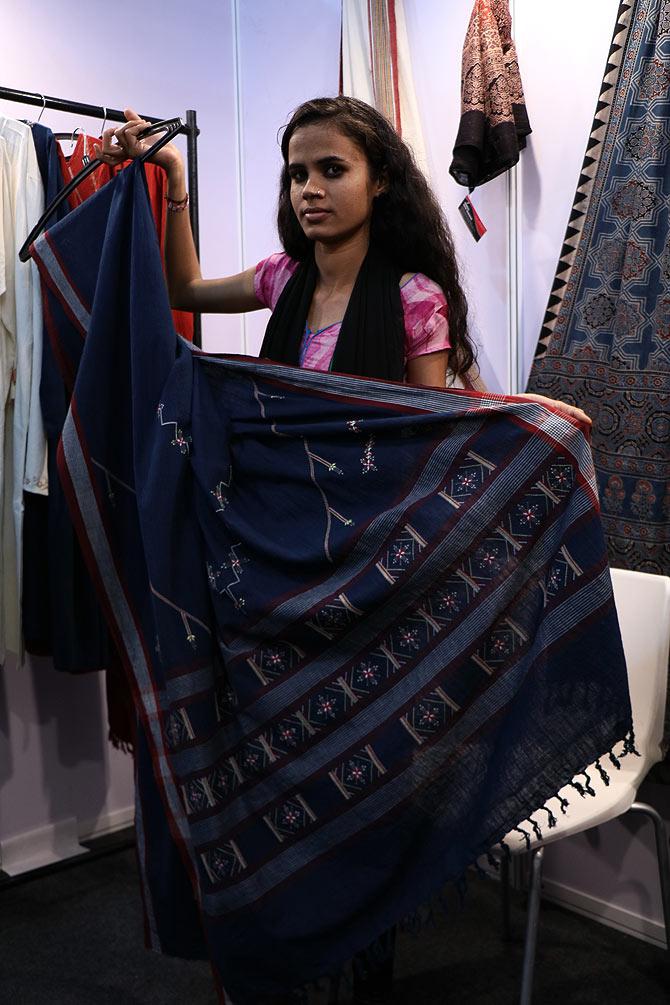 IMAGE: Tara wants you to take a closer look at the thread work done by her on this sari. Photograph: Rajesh Karkera/Rediff.com
How do you divide the work? Is there a team that works under you?
Lakshmi: We do all the work by ourselves -- the responsibilities are shared between the three of us.
We are too young to have a team under us and we won't be able to pay them too!
We source the fabric, dye it, give it to the tailor, decide on the design, etc.
Tara: Lakshmi talks well, so she does the marketing.
Tulsi is good with the designs and I am good with negotiating with the workers.
If your parents weren't as supportive, then what would you have done?
Tulsi: I think we would have been still tied down to the NGO.
The self-worth that we feel now, we would have never been able to experience it!
I really like designing clothes and I am glad to get a chance to do what makes me happy.
There are many girls in my village who can't do even half of what I have achieved; not because they don't have the talent but due to the resistance they face from their families.
Lakshmi: There are times I keep thinking that I could make a Bollywood film.
I am very interested in the stories of these movies. I would love to write one someday.
I like writing poems too. I want to write a film with my favourite actors, Salman Khan and Karisma Kapoor in it.
You never know maybe someday my movie would do Rs 1,000 crore business.
We had thought of making a movie, but then designing happened and now we are designing clothes.
What next?
Tulsi: We want the artisans of our community to get recognised for their work. They need to be paid fairly.
But right now the challenge is to ensure that they get sufficient work all round the year.
Lakshmi: There are many girls in our community who are attached to an NGO. But they don't have the confidence to take a risk.
They are scared. We want to be role models for them.
Looking at us, they should feel the need to start something of their own.
Once they get paid decently, they will feel motivated to do something on their own.
Advice to upcoming designers...
Lakshmi: Don't stop yourself from doing what you think you are good at. Don't restrict yourself.
After giving up on my studies, I used to sit at home and idle my time watching movies, helping with the household chores and doing nothing fruitful. That's what most girls in my village continue to do.
Don't do that. We all have hidden talent; understand it and try to realise what you are actually worth. Seriously pursue what you like.
Tulsi: Girls should not be restricted to the four walls of the house. They should be encouraged to go out and work.
Tara: Designers should not let go of their local roots.
Take pride in the fabric that comes from your region and embrace it. Don't feel shy to promote it and work with it.
We all need to go back to our roots.