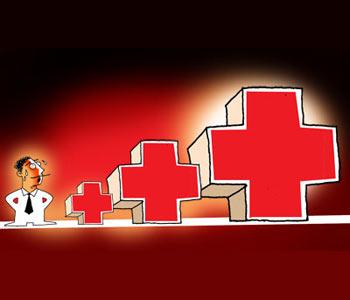 International medical graduates can now apply to work with licensed medical health professionals in the city. Illustration: Uttam Ghosh

International medical graduates with experience in their home countries will now be allowed to work for six months to one year with a licensed Ontario doctors. They can then get their license to practice medicine independently.

Ontario Premier Dalton McGuinty, who made an appearance July 27 at Access Employment, a not-for-profit agency that helps job seekers find jobs in their own profession, said, "We found that some of our international medial graduates had too much experience to be required to go through a lengthy residency program. These people are actually very close to what they call 'practice ready'.
Instead of going into a lengthy residency for which they are overqualified, they're going to go into practice under the direct supervision of other doctors who will help them fill in any gaps during a six to12-month period, after which those international medical graduates can practice independently."

He said internship took a great deal of time and Ontarians were not able to make use of this huge pool of talent in the province in the meantime.

He was accompanied by his Ontario Citizenship and Immigration Minister Dr Erick Hoskins, who is an IMG.

"Since 2003, we have invested more than $900 million in programs and services to help immigrants settle, get language training, and get job-ready or licensed to work," McGunity said. "In 2010, there were 790 international medical graduates in all levels of post-graduate training and pre-practice assessment, compared to only 167 IMGs in 2003 (when the Liberal Government came to power)."

He said Ontario was now offering 200 internship positions for IMGs, as compared to the dozen or two dozen earlier. This is "more than all the other provinces combined," he added.

The premier said Ontario earlier wooed immigrants with opportunities for their children. Changing with the times, he said, the province now says, "Come to Ontario, Canada, and you will find all the opportunities you need to succeed, and more specifically, to be able to work at the level of your skills and professional raining. It's better suited to our times, it's better suited to our economy, it better meets the interests of both our newcomers and Ontarians generally."

Ontario, he said, was "powerful...because of our internationally-trained professionals...In 2009, (there were) 34,000 teachers, 19,000 engineers, 16,000 nurses, 10,000 doctors, 4,000 pharmacists. Sometimes we focus on those who have yet to find that success, but I think it's important to recognise the success that we've made."