Rediff reader Celeste Tudu who recently joined Bongaigaon College in Guwahati writes about the nervousness and simple joys of his first day in college.
You can share your story too!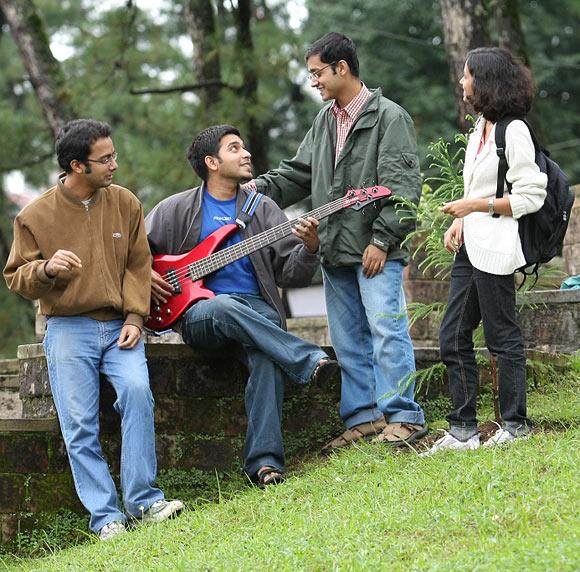 Photograph courtesy Courtesy IIM Shillong for Careers360
Today, my morning was different from the rest. It was my first day ay me new college!
Although I'm from Assam it was the first place I was going to study in Assam because I had done my previous studies in Orissa, West Bengal and Tamil Nadu.
I woke up earlier than usual, had my bath and got ready.
I put on my college uniform and got dressed up in my best way.
Nobody likes to look bad, especially on their first day at college.
Before having my breakfast, I prayed to God and sought his blessing for the new life I was beginning.
I reached college and found out from the notice board that my first lecture for English was scheduled in Room No-37.
Since the college was huge, it was quite a task to find where my class was.
I went to the English Department and asked for directions.
I had difficulty understanding the local language -- Assamese.
Soon I realised that the class I was searching for was right in front of me.
When I entered the class, the lecture had already begun and the teacher was talking to the students.
I took a seat.
I knew nobody there and felt really different from them because they seemed like they were already friends.
Without thinking, I went to the 5th bench and sat there just listening to Professor Bhadra.
The teacher introduced himself and also asked each of us to do so.
As my classmates got up to speak one by one, I felt butterflies in my stomach awaiting my turn.
I think it's common to have your heart beat at a superfast pace when you're in a new place.
When my turn arrived, I managed to give the simplest introduction and sat down.
I felt awkward sitting in the classroom -- all I did that day was glance through the new faces in my first English class.
I realised that I wasn't the only one late to enter the class -- a few more of them who came after me, had also found it difficult to locate the classroom.
A few minutes later, I made new friends and found it easier to chat with people around me.
The 45-minute lecture got over.
I was happy with my first class and first day of BA in Bongaigaon College, Guwahati.
Nothing special happened, but I did enjoy my first day.
I just took my first step towards my career by writing my experience and sharing it.
I know I'm going to love these days even more.
I look forward to gaining more knowledge, making new friends, learning the language and living my new life.
Dear Reader, you too can share with us photographs from your first day at college with a brief write-up about it along with the name of your college and the city. You may e-mail it to getahead@rediff.co.in (subject line: My First Day in College) and we will publish the best responses right here on Rediff.com!