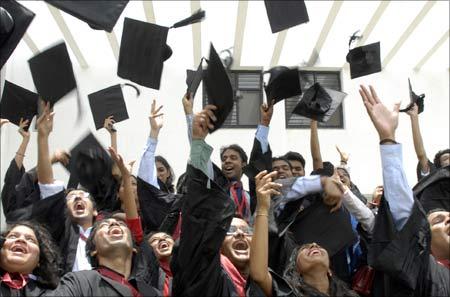 Vinayak Kudva, Product Head at IMS Learning Resources Pvt. Ltd presents a lowdown on the importance of GRE and GMAT and talks about what the new pattern will be like.
With changing times, it is being increasingly accepted that mere graduation is not enough. To move up the corporate ladder and build up a solid foundation for your career, you need much more skills and one of the best ways to do this is acquiring additional skill set by means of post graduation.
While several people look for opportunities within India, the ones aspiring for a global exposure usually explore opportunities to study abroad. With increasing globalisation, this trend is on a rise and number of students going for international education is likely to increase in coming years. Two of the major avenues for studying abroad are going for a post graduate degree after engineering (MS or PhD) or going for a post graduate degree in management.
Why GRE/GMAT?
GRE (Graduate Record Examinations) is usually taken by students aspiring to do a post graduation in technical field while GMAT (Graduate Management Aptitude Test) is usually taken by the management aspirants. Of late, some Indian management schools have started using GMAT scores for some of their programs.
While the GRE is taken by both freshers as well as experienced people, GMAT is usually taken by people with some years of work experience behind them. Several universities offer MIM (Masters in Management) programme, which typically targets freshers or people with less work experience also accept GMAT scores. GRE and GMAT — both test your competency across different areas — Quantitative Reasoning, Verbal Reasoning as well as Analytical Writing ability. In GRE, you get an overall score out of 1600, with a score in range of 200-800 in verbal reasoning and quantitative reasoning.
For GMAT, you receive an overall score out of 800 (score range 200 – 800). Analytical Writing ability is separately graded on a 6 point scale for each essay in both the exams and is not a part of the overall score.
Most of the Indian students find Quantitative Reasoning much easier Than Verbal Reasoning. The level of questions asked are of high school level and some of the major topics that are covered are Number System, Arithmetic, Algebra, Geometry and Modern Maths. With some practice, a student should be able to do well in quantitative reasoning.
Verbal Ability
test a student's skills in terms of understanding the English language. It is usually the section that requires maximum amount of preparation. While, this section in GRE is quite dependent on vocabulary and includes analogies, antonyms, reading comprehension and sentence completion questions, the section in GMAT is more about reasoning skills and includes critical reasoning, sentence correction and reading comprehension.
In Analytical Writing ability, a student has to write 2 essays — one on evaluation of an argument that is provided, and the other on evaluation of an issue. Apart from the content, the essays are also graded on the usage of English language.
The new pattern
Starting from August 2011, the GRE pattern is changing. While the fundamentals of preparations remain the same to an extent, the question types are undergoing several changes and will be becoming more reasoning based and based upon real life scenarios.
From June 2012, GMAT will also include a new section on Integrated Reasoning, which will test real life business decision making skills.
GRE and GMAT are just one part of the application process.
While a good score in the test is definitely an advantage, your profile, statement of purposes, application essays, letters of recommendations etc. are other key factors that can help you secure admission to your dream university.
A thorough research about the universities that best fits your requirement and skill set needs to be done while applying to the universities.
Since applying to each and every university might not be a judicious option considering the time and money involved, it is recommended to classify universities into three broad sets while applying — dream universities, realistic options and safe options. Once you secure admit into your desired school, you need to make best use of the opportunity available in terms of interaction with the faculty, peer group and industry. Being in an international school usually ensures that the exposures you get is quite varied and have ample opportunity to learn. Those kinds of exposures are often helpful in getting career opportunities with global organizations across the world. With this experience, you can usually choose the kind of career path you want.
While several people choose to work across geographies and gain exposure, some choose to get some international exposure and return back after getting a first hand international exposure, a reflection of the kind of flexibility an international education can give.