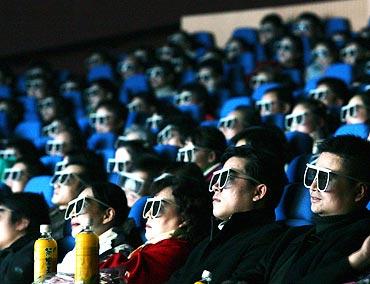 Did you catch the latest 3D movie last weekend? Well, according the Bombay Municipal Corporation, that's not the only thing you may have caught.

The BMC recently issued a warning about watching 3D movies in the theatre, saying the use of the specialised glasses could lead to increased cases of conjunctivitis. It has asked theatres to sterilise the 3D glasses after every show.

Dr Ramesh C Shah an ophthalmologist with Eye Care Centre, Borivali, a suburb in north Mumbai, explains why the move is practically not feasible and suggests better ways to fight the infection.

Conjunctivitis is an infection of the eye and is a common occurrence during change of seasons. Usually, the number of conjunctivitis cases increase during the monsoons.

Dr Shah says the average cost of a pair of Polaroid 3D spectacles is around Rs 300-1,000. This, he says, makes it impossible for multiplexes to give them away unless the cost is included in the price of the movie ticket, which is already steeply priced in urban areas. "Indian movie goers would not want to shell out extra money to watch a movie in 3D. They would want to watch a movie in 3D for the same price as 2D, so multiplexes have to accommodate costs accordingly."

"Secondly, sterilising every pair of spectacles is also not practically possible. If a person can afford to spend Rs 200-300 for a movie, we can assume he would be educated enough to avoid watching a movie to prevent infection."

Still want to watch a 3D film?

"The theatre I generally go to provides wet wipes on request. I make it a point to use this to cleas my glasses before using them. If not, just carry a sanitiser along and you can clean the glasses with a sanitiser," suggests 30-year-old Aradhana Gupta.

Mayank Parekh suggests using disposable glasses. "You can just tear it up after the movie. That is the only way you can ensure that you are getting a new pair," he says.

Snehal Mishra dismisses the debate: "The BMC has no right to talk about health or sanitation. They need to first practise
what they preach. There are bigger problems they need to react to than a viral infection that you are at risk of catching even at home."
"The case the BMC is referring to is a very rare occurrence," says Dr Shah.
"In a real life scenario, certain chemicals are used to sterilise these glasses. And the process of sterilisation takes at least an hour or more. Repeating the procedure is not viable considering the price of a 3D movie ticket. If you ask me, those who are so concerned about catching the infection should ideally avoid using the 3D glasses provided by the multiplexes."
The right way to fight conjunctivitis
There are many educated people who still believed conjunctivitis is spread through eye contact.
The truth is you do not get infected by merely looking the infected person in the eye. Conjunctivitis is spread only when you come in direct or indirect contact with the infected person. Consider these possibilities:
If the infected person rubs his eye and shakes his hand with you, then you are likely to catch the infection. (direct contact)
If you use the belongings -- like a handkerchief, glasses, etc -- of the infected person, you are likely to be infected. (indirect contact)
So, if you discover that someone has developed an infection, all you have to ensure is that you don't share his or her stuff.
Avoid self medication
Self medication may seem like the most convenient remedy available. However, before you visit your chemist, you must realise these medicines (eye drops, tablets, ointments, etc) contain steroids that can do your eye harm than good if wrongly used. It is advisable to consult a doctor or an ophthalmologist and get the correct prescription.
Take rest
If you, or any one in your family, suffers from conjunctivitis, take the day off and take rest. Ensure that you avoid contact with others till you are completely healed. A normal infection would take anything between three-five days to subside.
Photograph: China Photos/Getty Images