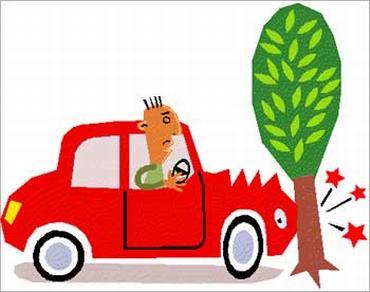 'It is important to ensure that the person driving the car has a valid driving licence, is in a stable mental condition and is not under any heavy medication or influence of alcohol,' says K G Krishnamoorthy Rao, MD and CEO, Future Generali India Insurance.
Illustration: Dominic Xavier/Rediff.com
I am shifting to another city and plan to take my car with me. Will the motor insurance be valid in the new city?
When you shift to another city, the vehicle continues to be covered under the insurance policy.
However, you need to intimate the insurer.
Depending on the new location, the insurer may advise you on any difference in premium that has to be paid.
Third-party cover remains unchanged.
My car had an accident while my friend was driving it. Can I claim insurance?
Motor tariff allows usage of a private car for social, domestic and pleasure purposes.
There is nothing wrong if the vehicle was provided to a friend or a relative and the insured himself/herself was not driving at the time of accident.
Further, there are no restricting conditions/provisions in a private car Comprehensive Package Policy that prohibits driving of a vehicle by any person other than the insured.
However, it is important to ensure that the person driving the car has a valid driving licence, is in a stable mental condition and is not under any heavy medication or influence of prohibited substances such as alcohol.
If I convert my petrol car into CNG, will I get insurance claim in case of accident?
Should I inform the insurance company immediately or at the time of renewing my policy?
Non-disclosure of any material alteration could prejudice a claim. This is stated in the Proposal Form to declare any material alteration done to the risk covered (which in your case is your car) and this remains applicable not only while availing of a fresh policy or renewal but also while the policy is in force.
For hassle free experience, such changes should be immediately informed to your insurer since it may attract additional premium.
I will be travelling abroad for a project. Will my health insurance be valid abroad in case I am hospitalised?
Generally, domestic health insurance policies cover medical expenses incurred within the country.
While travelling abroad, you should purchase an overseas travel insurance policy as they take care of medical expenses incurred in a foreign country.
A frequent traveller should have an annual multi-trip policy.
If I have a confirmed ticket but can't board the flight due to overbooking by the airlines, will my travel insurance pay for my expenses incurred on booking another ticket?
Such an incidence is not covered under an insurance policy.
Insurance policies tend to offer coverage for trip delay, trip cancellation or missed connections which are as a result of certain listed exigencies such as sudden hospitalisation, death of a near one, delay of a common carrier, etc.
However, this is a case of overbooking by airlines, it is outside the scope of insurance and you need to take it up with the airlines.
I had taken a householders' policy for my bungalow. Later, I added one more floor.
While renewing my policy, should I inform the company about this addition?
Will my premium increase or decrease?
You need to inform the insurer.
The insurer may give you coverage for the construction work by collecting additional premium.
As soon as the construction is complete, you need to inform the insurer and revise the sum insured under the policy.
The premium will go up as the sum insured is increased.