March 07, 2012
Sexy, hot, glamorous: Rohit Bal at LFW finale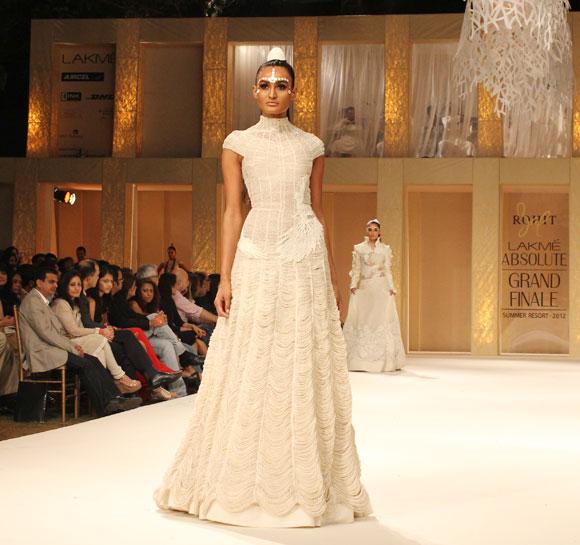 The master couturier, Rohit Bal presented his grand finale show in a manner that no one else has done before.
March 06, 2012
PHOTOS: Rocky S and his GLAM dolls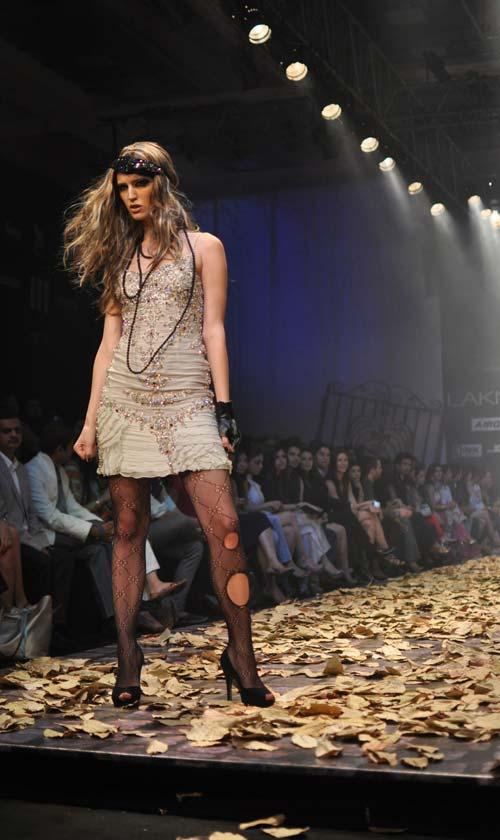 The theme of the second last show of Lakme Fashion Week Summer-Resort 2012 was dark goth, though the designer seemed to think it to be a 'celebration of glamour and glitz'. Huh?
PIX: Kathputli Kathak and a riot of colours at LFW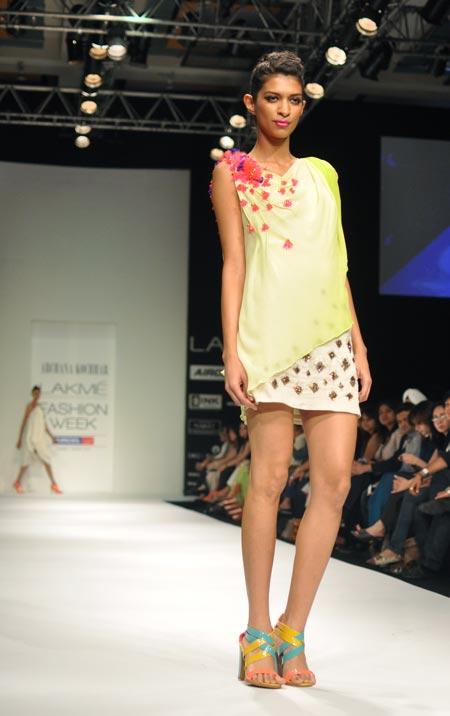 Inspired by the colours of Rajasthan and the vibrant swaying of the Kathputli dolls Archana Kochhar's 'Kathputli Kathak' collection at Lakme Fashion Week Summer/Resort 2012 was a melange of colour and style. It was a blend of Indian silhouettes with a contemporary touch as diaphanous kurtas and kameezes in light weight fabrics swirled down the ramp.
Fab glam: Models go blue at Fashion Week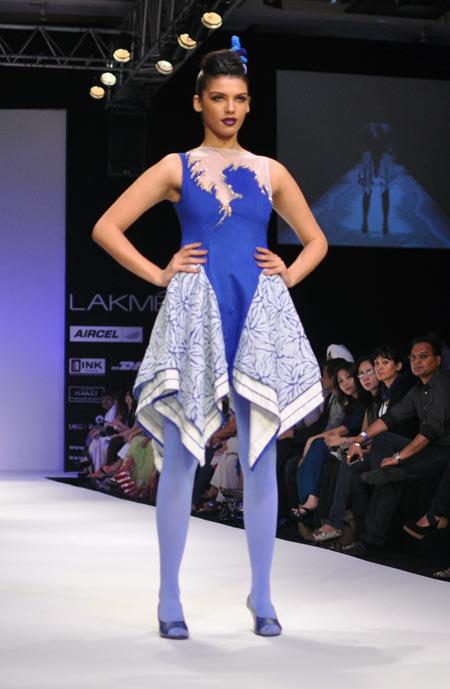 Inspired by the distant future, the greed of mankind and the humanity of nature, Abhishek Dutta presented a collection titled 'Epidemic' at Lakme Fashion Week Summer/Resort 2012 for men and women.
STUNNING PICS: Ankita Shorey does an Angelina? Almost!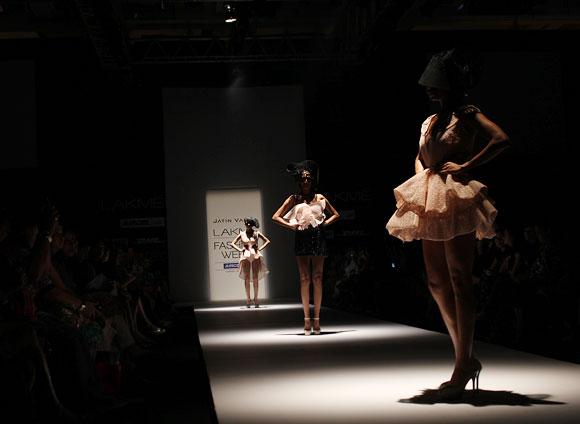 Jatin Varma's collection at Lakme Fashion Week's Summer-Resort 2012 went from cute to elegant to daring with an almost Angelina Jolie-esque moment on the ramp.
PICS: Sexy swimwear and hot figure-hugging dresses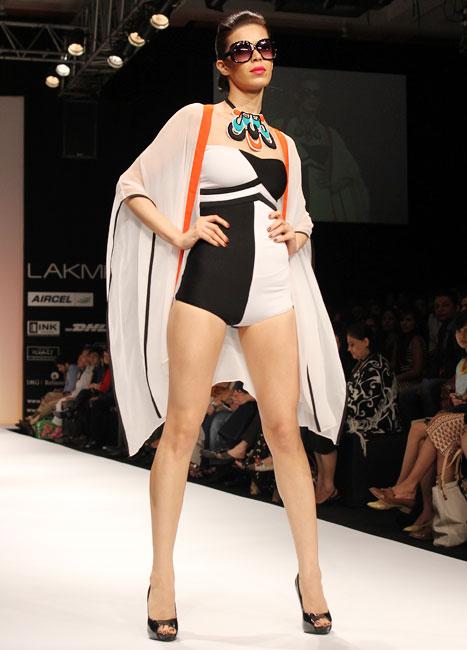 Arpan Vohra celebrates the '50s and the '60s with sexy body-hugging outfits on Day 5 at Lakme Fashion Week.
ModelSpeak: My six-pack abs is incidental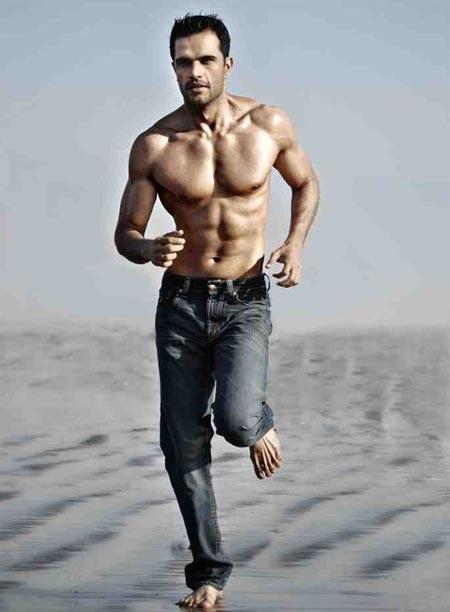 Jitin Gulati who walked the ramp for designer Anita Dongre for the first time shares his fitness secrets and tells why he prefers to sweat it outdoors than indoors.
HOT PICS: Vidya, Mia, Maria turn up the heat at LFW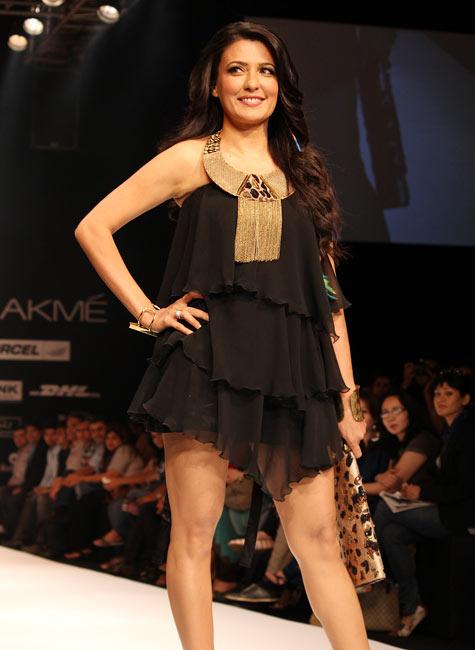 It was a star-studded show on the final day at Lakme Fashion Week as these sexy ladies stepped on the ramp for Malini Agarwala and Payal Kapoor.
Ramp beauties: Flirty summer wear, roaring 20s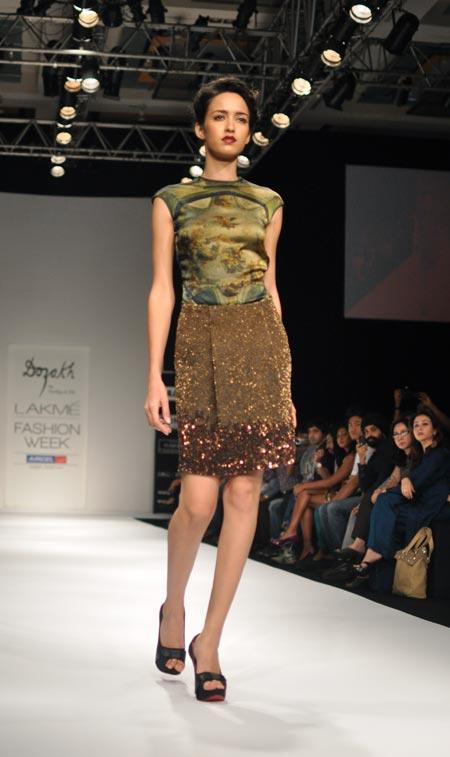 Isha and Nitin Kartikeya of Dozakh sought their inspiration from the city of Prague while the '20s inspired Sougat Paul's latest line.
SPOTTED: Sridevi, Kajol, Jiah Khan at Fashion Week!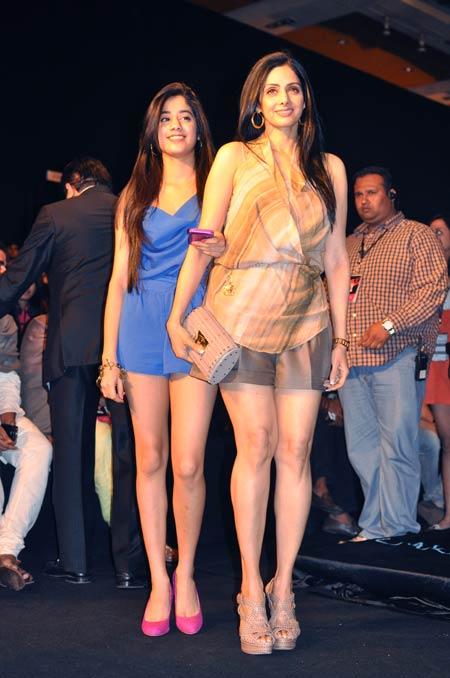 Day 4 of Fashion week saw celebrities like Sridevi, Kajol and Jiah Khan attend the show.
IN PIX: Mick Jagger steals the show at Fashion Week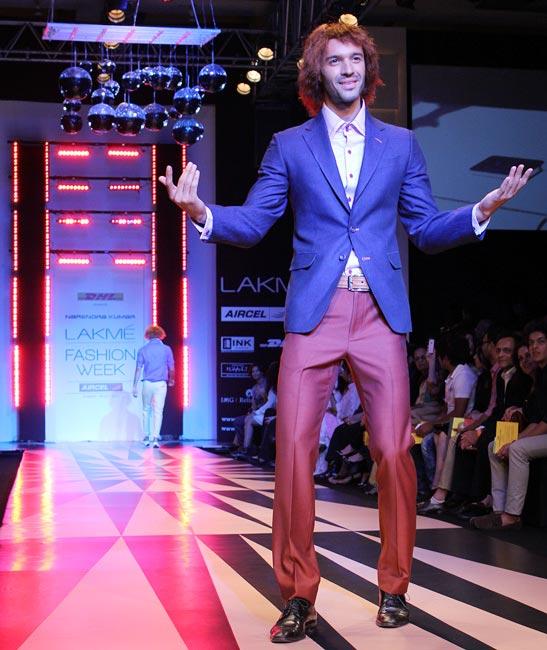 The master designer turned to the 70s for inspiration -- his idol, the great Mike Jagger and the women in his life though the 70s.
March 05, 2012
Smoking Hot: India's TOP DESIGNERS in one show!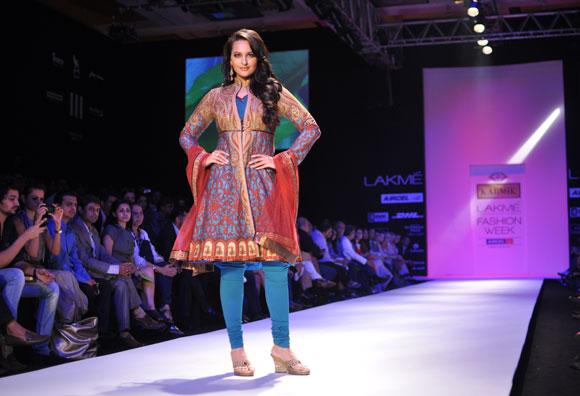 Ten of country's top designers showed their collection in a mother-of-all shows for Karmik. Photographer Dominic Xavier gets clicking!
Sexy Robots: Hot models, futuristic fashion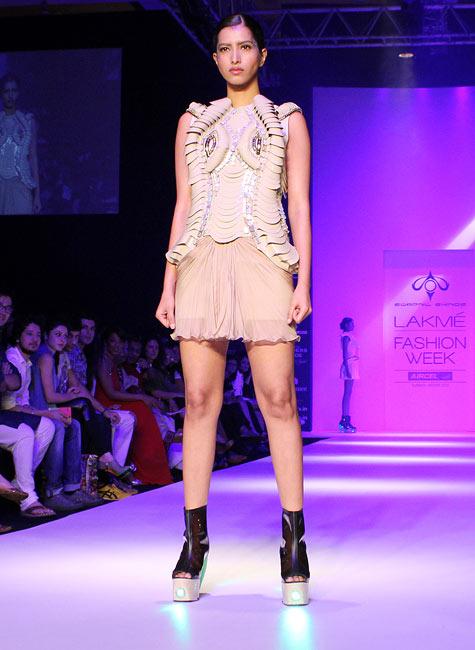 Swapnil Shinde showed his creation that sought to juxtapose the tribal and primeval with futuristic and robotic.
YUMMY MUMMY: Sonali Bendre sizzles on the ramp!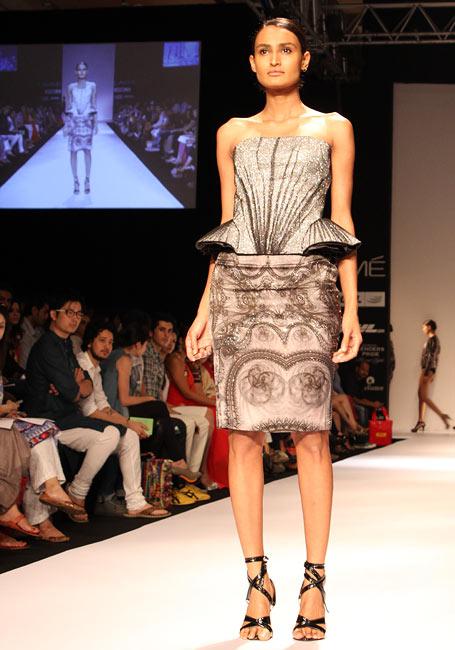 The former Bollywood actress walked the ramp for Siddhartha Tytler. Hitesh Harisinghani offers his perspective from the photographer's pit.
Get bugged: Fashion inspired by insects!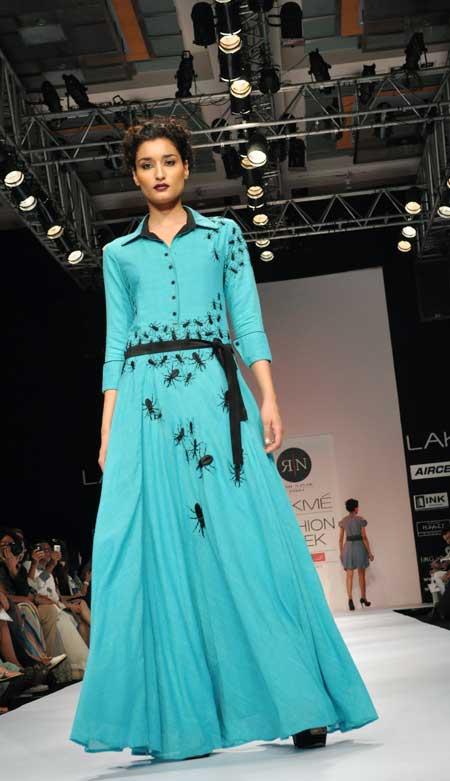 If Rimi Nayak's collection was inspired by insects, Neha Agarwal wanted to wake up onlookers with her collection.
HOT PICS: Tanisha turns up the heat on the catwalk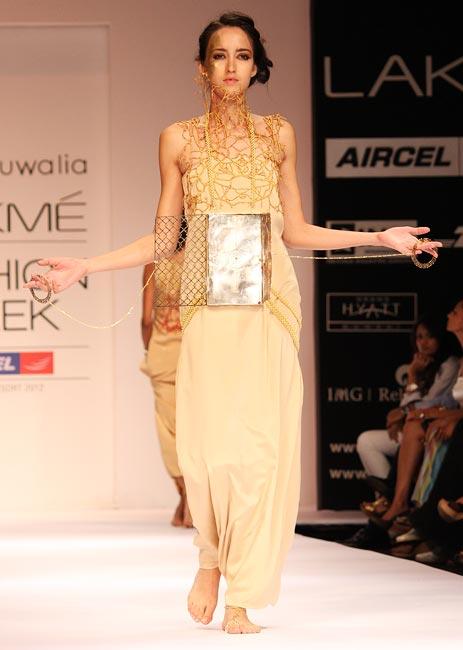 Kajol's younger sister walked the ramp on Day 4 of Lakme Fashion Week. Hitesh Harisinghani captures all the drama on the ramp.
PIX: Bold outfits for the femme fatale in you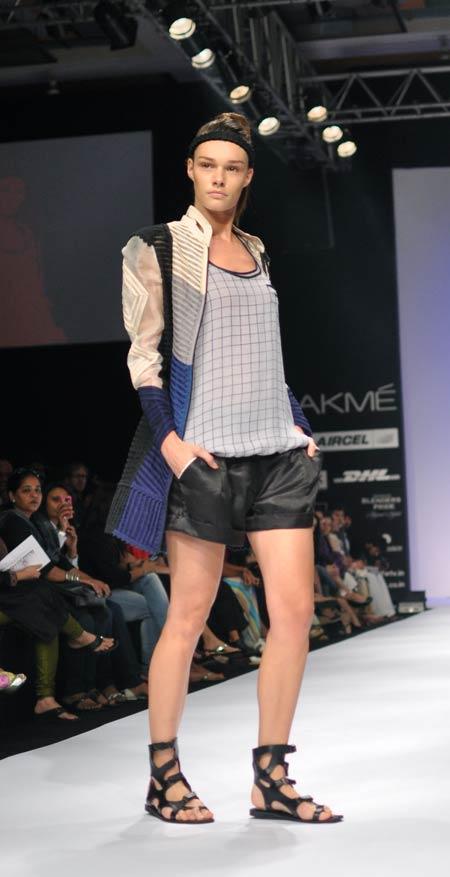 Day 4 of the fashion week saw bold and colourful collections by Nupur Kano, Shashank-Prajwal and Ruchika Sachdeva
Spotted: Nargis Fakhri, Neetu Chandra, Ileana at LFW!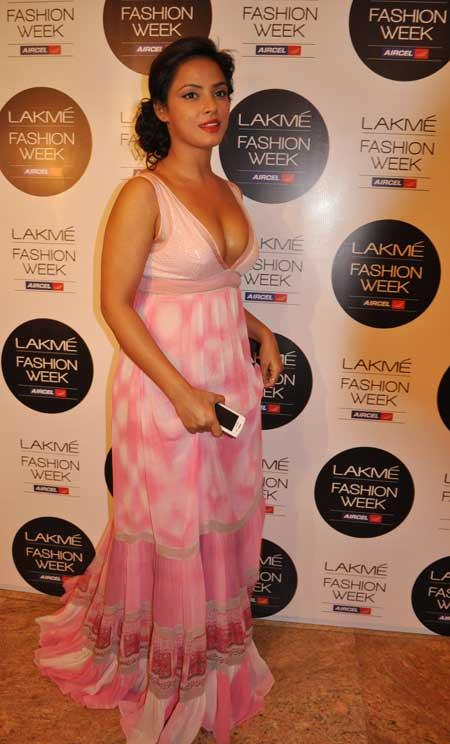 Day 2 and 3 of the fashion week saw celebrities like Nargis Fakhri, Neetu Chandra, Jaya Bachchan, Sangeeta Bijlani making their presence felt
March 04, 2012
IN PICS: Blood on the ramp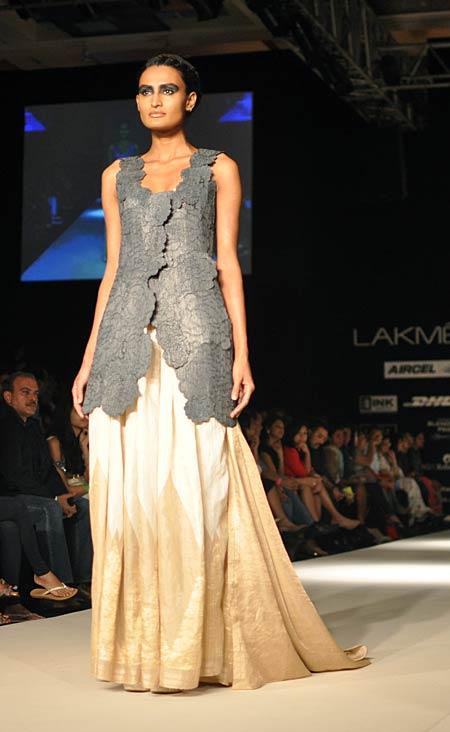 Blood red motifs and stunning creations in blacks, whites and reds defined Krishna Mehta's latest collection at Lakme Fashion Week Spring-Summer 2012. Here are some stunning images from her show.
Fashion flashback: Groovy 60s & 70s hit runway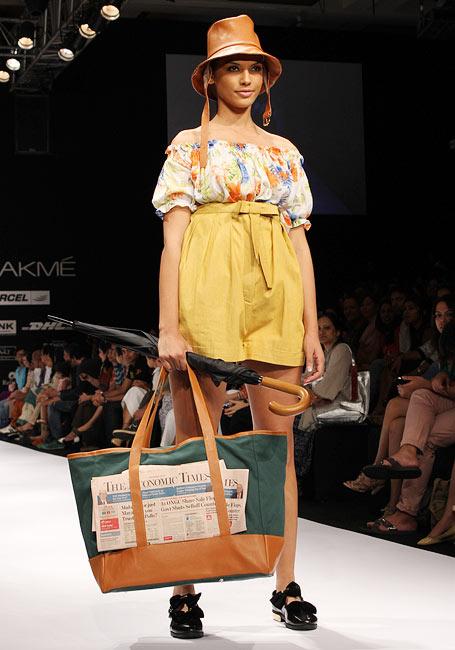 The inspiration for Nimish Shah was a woman's perfect childhood wardrobe as he allowed the wearer to blend different garments and present one's individual styles.
Trend watch: Layers make a fashion statement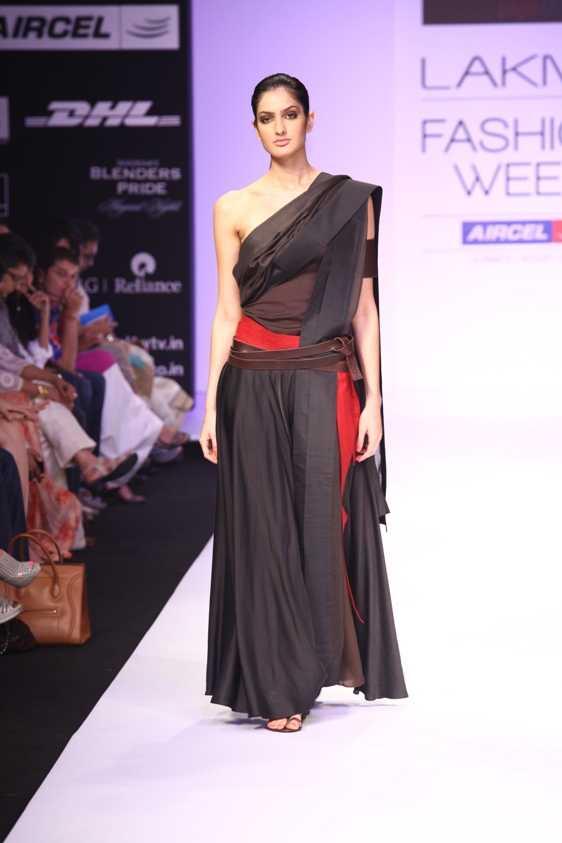 From award winning fashion designer to an internationally renowned artist and back to her first profession, Payal Khandwala's creative journey has been full of artistic touches all the way.
IN PICS: Bengal in all its splendour at LFW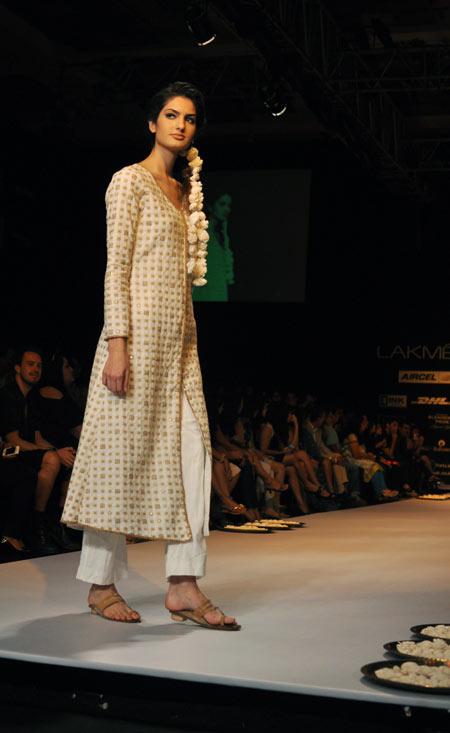 The Beauty of Bengal came alive in Soumitra Mondal's 'bunon' collection while Paromita Banerjee's skilled creativity with handloom f and craft had that delicate feminine fashionable appeal At Lakme Fashion Week.
IN PICS: Seductive village belles walk the ramp!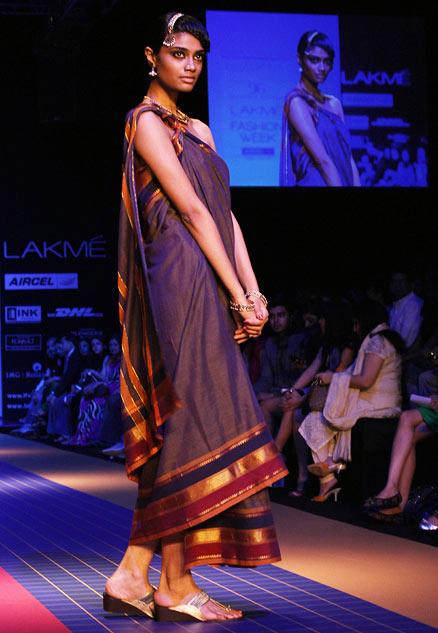 Deepika Govind's show -- The woman in Blue Checks: Cauvery's Tale -- featured the forgotten art form of Ilkal checks
PIX: Shahana Goswami sizzles on ramp for Debarun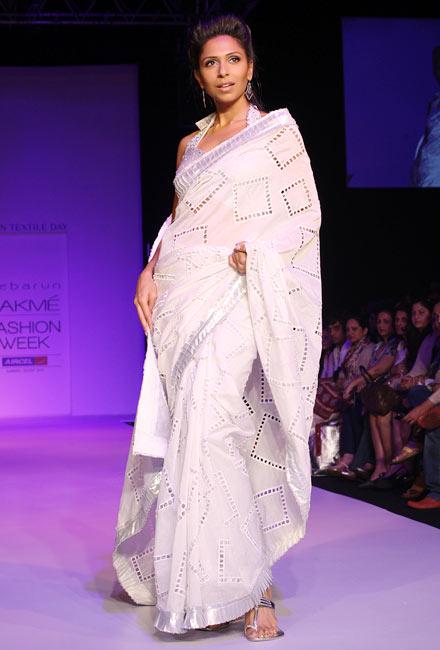 Debarun Mukerjee's collection were resplendent of a bygone era
Colours of the rainbow on the ramp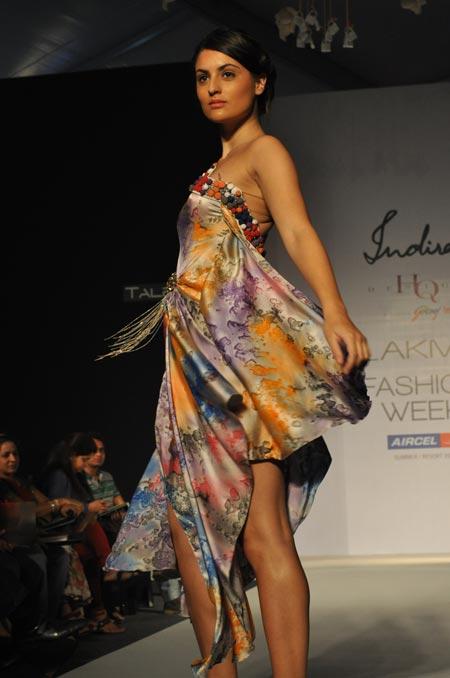 Young fashion designer Indira Baikerikar Ghosh showed her latest line Indi on the Talent Box ramp on Day 2 of the Lakme Fashion Week.
Modelspeak: It is not necessary to have six-pack abs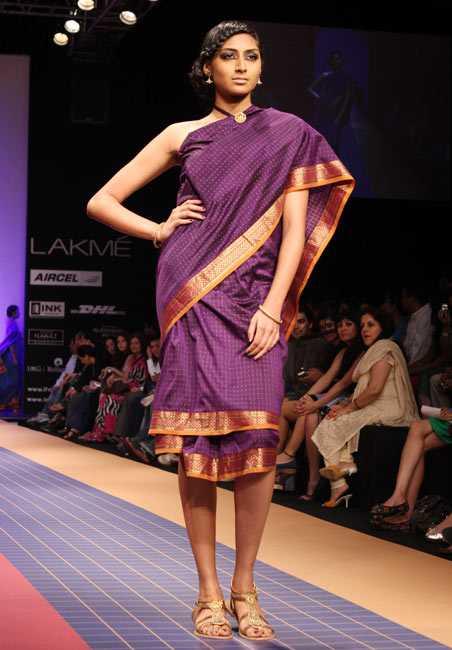 Model Krithika Babu reveals the secret behind her svelte figure to .
PIX: Priyadarshini goes cool, trendy, colourful at Lakme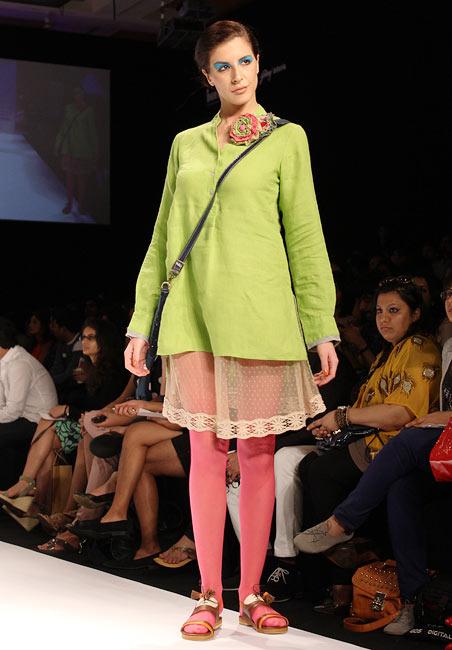 The designer impressed every one with colourful outfits that reigned high on the cool quotient.
EXCLUSIVE PICS: Backstage at Lakme Fashion Week!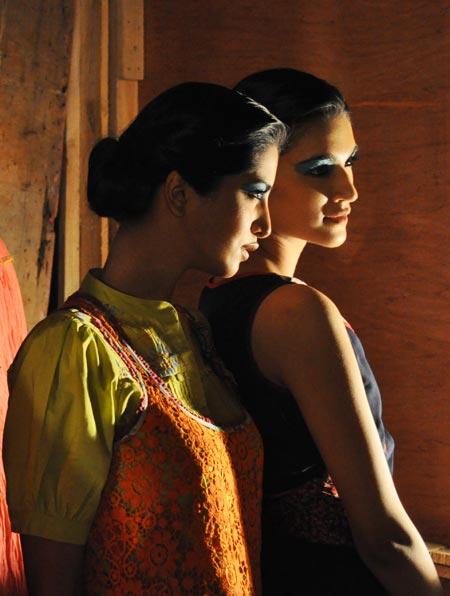 What lies beneath the fantastic bodies and ravishing faces are just a bunch of hard working girls who are just out there to work as professionals. offers glimpses of what models do backstage in between walking the ramp.
From traditional to sexy, Indian weaves get a makeover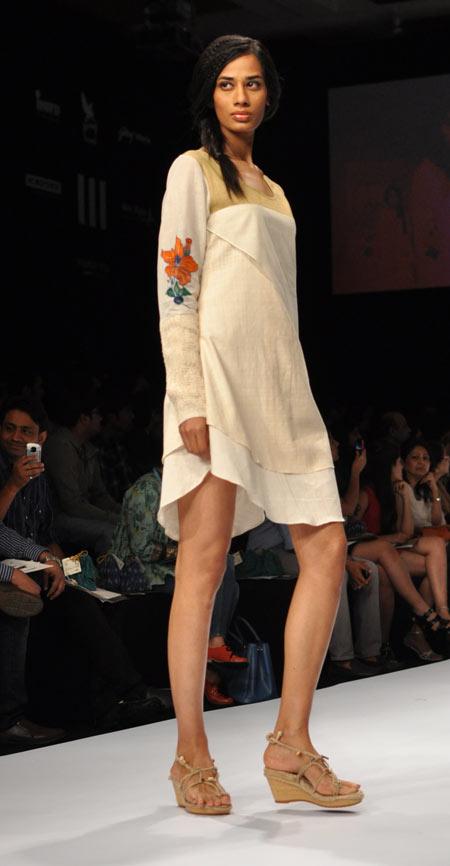 Designers Purvi Doshi, Shashikant Naidu and Vaishali Shadangule opened Day 3 of the fashion week with Indian creations.
March 03, 2012
IN PICS: How Minnie Mouse turned fashion icon!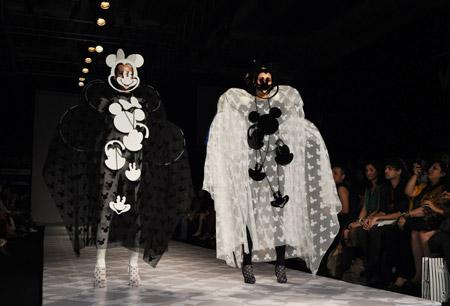 Disney Couture presented Mickey and Minnie -- lines from Little Shilpa and Nitin Bal Chauhan -- inspired by the immortal cartoon character.
Pics: STUNNING jewellery dazzles Fashion Week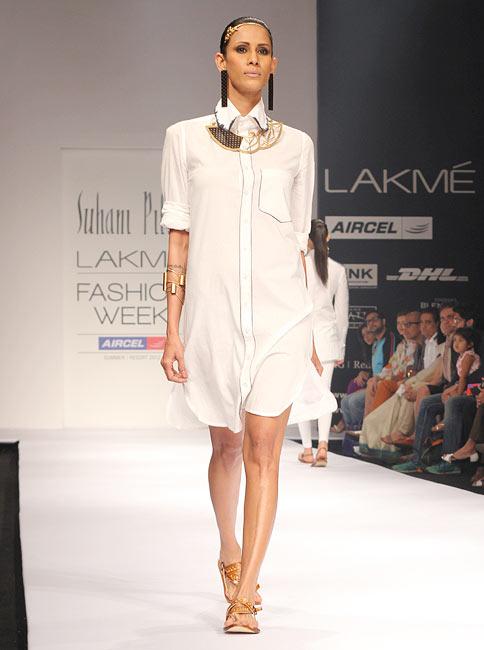 From the studios of top jewellery designer, Suhani Pittie came the Child of Eden collection which dazzled the audience on Day 2 of Lakme Fashion Week Summer/Resort 2012.
SUPER HOT Amy Jackson walks for Bhairavi Jaikishan
Amy Jackson was the showstopper for designer Bhairavi Jaikishan's collection 'The Sensuous Woman' on Day 2 of the fashion week.
IMAGES: Amy Jackson plays the sensuous woman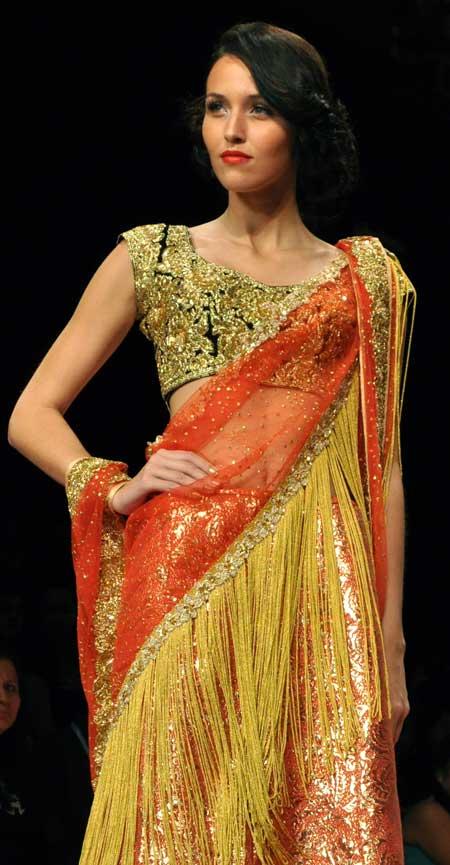 Amy Jackson was the showstopper for designer Bhairavi Jaikishan's collection 'The Sensuous Woman'
Spring fling: Fun, feminine and flirty fashion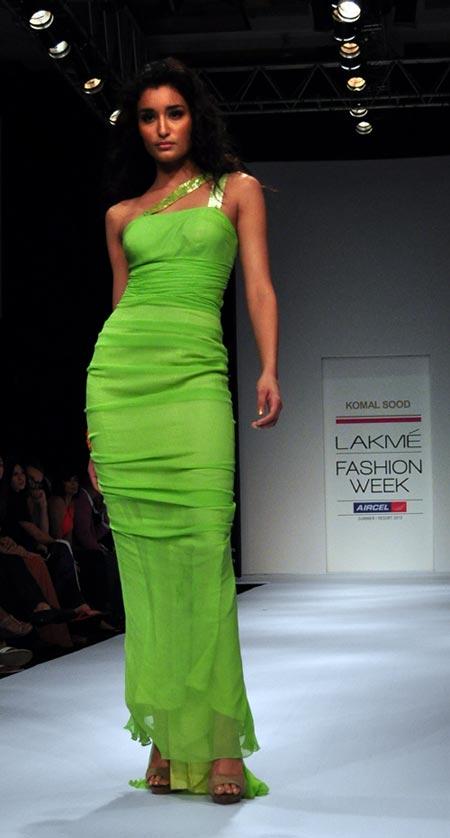 Designer Komal Sood showed a flirty, feminine and colourful collection on Day 2 of Lakme Fashion Week Summer/Resort 2012 in Mumbai.
PIX: Tara Sharma goes tribal for Pia Pauro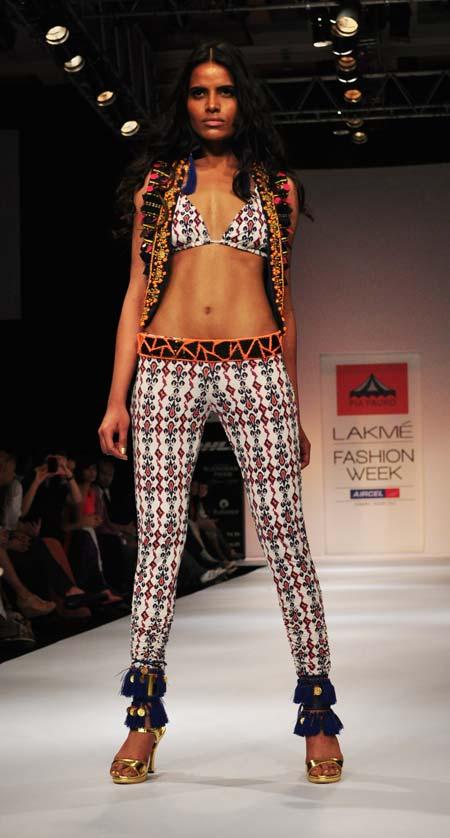 The designer's dresses, tunics, kaftans, saris and swimsuits were all in vogue for the summer collection.
PIX: Ferreira replaces Manish Malhotra, impresses at LFW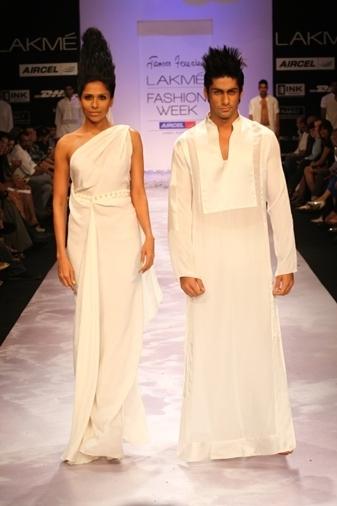 The ace designer's exit at the last minute proved lucky for James Ferreira.
Dia Mirza scorches the ramp at Fashion Week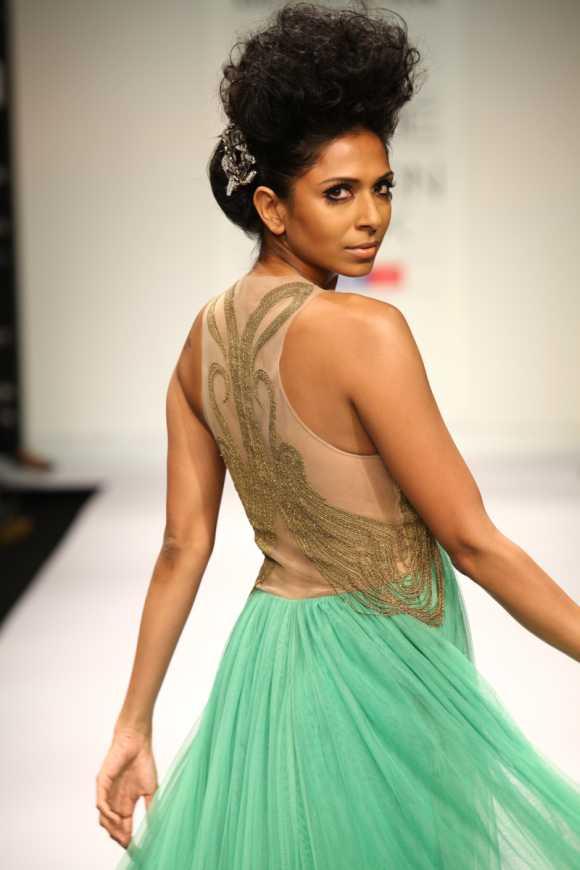 Dia Mirza walked the ramp for as showstopper for late Gulshan Kumar's daughter Khushali Kumar.
Spotted: Mandira, Farhan, Amisha at Fashion Week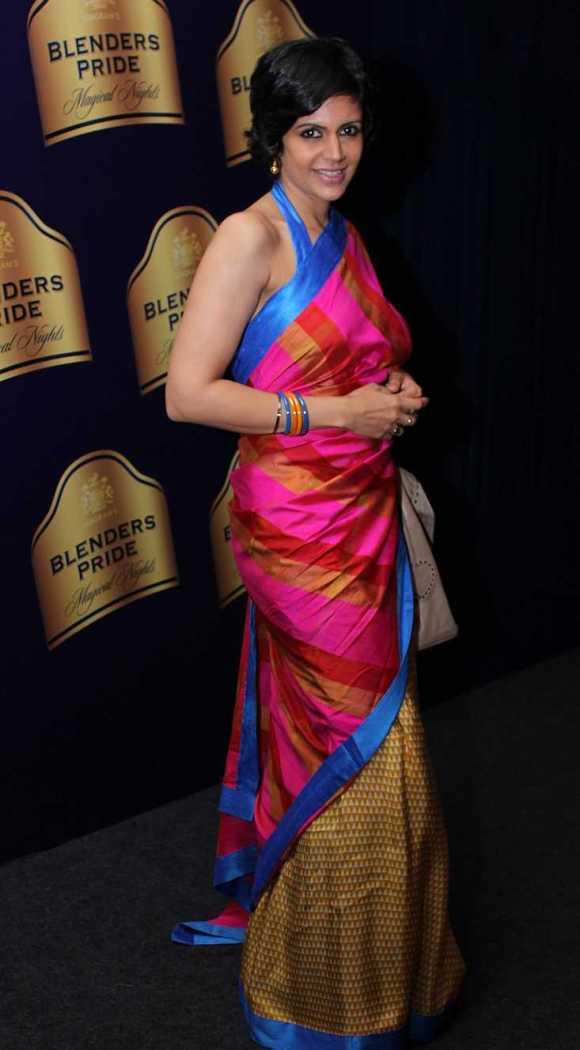 Day one of Fashion Week saw celebrities like Mandira Bedi, Farhan Akhtar, Karisma Kapur, Neil Nitin Mukesh, Amisha Patel and more
March 02, 2012
HOT PICS: Malaika, Amrita set the ramp ON FIRE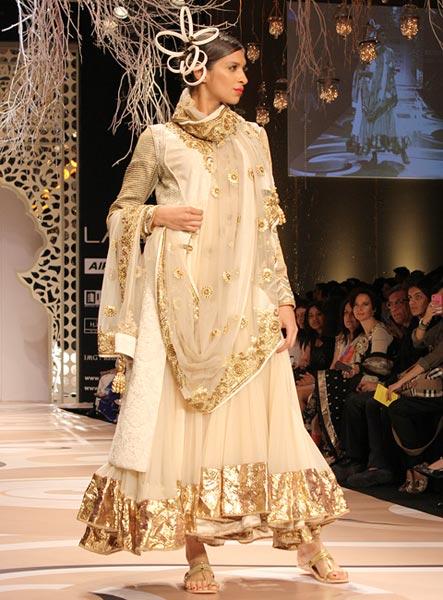 The two Arora sisters sizzled on the ramp for Vikram Phadnis. Here's all that happened on the second last (but the most star-studded) show of the first day at Lakme Fashion Week.
LIVE! Lakme Fashion Week on Rediff ZaraBol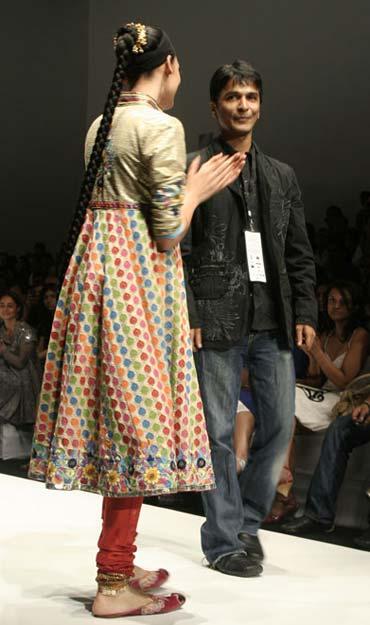 As Vikram Phadnis' show gets underway we will be posting updates and photographs to take you to the scene of action at the Lakme Fashion Week Summer-Resort 2012 on Rediff ZaraBol.
SUPER SEXY: Sizzling hot models in designer beachwear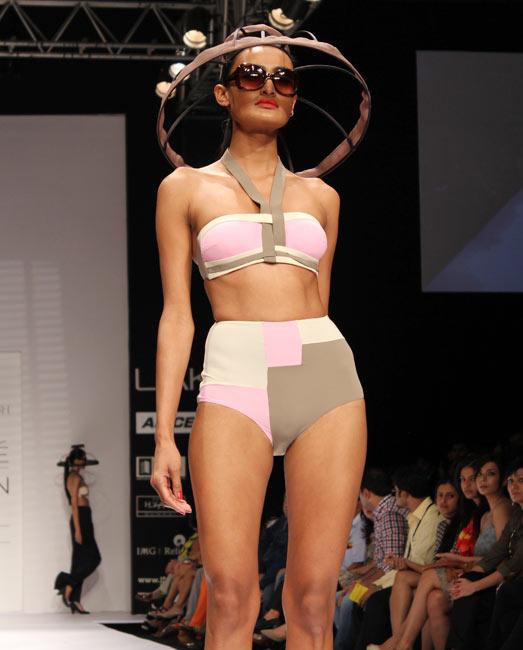 Shivan Narresh introduced this latest line of beachwear at Lakme Fashion Week.
PHOTOS: Prateik turns showstarter for Masaba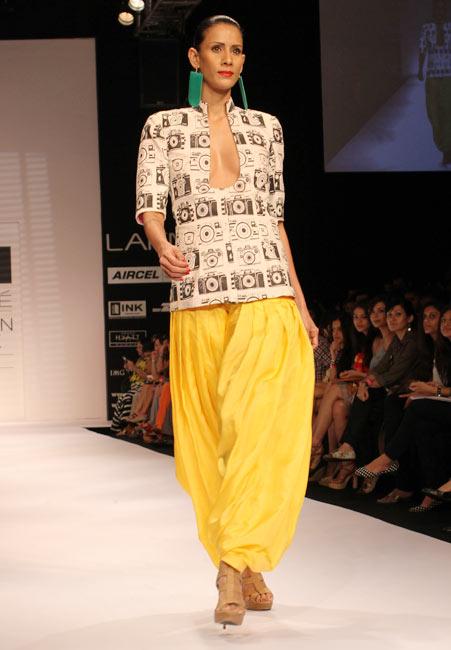 Actor Prateik was the showstopper for designer Masaba Gupta who displayed her new collection at the Lakme Fashion Week Summer 2012
IN PICS: Lakme Fashion Week gets off to a blazing start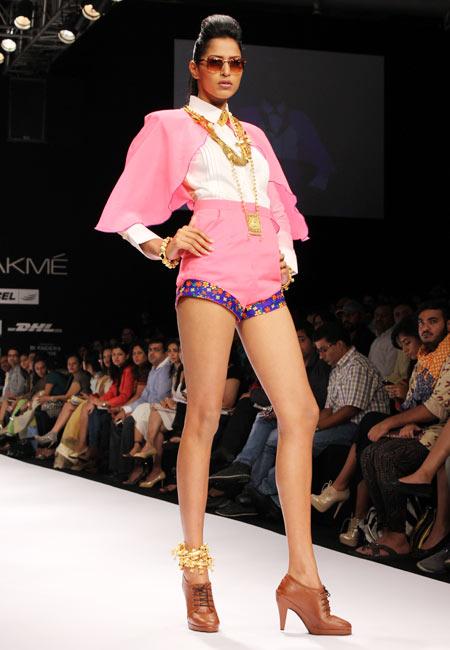 The first day of the Lakme Fashion Week started out with seven young designers making their debut as part of the Gen Next section.
Archives
January - September 2011
|
May - December 2010
|
February - April 2010