January 30, 2009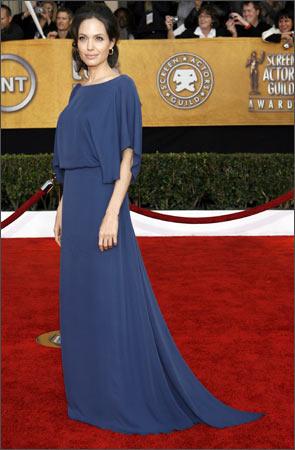 Angelina Jolie wore her dress back to front at the Screen Actors Guild Awards.
The actress looked stunning in her blue Max Azria gown, standing next to partner Brad Pitt [Images], reports the Mirror. However, Jolie's appearance on the red carpet at SAG awards sparked gossip among fashionistas that she wore the dress backwards.
And Jolie's stylist Jen Rade has confirmed to Usmagazine.com that the actress had indeed turned the dress around -- on purpose -- to make it "more blouson".
Meanwhile, Jolie and her partner actor Brad Pitt are planning to add more kids to their family. The couple, who have three adopted and three biological kids together, will be adding to their brood in the near future, according to Pitt.
Photograph: Danny Moloshok/Reuters
ANI