February 26, 2009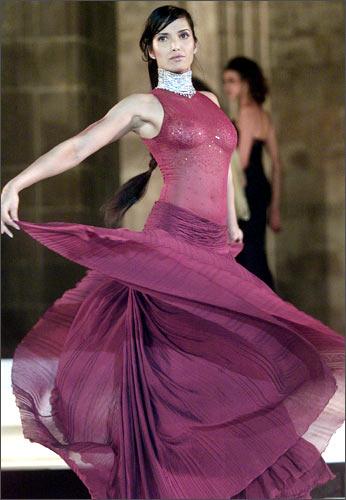 With Padma Lakshmi's [Images] svelte figure, it would be difficult to imagine that she loves food.
However, the pretty lady has confessed her love for burgers and maintains that she works really hard on her body. "I grew up a vegetarian. Then, because I grew up in the states, I started slowly eating meat. First it was bologna sandwiches, or pepperoni on pizza. As a teenager, (my friends and I) would always go have burgers. I would scarf them down!" People magazine [Images] quoted the Top Chef host, as saying.
When asked how the food and fashion icon stays fit, Lakshmi says she works hard to maintain her figure. "I work out all the time! I don't just sit around and eat burgers whenever I want. Oh, if I could I probably would, but I don't," she said. The stunner is currently putting her passion for meat into a new commercial for Hardee's Bacon Western Thickburger.
Photograph: Arko Datta/Reuters
ANI