April 03, 2009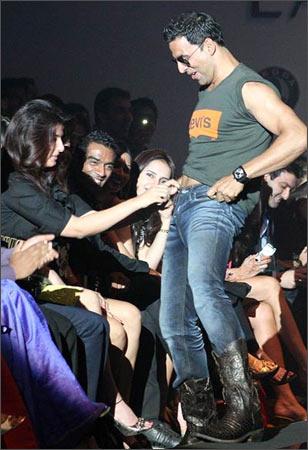 Mumbai's Lakme Fashion Week concluded a few days ago, but there is still a buzz about Bollywood badshah Akshay Kumar's [Images] controversial turn on the ramp.
Designer Tarun Tahiliani's showing in collaboration with denim giant Levi's on Day Four saw a host of stunning models strut their stuff in funky ripped jeans and partywear. But the audience was impatient to get through with the collection for a glimpse of Akshay. And apparently, they got more than they bargained for.
Things built up to a feverish pitch when the actor, the brand ambassador for Levi's, finally made his grand entrance amidst clouds of smoke and foot-thumping music.
After a short dramatic skit on the catwalk wherein a female model tried unsuccessfully to get him to unbutton his jeans, Akshay walked up to wife Twinkle in the front row and got her to do it instead. A blushing Twinkle shied away at first, but was eventually coaxed into flicking open her husband's denims.
The audience cheered, the showing ended on that high note and you'd think it was over and done with, but not so much.
Akshay's antics have landed him in hot water as conservative tongues across the country clucked disapprovingly about his gimmick. A Mumbai [Images] social worker has lodged a police complaint against the actor and the LFW organisers for what he described as an 'offensive' act.
While it remains to be seen if the Mumbai police will act against Akshay, who was incidentally honoured with the Padma Shri the day after his zipper number.
Do you think Akshay's antics were all in good fun?
Or do you believe that he should have shown more restraint on the runway?
What do you think guys? Let us know on the messageboard below.
Photograph: Arun Patil