April 02, 2009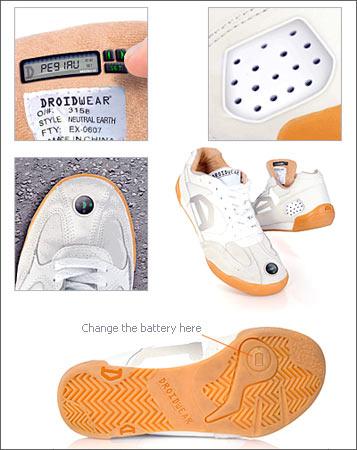 Forget about fumbling through the map as you pound the streets while searching for your destination, for your shoes can now have a built-in satellite-navigation system that will guide you through the confusing passages and help you find your way about town.
The Sat Nav Shoes contain a GPS tracking chip that works just like the one in your car.
Available for 129.95 pounds, the shoes work by typing a postcode into the display on the tongue and then they will guide you to wherever you want to go.
The tip of each foot has an LED light bubble, which shows whether to turn left, right or go straight ahead.
And if you happen to take a step in the wrong direction, it will give a loud beep signal.
There's also a waterproof speaker in the heel that can be activated to give proper voice details of where you're heading.
Made by Droidwear, the trainers can be easily connected to a Bluetooth headset to tell you the directions discretely.
Using the display on the tongue, you enter the postcode you want to find -- and the postcode you're standing in -- and the shoes will then take you to your destination through the shortest route.
The amazing footwear is powered by two rechargeable AA batteries, which last up to 2.5 hours.
The shoes are up for grabs at Firebox.com, and the gadget website is expecting a huge demand.
"We were astounded when we saw these for the first time. They really are amazingly accurate," the Sun quoted a Droidwear spokesman as saying.
The spokesman added: "They might not be as cheap as normal trainers but just think of all the shoe leather you'll save by not walking the opposite way to where you need to be."
ANI