Advertisement

  

Advertisement

One step closer to a healthier planet
September 15, 2008


Four engineering students from Mumbai [Images] have won the first prize at the prestigious Microsoft [Images] Imagine Cup 2008, with their software project -- a product that helps companies reduce their environmental footprint and CO2 emissions by effectively cutting down on power wastage caused by large computer networks.

In a glowing example of how India's youth are pushing the boundaries of academic excellence by using their skills and the power of information to create technology that benefits not only corporates but the world at large, Sameet Singh and Noel Sequeira, information technology students at Vivekanand Edcuation Society's Institute of Technology (VESIT), Mumbai, Amith George, a computer engineering student at Fr Conceicao Rodrigues Institute of Technology, Navi Mumbai, and Karun AB, an IT student at Bharati Vidyapeeth College of Engineering, Mumbai, came together to create 'Enpower' and following their win at the Imagine Cup also won the chance to work with IIM-A to take their project one step closer to reality.

Read these features?
Sabyasachi showcases in New York
Cracking CAT: You need preparation and persistence
Sandip Soparrkar's Latin Dance Extravaganza!
Clothing trends from Melbourne Fashion Week
RJ Dheena on top of the world
'Marriage is in shambles without love or sex'
Why you shouldn't be sacrificing your sleep

In an e-mail interview with Shifra Menezes, Sameet shares how they went about creating the award-winning project, the award and their plans for the future.

How did you come to participate in the competition?
Back in junior college, we heard about a team from VESIT that had represented India and won the second prize in some international software development competition organised by Microsoft. As we were inclined towards Computer Science ourselves, we wished then that we could do something similar in the future. We ended up representing India at the same event -- Microsoft Imagine Cup -- five years later, and in addition became the first Indian team to win a First Prize!

How did you go about creating the team, given the fact that you are all from different colleges?
We're friends, a few of us since junior college. More importantly, we all shared common interests -- programming, developing software and the passion to pursue our interests. We enjoyed spending time to explore our interests beyond the curriculum. We formed a small group of such students -- called the AXIS CORE for this purpose -- where we used to take up projects on our own, set our own deadlines, work as a team and learn the art of software development. That helped us get ready to represent India at an International Software Development Event.

How did you go about picking a topic?
Ideation for the Imagine Cup started in earnest almost six months before we wrote our first line of code. This was essential since the theme this year was pretty challenging -- "Imagine a world where technology enables a sustainable environment" -- since software and the environment don't make for an obvious mix. And we believe that this exercise was instrumental to our success. We'd developed a mini-repository of ideas -- real time data monitoring solutions, a web-based environment volunteer portal, power management in computer networks and a few others. We screened each for feasibility, impact and used a few other parameters to filter them.

But the most important sieve that we used (and the one that we believe clinched it for us) was the question: "Will this solution make an impact straight out of the box or will it be a glossy showpiece, pride of the display stall, only to get relegated to the 'could have been' collection". And ENPOWER passed this test with flying colors. There's a pressing need to save power today, we don't need to wait for any technology to become affordable for it to be deployable and most of all, we don't require our customers to be environmentally conscious -- we offer them a two-pronged incentive.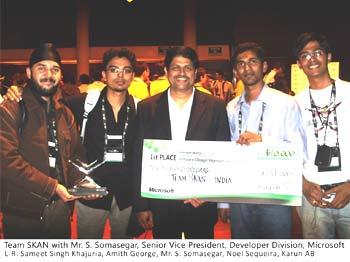 Tell us about the project.
The average desktop PC wastes over half the power delivered to it. Over 30 billion kilowatt-hours of energy are wasted annually worldwide because many of us simply forget to shut down our computers. In every organisation, this wasted electricity increases the cost to power computers and also increases CO2 emissions further pushing the world towards global warming.
ENPOWER is targeted at organisations which have a large network of computers -- it enables them to optimise power utilisation of their computers by effectively putting idle machines in power saving mode and through intelligent, central administration of the computer network
Tell us how you went about creating the project.
We felt that as opposed to visualising the application and its requirements ourselves, it would help a lot more to interact first hand with a potential client and develop the software accordingly. We are deeply grateful to Godrej [Get Quote] Infotech for helping us understand the real needs of the industry and the network set-up, which went a long way in keeping us focused and oriented in the right direction, right from ideation through development. Their feedback and inputs have been invaluable.
What did you think of your chances when you entered the competition?
We believed we had a good idea and the technical ability to convert it into a product. As we progressed through the initial rounds of the competition, we started getting more confident. At the national finals, we finished second in India at the Software Design Invitational. We were a tad disappointed, but this disappeared a few days later when we heard that we were to represent India at the International Finals in another category -- the Software Design Interoperability Award. This is for a project that helps connect different technologies/ platforms and deals with heterogeneous environments. "Connecting data, people and diverse systems", as Imagine Cup Interoperability Captain, Craig Kitterman puts it.
We realised the competition was very intense when we got to Paris. But we also realised that we were a part of the reason why the competition was intense. We knew we had done the basics right -- a good idea, a strong presentation and a working demo. So we believed we had a realistic chance to live the dream we had back in junior college -- and we were right.
The project also won IIM-A's Innovation Accelerator Award. Tell us a bit about the award and how you came to participate.
The Innovation Accelerator was a two-week-long incubation programme organised by the Centre for Innovation, Incubation and Entrepreneurship (CIIE), IIM Ahmedabad [Images] to take interesting ideas identified at the Imagine Cup in India a step further towards commercial reality.
We attended a series of lectures on IPR, Finance and Costing, Advertising and Marketing and were required to make a B-Plan presentation before a distinguished jury at the end of the two weeks. We were one among the Imagine Cup teams selected to participate in this programme. We competed against the best teams from Imagine Cup India and won the award -- seed funding of 10,000 USD from Microsoft India, incubation at the CIIE and the title of Microsoft Fellow.
What has been your experience working at IIM-A?
It would not be an exaggeration to say that the CIIE at IIM-A, is the best incubator in India for budding entrepreneurs. Start-ups cannot get a better platform and we consider ourselves truly fortunate to have been given this opportunity. We still remember the day at the Imagine Cup India Finals where Dr Samir Barua (Director, IIM-A) was part of the jury and when it was his turn to ask us a question, he said "I do not have any questions to ask, I'd just like to know when you could visit IIM-A to deploy your software on our network".
We've spent around a month at the CIIE -- working on our product, taking steps towards starting up -- and it's been a wonderful experience. A conducive atmosphere, unrivalled exposure, a team of mentors, constant feedback and guidance and the IIM-A brand help ease the jitters and give you the self-belief and confidence that a startup so desperately needs. It feels great to work on the campus of one of the world's most sought after institutes, without having to write the world's toughest exam.

What are your future plans -- career-wise, academically?
We plan to start up straight out of college. This is a bold move for us -- a baptism by fire of sorts -- but we have faith in ourselves and have come to realise that India is slowly beginning to perceive the value of entrepreneurship. We plan on acquiring industry exposure/ work experience along the way.
We believe the experience that we gather over the course of nurturing this start-up will leave us a lot richer than an academic degree might. We might want to pursue a management degree in the future, and we'd probably be able to appreciate the course a lot more then than as greenhorns straight out of college.
And yes, please visit www.creativeriot.com, to witness the launch of a worldwide campaign, that will "ENPOWER" not only millions of Indians but billions worldwide to join the battle against global warming.