Advertisement

  

Advertisement

'Fashion can be a murky business'
October 14, 2008


That's the lesson 30-year-old Samir Singh, fashion entrepreneur and shoe designer, has learned the hard way. "But the most important thing is to keep following and never ever give up on your passion and goals."

And that is what has brought Samir from being a college drop-out to a successful businessman supplying footwear to some of the country's leading designers including Rohit Bal, Raakesh Agarvwal, Ravi Bajaj [Images] and Tarun Tahiliani.

Read these features?
Getting married on a shoestring budget
Backaches & muscle pain? Alter your lifestyle!
Interfaith marriages: How they work
Indian teen wins NASA contest

In an e-mail interview with Shifra Menezes, Samir shares how he found his calling and what lies ahead on his entrepreneurial journey.

Tell us a little about your background.

There is not much to say about my educational background. I am a college drop-out -- the black sheep amongst a family of the highly educated and educationists. My father is an engineer and an MBA and has a small business, mother is a Reader in a Delhi [Images] University college, and till recently was the director of a reputed MBA institute in Delhi. My sister, an MPhil holder, was also a lecturer in a Delhi University college till sometime back before she moved to Bangalore. She is married to a CA.

In terms of my education in footwear I did a short-term course in footwear design and manufacturing from FDDI, Noida in 2003. Last year I also did another short course in designing from CERCAL in Italy [Images]. Technical learning aside, most of my learning has happened on the job.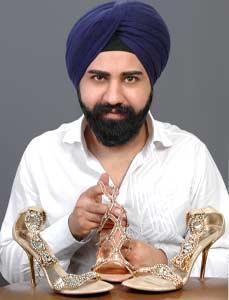 How did you get started in the shoe business?
I got started in this business because I think it was my destiny. A childhood passion for shoes, which grew with age became the reason for my choice of profession.
Although I was working in my dad's business of manufacturing machinery parts at that time I wasn't happy and knew that that was not what I wanted to do for the rest of my life. In my pursuit for a creative career I explored fashion photography, journalism, event management amongst other options. But the interest would fade after further exploring the field until one fine day when I thought about shoes and it was like an enlightened moment.
I knew this was it and wondered why I had been even thinking for so long. I immediately enrolled in FDDI and did the course. It was during the course that I developed an interest in designing.
I also call being in shoe designing my destiny because it was during the design course that I somehow developed a skill to sketch, out of the blue, because my sketching skills were more than horrible in school days. Post the course I travelled across India and then America and Italy to find my niche. It was during my trip to Italy in early 2005 that I decided to start my own label and get it "Made in Italy", because I was always in love with Italian shoes and a great admirer of the design and quality they stood for.
I always wanted nothing but the best quality for my line, something which I think got infused in me from dad's business where quality was essential and the company's logo was "Quality is our middle name", a logo which I had myself invented.
So in September 2005 I launched my label SAMIR with my first collection called "The Blue Blood Collection" from Kimaya in Delhi, Mumbai [Images] and Dubai [Images].
What kind of assignments did you handle in the early days of your career?
Fortunately or unfortunately, I started off on my own, right from the beginning. So I started with research for the label which took me almost a year after completing my course. I started working on my collection in March 2005 and launched the first collection six months later.
There was a lot of travel for research but luckily there was not too much work pressure but the work schedule was weird, because while in India I would start at normal timing I would have to work till quite late to follow up with the Italian suppliers because Italy is on average four hours behind us, and while in Italy I would have to start at times even at 5.30 in the morning there to coordinate things in India.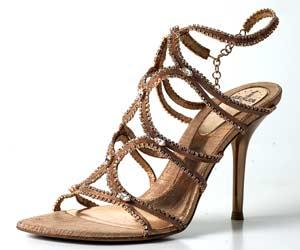 Was it a struggle starting out?
A huge struggle, which continues till date. To begin with it is a very heavy investment business. The manufacturing costs in Italy, travel and lodging expenses, import duties and overheads made the shoes very expensive and difficult to sell. My competition at that time was with Louis Vuitton in India and I was not a big label or anything but my shoes were priced higher.
The collection got rave reviews but did not sell well. Some of the shoes were also damaged by the store due to mishandling and the store did not even pay for them. So that was another loss.
Moreover the shoes not damaged could also not be sold later as clients do not want to buy designs from the last season. So the first collection was great for publicity and got talked about a lot but was a disaster in terms of sale. The silver lining though, was that amongst the pairs that got sold, a pair was bought by Rekha [Images]ji the actress.
Tell us a bit about your company -- when it was started and the progress since.
I started off in March 2005 and since then I have added a western design line to the label. In 2007, I also started the custom-made footwear in which the range starts at Rs 50,000. I have also done shoes for labels of some of the best fashion designers of the country, shoes which go with their collections.
Do you believe in the 'lucky break' factor, or do you believe that a creative, new idea is all you need to guarantee career success?
Luck according to me is everything. You may have the most brilliant idea in the world but without luck you will not get anywhere with it. There is always the right time for everything to happen. So one must keep doing his/ her thing and hope, wait and pray for that lucky break to come soon.
What kind of challenges have you faced in the course of your career, and how have you learned to deal with them?
Challenges are actually learnings and there have been challenges galore. From dealing with damaged consignments, to constant need for more and more investment to go further, from having lost big opportunities and being set-back by a season because of Italian suppliers and partners faltering or backing out at the last minute, to blindly trusting people in the fashion industry here only to realise later that big fashion icons can back bite and hit you behind your back for petty selfish gains, have been some of the challenges.
I have dealt with each one by taking things in my stride, by looking at the brighter side because there is always one, and importantly taking lessons from those episodes and molding my self to face those challenges with new vigor and energy.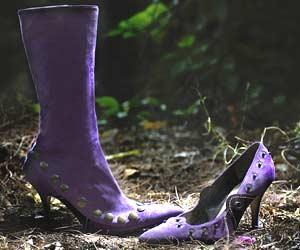 What tips do you have for today's youngsters looking for a break in the fashion world?

The most important thing is to keep following and never ever give up on your passion and goals. And be different and the best at what you do.

Also, this is a murky world, so don't blindly trust anyone and never give up your values to attain your goals.

Lastly and very importantly, from a pure business perspective, if you are starting your business then either have the backing of a rich dad to support you or have at least two-three years of sustenance money with you before you start off, because that's the time it will ideally take you to get kick started.

What are your future plans?

Future plans include expanding business in India and to go global and make the label SAMIR one of the top luxury footwear labels of the world.