July 23, 2008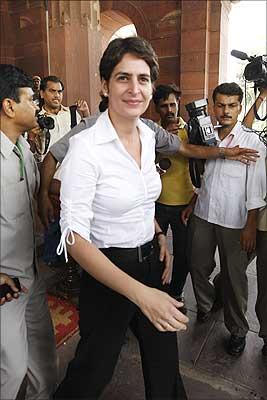 On Tuesday, the country watched Parliament proceedings in the run up to the trust vote in the Lok Sabha with great anticipation, as seasoned politicians debated the failures and successes of the Manmohan Singh [Images] government.
Read these features?
Italian cooking: Simple grilled fish
Funky college bags for trendsetters
Quiz: What's your inflation quotient?
The top food myths busted
The one-stop scholarship shop
All you need to know about the SAT
Emerging from the goings-on like a breath of fresh air was Priyanka Vadra [Images] in this simple yet elegant ensemble.
In stark contrast to the usual khadi vests and starched cotton saris, the well-fitted white shirt with tie-up sleeves over black trousers was stylish yet respectful of the gravity of the occasion. 
While the UPA government may have won the majority with a total of 275, Priyanka definitely gets our vote for style! 
Photograph: Vijay Kumar Joshi/PTI