A shopping mall in Gurgaon
Photograph: Manpreet Romana/AFP/Getty Images

Advertisement
January 31, 2008


Foreign visitors have called India a lot of things over the centuries, but "an easy place to visit" has never been one of them. Especially challenging are India's bustling cities that seem to constantly threaten sensory overload -- if not fast death, by rickshaw or bus. Densely populated, poorly zoned and traffic-choked, they are "hard" travel destinations by any standard. This is true even of India's capital, the sprawling northern garden city of New Delhi.

But as India's economy surges, New Delhi is in the midst of a modernizing building and construction boom that's slowly changing the reality, if not yet the reputation, of the city. New Delhi is currently undergoing a $17 billion facelift aimed at making the city safer and easier to traverse, less polluted and all-around more tourist friendly. The nip and tucks include new roads, new hotels, an improved transport system and dozens of flyovers to relieve congestion in the city's traffic chokepoints.

Adding urgency to the building boom (and bringing heavy state support) is the countdown to the 2010 Commonwealth Games in New Delhi, which the Indian government views much in the same way as its northern neighbor views the 2008 Beijing [Images] Olympics [Images]. The first major event in New Delhi since the 1982 Asian Games, it is the capital's chance to shine -- its 21st-century coming out party.

"New Delhi is changing and modernizing quickly, and the world will see this in 2010," said DL Kumar of the Delhi Tourism and Transportation Development Corporation. "We are not only building state-of-the-art stadium infrastructure needed for the Commonwealth Games, but there is a complete renovation plan for the city by 2010."

Some elements of the renovation plan have proven more successful than others.

"Over the last few years nearly two dozen flyovers have come up in an effort to relieve (traffic in) various congestion points, including to and from the airports," says Aniruddha Bahal, a prominent New Delhi journalist and cable news host. "It helped initially, but now with the number of cars increasing by the day it's already becoming like before."

One change with less muddled results is the city's conversion of its enormous bus fleet to run on compressed natural gas instead of diesel fuel. It is now the largest such natural gas bus fleet in the world, and the difference is pronounced. Delhi pollution is still bad, but an afternoon exploring the center is no longer the equivalent of smoking two packs of unfiltered Pall Malls.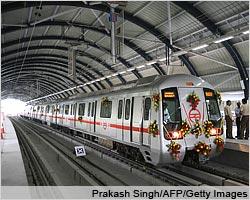 Also reducing traffic and pollution (and easing transportation around the city) is the newly completed subway system. Delhi's Metro Rail is a modern system complete with touch-screen ticket kiosks that brings millions of commuters daily into and around the city. There are plans to expand service by 2010 into Gurgaon and Noida, Delhi's boomtown satellite cities.
The centerpiece of Delhi's state-funded reconstruction boom is taking place in historic Connaught Place, the commercial heart of the city. Named after the Duke of Connaught and built in the early 1930s, "CP" is a vast circular outdoor mall stuffed with both international chains and locally owned stores. For most of its history, it has also been a crumbling, poorly zoned mess surrounded by traffic chaos. And so the city has launched a campaign to recapture the famous market's old glory as part of its citywide "Return to Heritage" project. In the coming years, CP will get new roads, better traffic management, and wider walkways.
"The idea," says Kumar, "is to bring the glory back to CP."
One concern in the development plans is how to house the tens of thousands of guests expected during the games. And so, not far from Connaught Place in central Delhi, a special Commonwealth Games Village is being constructed on 40 acres that will accommodate 8,500 athletes and officials.
To help close the current 20,000-room gap between supply and expected demand, the Finance Ministry is offering five-year tax holidays for two-, three- and four-star hotels and convention centers. In case the shortfall in rooms is not closed by 2010, the city has begun a "bed and breakfast" scheme wherein locals would temporarily house guests.
The infrastructure improvements take place against a backdrop of private-sector development in downtown New Delhi as well as Gurgoan and Noida, Delhi's high-tech outsourcing and call-center satellite cities where office parks and malls are sprouting at a feverish pace. In Gurgaon, the flagship hospitality development of recent years is the Fortune Select Global Hotel. Representing a trend, the ultra-modern business hotel abuts a gleaming new shopping complex, thus sparing timid foreign guests any need to venture into India's hot and dusty streets.
Along with building up its roads, business centers and markets, Delhi has seen nightlife boom in recent years. The capital's modern club scene is based in south Delhi, host to an estimated 150 (mostly new) bars and nightclubs. Most popular for the rock crowd is the basement club Turquoise Cottage. Like many music venues in India, the acts often fuse Western styles with Indian instruments and styles. Then there's Ivy, a restaurant/club that attracts world-class DJs for Delhi's trendy set who regularly pack the 47-foot-long bar. The modern white interior is offset with deep-red chandeliers, making this one of the city's most interesting modern spaces.