Advertisement
January 30, 2008


Since its inception in 1948, Pune University has been one of the leading centres for research and learning in the country. The university is well known for its research institutes which include the National Chemical Laboratory (NCL), MACS, CWPRS, NIV, Gokhale Institute of Politics and Economics and Deccan College. No doubts then as to why it is one of most preferred universities and certainly a dream of any MCA aspirant. TCYonline.com presents a detailed overview of the MCA entrance procedure for Pune University.

Why Pune University?
Because you ultimately end up working with the best of IT companies in India and abroad. However, unlike other campuses, Pune University has a placement cell that comprises various student volunteers who are responsible for the placements as well as industrial training of MCA students.

The cell organises interviews for the final year students and has their alumni placed in reputed companies like Adobe, Amazon IDC, Fair Isaac, Microsoft, Versata (Trilogy), Yahoo among others.

Last year, around 25 companies participated in the placements. The average salary offered was Rs 6.1 lakh per annum, the highest being Rs 10 lakh pa.

A list of the companies that visited the campus during the placement week is given below: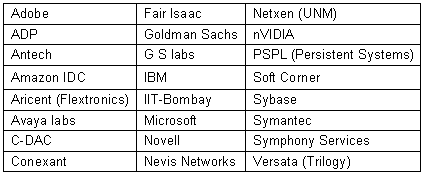 Who can do an MCA and at what cost?
If you have a Bachelor's degree in any discipline, with a minimum of 50 per cent marks, you are eligible to sit for the entrance test. Students belonging to reserved categories need to have mere passing marks in the graduation. However, 50 per cent of seats are reserved for the candidates from Maharashtra. 
Selected candidates from Maharashtra will have to pay an annual fee of around Rs 35,000 for the course. This fee includes the tuition fee, exam fee, lab fee and other miscellaneous fees. Fees for candidates from other states is over Rs 50,000 annually.
How to go about applying
The admission is solely through a written test that comprises the assessment of mathematical, reasoning and language fundamentals of aspirants. The test structure is as follows:
Mathematics: 40 questions
Reasoning: 40 questions
English language: 20 questions
Total questions: 100
~ The time allocated for the written test is two hours. 
~ Questions are with multiple choices of 4 marks each.
~ There is a penalty of 1 mark for each wrong answer.
~ The test for the admissions to 2008 batch is scheduled for February 24, 2008.
~ Students can find sample papers and complete paper for Pune University MCA entrance on TCYonline.com for further reference.
How do you prepare?
Here a brief look at the syllabus for Maths for the entrance exam:
1. Set theory: Set operations, relations, functions.
2. Propositional logic: Formulation, deduction, evaluation, puzzles.
3. Linear algebra: Solution of a system of linear equations. Determinant and inverse of a matrix, basic properties of matrices.
4.  Co-ordinate geometry and conic sections: Equations of lines and planes, vector products; definitions and properties of conic sections.
5. Trigonometry: Identities, computation of heights and lengths.
6. Differential Calculus: Total and partial differentiation, limit of a function.
7. Integral Calculus: Definite and indefinite integrals, solution of differential equations, computation of areas and volumes.
8. Series and sequences: Sum, mean, convergence, limit.
9. Real and complex numbers: surds, solution of equations on complex domain.
10. Polynomials: Solution of quadratic equations, properties of roots of polynomials with real coefficients, binomial expansion, Taylor series.
11. Permutation and combination.
12. Elementary probability theory: Computing probability from combinatorial reasoning, conditional probability.
What experts have to say
Experts from TCYonline.com have done an in-depth observation and analysis of the previous year entrance examinations by Pune University for MCA entrance. Here is what facts unfold with regard to the expected number of questions in all the three sections of the test.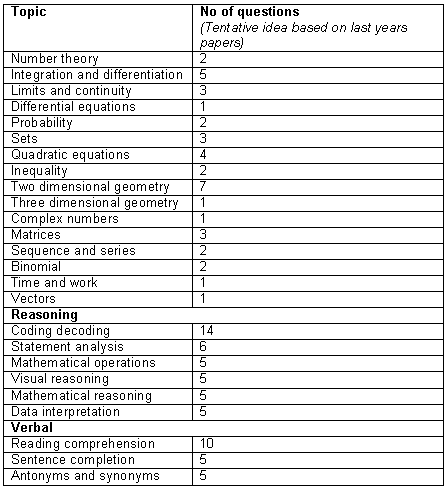 From the above table, one can be sure about the chapters involved and their most frequent share in total number of questions. Knowing your areas of strength you can draw out a preparation plan for the test.
Moreover, it has been observed that that verbal part is easier that the other two parts. So it is always advisable to attempt English first.
Whom to contact?
In order to know the details of the application process and the entrance exam one can call +91-20-2295 3024 or +91-92705 15716.
Another mode is to mail your queries regarding at their official e-mail address: support@unipunepgadmissions.com. To apply online for the admission, log on to www.unipunepgadmissions.com.
Top Careers & You has been preparing national and international candidates for high-end tests viz. MBA, MCA, GRE, GMAT and SAT since 1998.