September 28, 2007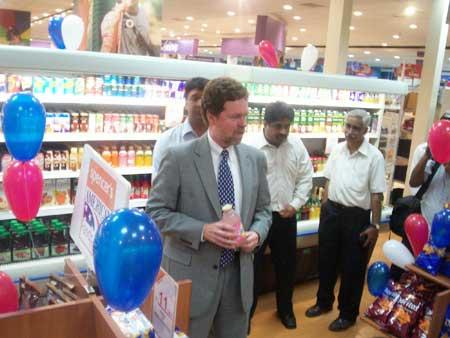 Spencer's, the Indian retail chain, is showcasing a wide range of US products at the "American Food Festival" from September 14 to October 7, 2007 at 29 stores in the Delhi and Mumbai. 
Mr Michael Owen [Images], US Consulate General in Mumbai, along with Mr Nimish Shah, Vice President Operations, Spencer's Retail Limited, formally inaugurated the festival on Monday, September 17, 2007, at Inorbit Mall at Malad, West, in Mumbai.
The US products include a vast range of consumer food products form the Southeastern, Midwest and Northeastern United States. They include almonds, apples, grapes, pears, prunes and soya products, to name a few.
The "American Food Festival" has been organised by the Foreign Agricultural Service, US Embassy, New Delhi, in coordination with Spencer's Retail Limited and various American food industry groups.
Mr Nimish Shah said, "We, at Spencer's are delighted to partner with USDA and bring the American Food Festival to our loyal customers. This is another initiative in our strategy of being a food focused retailer. We plan to bring more such International Food Festivals in the future."
~ Have you used these products? Tell us what you think. 
~ Do you have a new product you would like to see featured here? Send it to us with the details, the photographs and the contact details and you might just see it here.