September 27, 2007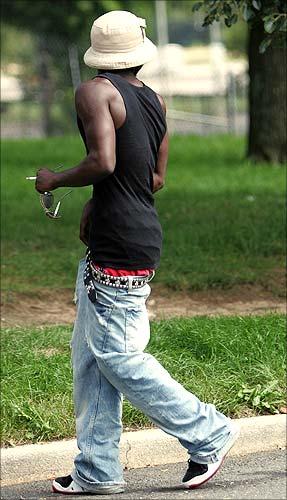 This guy obviously thinks he's cool. Unfortunately, he's actually out of the loop.
International fashion trends have pushed baggy, saggy pants to the verge of obscurity. In their place, super-tight fits sit atop the throne of all things 'in'.
Jay-Z, Pharrell and Kanye West have all been seen sporting super-slim jeans. So, if you're considering imitating your favourite hip-hop star, put down the oversized overalls and look for something else.
In fact, super-low pants have actually been outlawed in parts of the US. Wearing your pants at 'half-mast', as it's called, can earn you a fine of $500 (Rs 20,000).
This season, hit the gym and stick to slim. Remember, put your best foot forward. You don't want to look sloppy and unkempt. That's just so uncool! 
Photograph: Ethan Miller/Getty Images


Do you want to see your fashion fundas on rediff.com? If so, mail a pic of your favourite fashion accessory, along with a brief description of where you got it and how much you paid for it, to getahead@rediff.co.in. Make sure to include your name, age, occupation, and contact details, and we'll feature the best entries!