September 05, 2007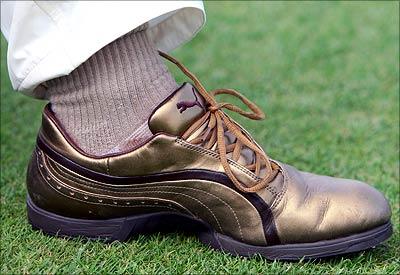 Funky sports shoes are all the rage at the moment, but if flourescent greens and bright reds aren't really your style you might want to check these out.
Sports shoes in dull metallic finishes are fun yet understated. A pair in matte silver, gold or bronze will grab the attention you want without screaming "Look at me!"
Most of the big sportswear brands have options in this style -- mixing black, blues and deep greens with the metallic tones. However, a branded pair could cost you upwards of Rs 2000.
If that's too steep, cheaper options are always available starting from Rs 500 up.
Photograph: Stuart Franklin/Getty Images 


Do you want to see your fashion fundas on rediff.com? If so, mail a pic of your favourite fashion accessory, along with a brief description of where you got it and how much you paid for it, to getahead@rediff.co.in. Make sure to include your name, age, occupation, and contact details, and we'll feature the best entries!