Advertisement
June 22, 2007


We asked Get Ahead readers to share their stories of weight loss with us. Here, 36-year-old network engineer Deven Mehta shares how he dropped 20 kilos in less than a year:

It's no secret how much Gujaratis love their fast food. Being from a Gujarati family myself, bhel puri, samosas and vada pav were a big part of my diet. Not surprisingly, then, I was grossly overweight at 91 kilos.

Realising the need to get healthy, I started out on a unique weight loss regime � one that didn't involve giving up junk food. I lost 20 kilos in 11 months by following this simple plan.

Exercise

I would work out for 40 minutes every day. I'd walk for 20 min on the treadmill and spend 20 min on the stationary cycle. Initially, I would spend only about 15 min on the treadmill, but gradually, my energy levels rose and I increased the length of my work out. A word of advice, though, don't run or jog unless you feel comfortable on the treadmill. Also, if you are overweight, jogging could have a detrimental effect on your knees.

Diet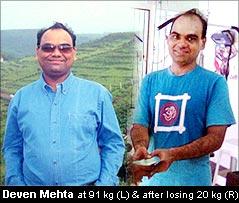 Regarding the diet aspect, I didn't just quit eating junk food. I kept to a simple routine.
~ I would eat a healthy breakfast: a cup of tea, two slices of wheat bread toasted (without butter) and one fruit.
~ For lunch it would be chapatis and vegetables with some fruit for dessert.
~ In the evening I'd have a light snack like khakra or nuts.
~ Dinner was light with two chapatis, vegetables, accompanied by dal or kadi.
Saturday was the day to give in to all my cravings. I'd treat myself to a bar of chocolate, a vada pav or samosa and maybe even a dinner out. This simple routine really helped keep the cravings in check, and prevented me from cheating on my diet for the rest of the week.
For those of you who cannot resist the temptation of fast food, however, there are some healthy ways to indulge yourself.
1) Eat idli but with sambhar and no chutnies.
2) Eat pav bhaji with less or no butter. Replace the pav with chapatis or wheat bread.
3) Reduce your intake of not-so-healthy foods instead of cutting them out of your diet completely.
By following this routine, you will be able to lose weight even though you've eaten five times a day. What you need to be careful about is that your body is getting the nutrients it needs. A gym workout helps to tone your body while increasing your energy levels.
The method I followed enabled me to bring my weight down to 71 kilos, and is a great way for foodies to enjoy junk food while staying healthy.
DON'T MISS!
'I lost 14 kilos in three months'
'50 kilos lost in a year's time'
'My way from 84 kilos to 68 kilos'
'How I lost 30 kilos'
'I lost 11 kilos in two months'