| | |
| --- | --- |
| Birendra Higgins, founder of the exclusive b.higgins footwear brand | |
| | |
| | |
| | |
| | |
| | |
| | |
| | |
Advertisement
June 20, 2007


Planning a trip to Milan or Paris to buy that exclusive pair of designer shoes? You might want to try aamchi Mumbai instead!

b.higgins, the exclusive shoe store at Bandra (in suburban Mumbai), promises designer shoes in world-class fits, designs and textures you've never seen in India before.

The b.higgins brand, set up by Birendra Higgins, aims to create more than 30 new styles of men's shoes every quarter in a range of color combinations to suit the shoe styling needs of the urban Indian man. The material used for these designer shoes is said to be world-class and handcrafted in Mumbai, Chennai and Milan. Higgins plans to make his collection available at other exclusive stores as well.

But how real is the need for an exclusive shoe showroom in Mumbai, where the rich and famous take pride in flaunting footwear picked up from the fashion capitals of the world? Says Higgins, "If you look closely, people's aspirations have changed. They spend more and expect more. The demand for clothing has been met by companies and designers catering to an elite base of consumers. In footwear, women have a reasonable amount of variety. On the other hand, men have very little or absolutely no variety at all."

The feet of Indian men are quite different from men around the world, says Higgins, and so there's a necessity to address their unique needs. The attempt, therefore, is to combine Indian and western tastes in tune with the international fashion scene. A tall order, one might think, considering the needs of the fashion-conscious urban Indian men and the desire to own the best.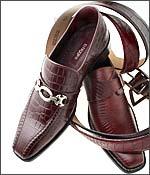 How difficult or easy was it, then, for Higgins to move into shoe styling, considering he is an MBA and has worked with advertising agencies like Trikaya Grey and FCB-Ulka, besides having choreographed over 60 fashion shows in his career? While charting out his somewhat unconventional professional course, he followed a gameplan. This is what he suggests for others who have similar aspirations:
(a) Build a base of qualifications and knowledge, and a level of financial security. He has done his post graduation studies in business management, and worked for about 8 to 10 years in advertising.
(b) Strike out on your own, work the hardest for yourself. He quit advertising, went into his own consulting and placements business and further consolidated his financial position.
(c) When reasonably comfortable, try out something creative and exciting. This explains his foray into the fickle world of fashion, models and choreography.
(d) Extend your creative involvements and create a business opportunity. Higgins' familiarity with the fashion industry led him to start his own line of designer men's shoes, which was a vacant slot.
So, does he really think that people who go shoe shopping abroad will stop at a Bandra store and buy from an Indian designer? "Certainly," says Higgins, withour batting an eyelid. "If the shoes are well styled, more easily available and cost less, several people who shop for shoes abroad will buy them here. My line of designer shoes promises a styling similar to Italian shoes, varied colors and combinations, and high-quality finishing." Moreover, b.higgins creates only seven pairs per design or color combination to maintain exclusivity.
It took approximately Rs 10 lakh for Higgins to conduct trials, travel abroad, bring back samples, make moulds and get unique leather. This exercise involved many trials and errors and a long education process by the karigars (craftsmen) to achieve a high level of quality. "It took another Rs 10 to 12 lakh to rent a store, do the interiors and create stocks," he sums up.
But with this kind of outlay, is the Indian market open to indigenously designed shoes? "The market is a reasonable size right now," says the footwear designer. "The target audiences are people in the film and fashion industry, television and media personalities and high-income professionals in westernised business houses. It's a growing market."
The Indian market and the tastes of urban Indian consumers are fast changing. They expect more in quality and design, and are willing to pay for it. So, if you feel your passion for shoes goes beyond just buying and wearing them, then Higgins has some words of advice: "Study the market. If possible, travel abroad and visit a few workshops. Learn about leather and its varieties, see how shoes are made and educate yourself."
For more information, check out www.bhigginsshoes.com