Advertisement
June 01, 2007


We asked Get Ahead readers to share their stories of weight loss with us. Lalit Karamchandani sends us the story of his weight woes and the secret behind losing 30 kilos in a matter of weeks.

I have been overweight since my childhood, and have at no point been thin or even of average weight. Over the years, in my struggle to lose the excess kilos, I've tried almost every formula I've seen on TV, on websites or suggested by friends.

But, as is usually the case with most people who go on a weight loss regimen, I would lose around five kilos while I was on the programme and as soon as I'd quit, I would regain all the weight I had lost.

I hit rock bottom in January this year -- my weight tipped at 111 kilos and my waist measured 43 inches. That's when I realised I needed to do something drastic. The answer: the Cambridge Diet.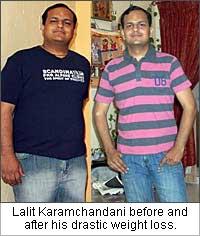 I met with a counsellor in Dubai who explained how the diet worked and how it would ensure that the weight I lost would stay off. As part of the programme, I was put on a diet of three special Cambridge diet foods -- a soup, a drink and a shake -- which were to be consumed in the course of the day.
Each packet came in a variety of flavours, which made things a little more interesting. The soup could be mushroom, vegetable, chilli or tomato; the drinks came in chocolate, vanilla and fruit flavours. Apart from the food packs, I was told to consume an additional minimum of three litres of water a day.
The diet also prohibits you from eating anything else, so, needless to say, the first few days were difficult. But after about three to four days, it was pure bliss. I felt lighter and more energetic, I could wake up earlier, and most importantly, I didn't suffer from hunger pangs.
Within the span of 11 weeks, I lost around 30 kilos thanks to the Cambridge Diet. I now weigh 81 kgs and I am on a normal diet (a lot of healthy food, with a controlled intake of junk/ fast food). The best part is -- I am still losing weight!
DON'T MISS!
'I lost 11 kilos in two months'
Were you once overweight? How did you manage to drop the excess baggage? Email your contributions to howilostweight@rediffmail.com, along with your name, age, occupation, contact details, and photographs of yourself both before and after your weight loss. We'll publish the best entries right here on Get Ahead.