Advertisement
July 25, 2007


We asked readers to share their stories about living with roommates. Here Aazhi Aadhan tells us about the deep friendship he shared with his roomies.

I'd like to share my experiences with my roommates who were also great friends. There were six of us in all, from various parts of India -- Bangalore, Hyderabad, Chennai and Mangalore -- but with one common goal, of being there in the US for our studies.

Some people believe that marriages are made in heaven, we'd like to believe that roommates and friends are decided in heaven too. Roommates are technically people you share a roof with, but taking that extra step and getting to know each other and being there for each other is what sets us apart.

Running a household in a far away place, far from the comfort zone of our parents could have been a very difficult task, if we had taken each other for granted. We were a well-balanced group that took things a step further, we shared daily chores of the house, learning things from each other and certainly being a source of inspiration to one another.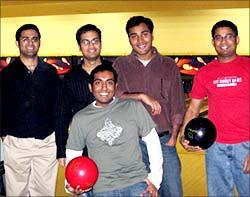 There has always been a sense of purpose in each of us meeting each other. Together we formed a chain of brothers in a place far away from those we loved and all we'd ever known. In one another's company we found friendship, laughter, support and consolation in times of sadness. Some of us are more outgoing, some more reserved, some liberal, some conservative --each of us contributing something to create this perfect little blended family in our home away from home.
There's bound to be difference, when people of such varied personalities try to share a common space. It certainly is a challenge, since most of us haven't shared any sort of interaction prior to us coming together as roommates. Therewere quarrels and misunderstandings, but we overcame all such hurdles.
We were just a small family, seeing each other through happy times and sad times. A terrible time was when we were put to the test of losing a dear friend (also one of our roommates) in a tragic accident. I am sure just that one incident has left a mark in each of us, and made us realise that each moment is precious. Everything was put into a new perspective with just that one incident, we might never be the same -- but, for the good!
As the song goes "We had joys, we had fun, we had seasons in the sun," between all the trips that we made together, eating out and trying various cuisines, movie nights and so many instances that have added more meaning to our 'American Experience', it was indeed an honour having such wonderful people as roommates. I can safely speak on behalf of my friends when I say that we were truly lucky to have found each other's company for it has truly enriched our lives! Miss you guys!
DON'T MISS!
Do you or did you once share your living space with a roommate/ roommates? We'd love to hear about your experiences sharing your accommodation with someone else. Roomie horror stories, stories of friendship, we want to hear them all!
Write in to us, along with your name, age, occupation, contact details, and a photograph (if possible), and we'll publish your entries right here on rediff.com!