July 09, 2007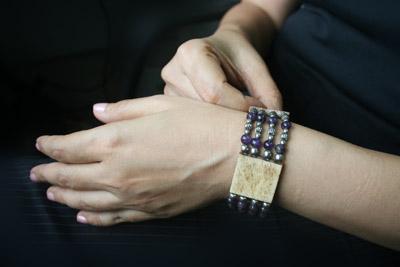 If you're one of those ladies who loves accessorising, this bracelet will make the ideal addition to your costume jewellery collection.
Made of quaint wooden squares interspersed with both blue glass and metal beads, it is the perfect thing to wear either to college or for a night out -- the neutral colours will not clash with any outfit you have on. The best part is, accessories like this are always in style.
So where can you make a similar purchase? The answer is everywhere! In the city of Mumbai, look for these bracelets at roadside stalls on Colaba Causeway, and at Hill Road in Bandra; in Pune, M G Road is the place to go and in Delhi, head to Connaught Place or the M-69 Market. As for the price, a quality piece costs around Rs 240.
And oh, tourists are always buying up these bracelets by the dozen, so if you run out of luck finding them at one stall, try another, or then visit again after a few days.
Photo: Dominic Xavier
Do you want to see your fashion fundas on rediff.com? If so, mail a pic of your favourite fashion accessory, along with a brief description of where you got it and how much you paid for it, to getahead@rediff.co.in. Make sure to include your name, age, occupation, and contact details, and we'll feature the best entries!