Advertisement
July 04, 2007


The rains are upon us. There's no escaping an unpredictable downpour -- sooner or later you're going to be caught in one whether you like it or not, and there's no saying when. You could be on your way to work, you could be in the middle of a busy street shopping, or you could be on your way out of town for a quick weekend getaway when a deluge descends upon you.

The climate this time of year particularly inspires people to make weekend getaways, or go off on full-fledged vacations. But the monsoons can wreak havoc when it comes to your travelling plans. Whether you're making the journey by car, by train, or by plane, you've got to factor in the weather.

Here are a few tips to keep in mind if you're ever caught in a deluge while travelling:

By air

~ Before leaving for the airport, make sure to call and find out if your flight has been delayed/ cancelled. Remember, it could take you hours to reach the airport in a downpour, and it may take even longer at the airport before you're finally off.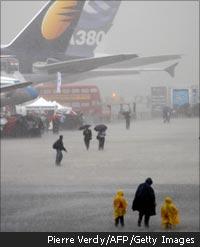 ~ Keep raingear handy. You can check in larger luggage, but make sure you carry an umbrella and/ or windcheater with you at all times.
~ Try and ensure your luggage is adequately protected from the rain -- when your baggage is unloaded from the aircraft you don't want it to get soaked. 
Sometimes, unforeseen incidents may occur -- for instance, passengers aboard a flight last month from Newark (in the US) to Barcelona, Spain, were most annoyed when actress Penelope Cruz suddenly disembarked from the aircraft because departure was delayed, and allegedly had her bags removed from the undercarriage right in the middle of the tarmac while it was raining.
Other travellers' bags were pulled out onto the runway to get her luggage, and were soaked as a result.
~ Carry essentials like a mobile phone and medication, especially asprin, pain killers and such like. Cotton for your ears and nose drops if you have a cold (landing is a killer if your ears are blocked). Carry sweets to help you deal with nausea. 
Make sure your cell phone is fully charged. Having an extra battery/ extra charge for your cell phone is very handy. Make similar provisions for your laptop, if you are carrying one.
~ Carry enough cash for a hotel stay. Also carry your credit and ATM cards.
~ If you've boarded the aircraft and take-off has been delayed due to a downpour, make sure you get out of your seat and stretch your legs at least once every hour; the same goes for your kids. Staying in your seat for long periods of time can cause deep-vein thrombosis.
~ Carry along a few comics, books or hand-held toys to keep children occupied. If you are travelling with a baby, make sure your diaper bag has enough disposable diapers, wipes and a change of clothes.
~ Take enough snacks or a sandwich and water; it's best not to rely on the airline. Food at airport restaurants/ stalls is exorbitantly priced. If many flights are delayed for a long time, they could even run out of food. Even at the best of times, a sandwich comes in handy while waiting for a flight. 
~ Keep important phone numbers handy. Getting out of an airport on landing on a rainy day may require you to hire a car if taxis are in short supply.
~ When airports are home to hundreds of stranded passengers, items like wipes, toilet paper can come in handy. So can some engaging reading material or even a pack of cards. And, sometimes, even a spare set of clothes.
By car/ bus
~ Make sure your car is in apple-pie order if you're planning a road trip someplace -- cars tend to give trouble and sometimes stall in a downpour. Make sure the wipers are working effectively, the car battery is well-charged, the spare tyre is in good shape and there are no nooks and crannies from where water can seep into the vehicle (this can happen in an older car, if parts of the body get corroded). Also, you need to tank up -- heavy rains can cause endless traffic jams.
~ Your mobile phone should be fully charged, just in case you need to make an emergency call; driving in the monsoons can be a risky proposition. Keep a disaster management emergency number handy, just in case. Also keep flashlights, an emergency light, umbrellas and even a pair of boots handy.
~ When Mumbai was badly flooded in 2005, many suffocated to death because they were camped for many hours in air-conditioned cars with their windows shut. Carry a heavy spanner or mini-hammer to break out of a car if rain damages your electronic window system. If you are marooned in your car for several hours and have the AC on, keep your boot/ trunk lid ajar to allow air in.
~ Make sure you stock up on a few snacks -- you never know when you'll be in for a long haul.
~ If you are travelling with young children, take along snacks, a couple of hand-held video games or music CDs to keep them occupied. For babies, make sure you don't pack diapers and/ or baby food into the booth of the car. It won't do much good if you're caught in heavy rain and you have to step out to get at them.
~ Pillows, blankets, newspapers are always handy. So are vomit bags.
By train
~ Make sure to find out beforehand what travelling options you can avail of, in case the train is unexpectedly stranded halfway because of water-logging along the tracks.
~ Avoid eating the snacks sold on the train -- they are rarely hygienically prepared. Carry your own food instead. If the train gets stuck someplace mid-way and you've taken ill, it will only add to your troubles.
~ Your mobile phone should be fully charged, just in case you need to make an emergency call.
~ Carry along a few small toys to keep young children occupied. It would be good to have your baby bag well-stocked with diapers, wipes, basic medication, disposal bags, etc.
~ If you are carrying a laptop and plan to use it, make sure it is fully charged and that you are carrying an extra battery.
Last, but not least, there's no use in getting irritable and cursing the weather. Be patient, and hope for the best if caught in a downpour -- after all, there's still a great getaway to look forward to!
Have you ever been stranded while travelling in the monsoons? Share your experiences, travel tips and advice with us! Write in to getahead@rediff.co.in, and make sure to include your name, age, occupation and contact details -- we'll publish the best entries right here.