August 30, 2007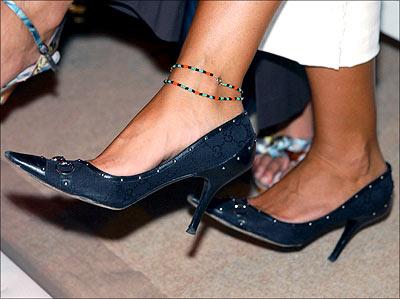 Anklets or ankle bracelets have come a long way from the traditional payal, and have been spotted gracing the ankles of Indian and international movie stars and models at events as varied as a day at the beach or a mega movie premiere.
They go with almost every outfit -- capris, skirts, dresses, saris and trousers -- and don't adhere to any rules. So, whether is a single strand of beads, a fine silver or gold chain, colourful threads intertwined or even just a band of coloured cloth to match your outfit, remember, anything goes.
Colourful beads are a trendy option and can cost you as little as Rs 50. If you prefer precious metals, get ready to spend anywhere from Rs 300 (for a fine silver chain) to Rs 1000 (for a gold option).
Do you want to see your fashion fundas on rediff.com? If so, mail a pic of your favourite fashion accessory, along with a brief description of where you got it and how much you paid for it, to getahead@rediff.co.in. Make sure to include your name, age, occupation, and contact details, and we'll feature the best entries!