Advertisement
August 21, 2007


Hyderabad, 1. It's an interesting address for the Abids area, postmarked 500001. The 1 standing, of course, for the position it takes on your Sunday priority list. Because, starting from the Abids main road right down to the post office, are a set of closed showrooms.

The signs yell Raymond and Levi's, but the shutters are mercifully downed. In front of them squat glorious bookstalls, bargain heaven at every step with haphazardly stacked finds peeking out from alongside oversold bestsellers and high-heeled chick-lit.

Street bookshopping is always fascinating, digging through piles of unreadable tripe to unearth something fun. Mumbai used to have quite the thriving scene near the Fort area up until a couple of years ago, when the booksellers were lamentably banned.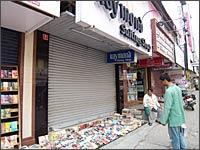 In Hyderabad, the bargains are in a different league. Many a book is to be found in huge heaps, to be sold for a tenner -- or a fiver. Five rupees? And in that you find greatness, despite the fact that giggling schoolgirls are ransacking the books hunting for Nancy Fridays and -- I kid you not -- A Brief History Of The Backstreet Boys.
Adjacent thrilled squeals nevertheless, the search proves fruitful. I pick up two Gregory McDonald Fletch novels, the first and third in the series, Walter Tevis' The Man Who Fell To Earth, and one of Clive Barker's Books Of Blood. I forked over a twenty and walked away, shaking my head in utter, delighted disbelief.
And there are stalls where you don't even have to sift through tripe. A few line their makeshift shelves, or pavement lines, with very promising literary fiction -- their only request that you pay more. Twenty rupees a book, nabbing you everything from hardcover Philip Roth to Larry McMurtry to Doonesbury collections.
Books not in one of these helpful piles retail at similar rates, haggling is an obvious part of the game -- while sometimes the prices seem so low you feel guilty about undercutting them further. Also on offer are 'old' magazines: Rolling Stone, Macworld,  Esquire all two-three months old, retailing for about 50 rupees.
A friend and Abids regular tells me the markets been around for over 35 years -- 35 is as far as current booksellers remember. It could have been much longer.
Either way, this is tradition and ritual of the finest kind. And more incentive to hit the city for a weekend than even the much-feted biryani.