Advertisement
August 20, 2007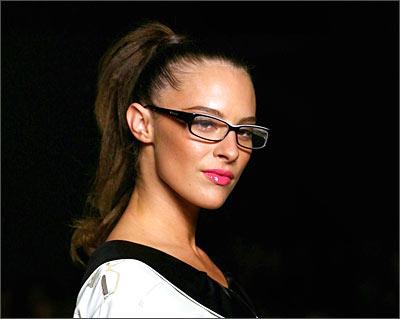 Eyewear is making a statement these days, and it's not just restricted to sunglasses.
Spectacle frames have come out of the almost-not-there trend and are now in check-me-out mode! Thin wire frames and rimless spectacles are out, giving way to bold, colourful frames that are impossible to ignore.
Pick up a pair of red, blue, pink, yellow or even white frames to complement your outfit and get noticed. They could be slightly embellished with a contrasting colour or, if you're feeling extravagant, spring for a pair embellished with Swarovski crystals.
Available in almost every brand and non-brand, a chic, vibrant frame could cost you anywhere from Rs 500 to Rs 3000.
Photograph: Kristian Dowling/Getty Images
Do you want to see your fashion fundas on rediff.com? If so, mail a pic of your favourite fashion accessory, along with a brief description of where you got it and how much you paid for it, to getahead@rediff.co.in. Make sure to include your name, age, occupation, and contact details, and we'll feature the best entries!