August 07, 2007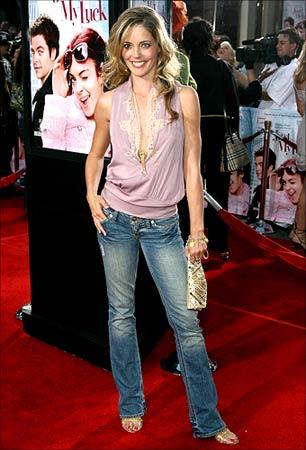 Thin is in and skinny jeans are the rage right now. If you're looking to make a style statement, there's nothing trendier than squeezing yourself into a pair of dark denim jeans that fit tighter than a sausage casing (take a hint from actress Christina Moore, seen here on the red carpet during a movie premiere).
And don't forget, the mantra is, 'how low can you go'? The lower the waistline, the cooler it is -- but for that you've got to have a flat tummy and the right look. There's nothing uglier than an unsightly bulge under skin-tight clothes. So get yourself in shape before you pick up on this trend.
Where can you get yourself a pair of skinny jeans? Practically everywhere at the moment -- in Mumbai, pick up a pair for as little as Rs 300 from tiny stalls along Bandra's Hill Road, or then for Rs 3000 and up at a designer store like Guess or Mango.
Photograph: Michael Buckner/Getty Images


Do you want to see your fashion fundas on rediff.com? If so, mail a pic of your favourite fashion accessory, along with a brief description of where you got it and how much you paid for it, to getahead@rediff.co.in. Make sure to include your name, age, occupation, and contact details, and we'll feature the best entries!