August 02, 2007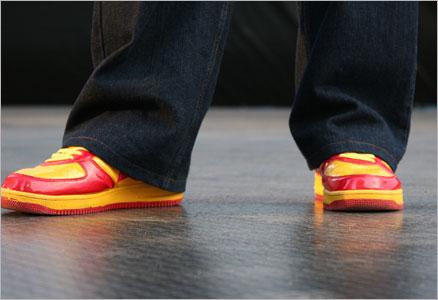 When it comes to sneakers, fun and funky is the way to go!
These multi-coloured kicks aren't suitable for formal occasions, of course. But that's the point! They're zany, wild and sure to liven up any outfit.

Combine them with jeans, trousers, shorts or swimming trunks -- they go perfectly with just about anything.
When shopping for a pair, keep one rule in mind -- brighter is better.
Look for similar offerings by Adidas, Reebok and Nike this fall. Beware, however, that the brand name shoes come with a Rs 2,000 and up price tag.
If, on the other hand, you're willing to forego the big labels, you'll pay between Rs 300 -- Rs 500 a pair. In Mumbai, try Fashion Street and Linking Road to find affordable, attractive options.

Photograph: Roger Kisby/Getty Images


Do you want to see your fashion fundas on rediff.com? If so, mail a pic of your favourite fashion accessory, along with a brief description of where you got it and how much you paid for it, to getahead@rediff.co.in. Make sure to include your name, age, occupation, and contact details, and we'll feature the best entries!