Advertisement
February 01, 2006


Though the Common Admission Test, which will be held in November this year, is some time away, it makes sense to start working on your basics right from now.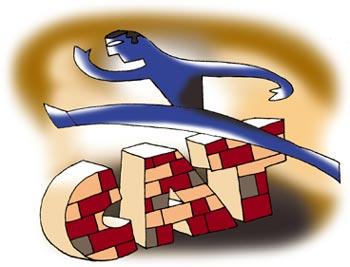 This will give you the edge that many lack once they approach the last three months. It will get you closer to your goal of getting your MBA degree from a good B-School.

In fact, the most important reason why students do not make it to the prestigious Indian Institutes of Management is the lack of confidence in themselves. More often than not, this lack of confidence stems from inadequate preparation.

Here is the opening salvo of rediff.com's CAT 2006 coverage, which will help you arm yourself for D Day.
We start with answers to the most frequently asked questions on how the gateway to most big B-Schools works.
When should I start preparing for CAT 2006?
There is no right time to start preparing for any exam. Once you have decided to have a go at CAT, there is no point in waiting for an auspicious moment for the preparation to begin. Start NOW.
What are the prerequisites/eligibility for CAT and admission to IIMs and other B-Schools?
Anyone who has completed or is in the final year of his/her bachelor's degree (Any stream: Engineering, medicine, humanities, sciences etc) can take the exam.

For some of the institutes, a 50 per cent aggregate at the bachelor's level is a must whereas for institutes like the IIMs, there is no such minimum requirement. Any graduate can write the exam.
Is CAT a tough exam?
Any exam is tough if you do not prepare.
The best exams test the calibre of a person by throwing at him/her difficulties that only the best-prepared mind can handle. CAT is one such exam.
What is the pattern of the CAT exam?
One of the reasons why CAT is considered tough is that the pattern changes from year to year. In the 1990s, it was a four-section test with English making up the major chunk. However, from 1999, CAT has become a three-section exam with English taking up just one third of the total paper.
The pattern for the last three years is given below. The numbers in the brackets indicate the total marks of the section and the digits outside the brackets are the number of questions in the section in that year.
| | | | |
| --- | --- | --- | --- |
| Section | CAT 2003 | CAT 2004 | CAT 2005 |
| Quantitative Ability | 50 (50) | 35 (50) | 30 (50) |
| Data Interpretation and Logic | 50 (50) | 38 (50) | 30 (50) |
| Verbal and Reading Comprehension | 50 (50) | 50 (50) | 30 (50) |
| Total Questions (Marks) | 150 (150) | 123 (150) | 90 (150) |
Do all questions carry equal marks?
Till 2003, all questions carried equal marks. But as can be seen from the table above, in 2004 and 2005, there was differential marking.

Last year, for example, all sections had 30 questions out of which 10 were allotted one mark each and 20 were allotted two marks each, and 50 marks per section.
Are wrong answers penalised with negative marking?
Yes. A wrong answer costs you one-third of the total marks for the question. That is, if a question carries one mark, then you get -1/3 marks (note the negative sign) for the wrong answer.
This year, the XAT exam (Xavier Labour Relations Institute Admission Test, the entrance test for XLRI-Jamshedpur) had progressive negative marking. For the first five questions that go wrong, the negative mark was -1/3. For any additional mistake, the negative mark was -1/2.
What are the other exams I can sit for if I prepare for CAT?
Almost all the management entrance exams test the aptitude of the candidate.
The aptitude test consists of English (verbal ability and reading comprehension), Quantitative Ability (mostly Class X level math, except in some exams like XAT and JMET where pure math, which is taught at the higher secondary level, questions are asked), Data Interpretation, Data Sufficiency and Reasoning.

In some exams such as MAT (Management Aptitude Test, another all-India common entrance exam), SNAP (Symbiosis National Aptitude Test, for the institute in Pune), IIFT (entrance test for the Indian Institute of Foreign Trade), IRMA (entrance test for the Institute of Rural Management at Anand) and ATMA (the Association of Indian Management Schools' Test for Management Admissions, another all-India exam), there will also be an additional section: General Awareness.
As can be seen, once you prepare for CAT, you can attempt almost all the management entrance exams.
In addition, the preparation will also be helpful in cracking the campus recruitment related exams. However, the patterns of different exams have to be studied and attempted individually to get maximum results.
How do I prepare for the various sections in the CAT paper?
Verbal Ability and Reading Comprehension: The basic requirement for both these sections is a good vocabulary and a strong sense of grammar.
Ability to read fast would be an added advantage. In the first three months of preparation, you should spend a lot of time on improving your vocabulary and reading speed.
As the questions can be from any general topic -- economics, psychology, philosophy, sociology, politics, medicine, science, culture, arts, etc --  it is important to inculcate good reading habits.
Quantitative ability: You have to be very good at numbers and geometry. The best way to prepare for this section is to pick up a guide like the Trishna Book on Quantitative Ability and start working on the basics.
In the next three months, you have to complete the basics of all topics CAT covers.
The typical CAT Quantitative Ability questions are based on simple equations, ratio proportion and variation, percentage, profit and loss, numbers, indices, logs and surds, averages, mixtures and alligations, quadratic equations, progressions, time and work, time and distance, geometry and mensuration, permutations and combinations, probability, special equations, inequalities, number systems, functions and graphs, coordinate geometry and miscellaneous math logic.
Data Interpretation and Logic: In the last three years, DI is becoming more and more reasoning and logic oriented.
However, to start your DI preparations, it is important to improve your speed-calculation techniques.
You should be thorough with tables up to 20, fractions, squares and cubes of numbers.
In addition, learn the techniques of speed-multiplication and division. 
Once you are thorough with these areas, then taking up the different types of DI sets and working on them would be a simple and effective way of starting your preparations.
Is it important to join a coaching class?
Coaching classes cannot guarantee you an IIM seat.
But even Sachin Tendulkar needs a batting coach; so would a good coach help to get the best out of you.
By joining a coaching class, what you would be getting is proper direction in terms of preparation and readymade material prepared exactly as per the CAT requirements.

How many hours every day must I study?
There is no one single ideal number of hours that one should prepare.
It all depends on your ability and the state of your preparedness. If you start your preparation early, about an hour a day would give you a good start.

Similarly, when you start say in May/June, then about two hours per day may be required.
And if you start in August, then even four hours a day may be less.
Are there any books to help me prepare for CAT?
Though there are enough books written on CAT, there is no one -- or even two -- book that can give you an overall idea about CAT or the preparation for it.

Some books give the CAT papers of the last 10 years, which may be useful to browse and understand the level of difficulty of the exam. 

Most coaching institutes conduct mock tests and take you through past CAT papers, so no book needs to be bought.
However, reading newspapers daily, and going through weekly magazines like India Today, Outlook, Frontline, and business magazines such as Business Today, Business World or Business India will help you improve your general awareness.
It will also improve reading speed and vocabulary.
How do I prepare for individual sections?
Watch this space. We will deal with each of the areas in much more detail in the coming weeks and months.
AKRS Srinivas is an alumnus of IIM-Calcutta. He has an engineering degree in electronics and communication from Osmania University. He worked with Maruti Udyog Limited in Gurgoan, Delhi and Kolkata before joining T.I.M.E. , Hyderabad, as director of the CAT course. Teaching is his passion and he has been training students for CAT for the last 15 years.
Illustration: Dominic Xavier
DON'T MISS!