Home > News > PTI

'CAT is all about competition'

November 08, 2005 11:57 IST



The countdown to the Common Admission Test 2005 has begun.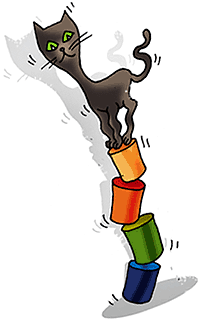 How tough are CAT questions?
Which are the best B-Schools in the country?
Can you skip an entire section in CAT?
CAT gurus Asan Dasari and Vinayak Kudva of IMS Learning Resources answered these queries in a recent chat with Get Ahead readers.
Asan is an engineer and has an MBA from IIM-Calcutta. He is the product manager for CAT at IMS, and guides students through their CAT preparation.
Vinayak, an engineer, has an MBA from the University of Mumbai. He is the head of academics at IMS, has rich experience in academia-based research and teaches Mathematics during his free time.
Here is the transcript:
Part I: How to improve your CAT score


---
Hari: Can i leave RC totally and do full VA with 90 pct accuracy if CAT will be a replica of last year?

IMS: Hi. I will not advise you to do that. Even if you complete Verbal Ability, you will have to attempt Reading Comprehension to improve your score in the English section. 


---
Sahil: How sucessful is the strategy of attempting around 80-85 questions.

IMS: Hi. Seems good, but much depends on the accuracy and the level of paper. If the paper is very easy then you will have to revise this strategy.
---
vivekagrawal: sir, giving cat but not getting d proper mindset. i.e concentration at d time of simcats. wht should i do

IMS: Hi. Your ability to focus in the given two hours is very critical. Since you have identified your weakness, you have to now work on it. Try to improve by taking tests at home and ensure that you do not get up in between.
---
som: hi,am working for an IT company for almost 1.5 years,is this work ex really relevant?

IMS: Hi. Yes, it is.


---
vishu: sir can u tell me how much will a simcat %ile of 95 will turn into actual cat

IMS: Hi. We have usually seen that a 95th percentile in the SimCATs has resulted in a 98+ percentile in the actual CAT.
---
amit: WITH ABOUT 20 DAYS TO GO HOW MUCH TIME SHOULD ONE DEVOTE TO CAT STUDIES DAILY?

IMS: Hi. Not more than four hours per day. Try to ensure that you keep good health in the next 20 days.
---
Baresi: approximately how many ppl, from those who appear in CAT, get calls for GD/PI.....also, wat is the cut-off percentile for this??

IMS: Hi. Usually the ratio varies from 1:4 to 1:6 for the various IIMs.

The average cut off percentile is 98+, though there have been few students with 96+ percentile too who have received calls.

---
narayanan: I have finished MSc electronics..is there any poosibility for attempting CAT? WILL that be useful to me?

IMS: Hi. Yes, it is possible. However, you should take CAT only if you plan to do an MBA.
---
ram: Hi, I am scoring abt 85 odd percentile in SIM Cats...Realistically what insttitutions should i be aiming for.. I am an engineer with 1.5 years work experience.

IMS: Hi. You should aim for the best institutes. You are just a few days away from CAT, so I would advise you to focus on it and improve your performance. For most institutes, you can still apply after the CAT too, so do not worry.


---
Dhiraj: Hello sir, I am working at a financial services BPO (back office).I wanted to know if this will be recognized as valid work experience by the IIMs

IMS: Hi. It is valid work experience provided you joined the BPO after graduation.
---
Gauri: Sir, is SP Jain Institute of Management a good institute...plllllllllllllllllllzzzzzzzzzzzzz answer me

IMS: Hi. SP Jain is one of the top B-schools in the country.
---
sm: hi...As CAT is nearing, the thing that baffles me is that my percentiles are not steady...rather they are very fluctuating...sometimes very high and sometimes very low...what do I do??

IMS: Hi. This is because you are not analysing your test properly. Analyse and learn from each question in each test and you will see your overall performance improve.

---
Abhishek B: Sir, in CL mock cats i have been clearing cutoffs in qa and di, with good score in di, but i'm unable to clearthe cutoff in english section. This has been the story in the last 2 mocks. What should i do till the D-day tobell the CAT?

IMS: Hi. If you have not been able to clear the English cut-offs, you should work on the English section before you take the next test.
---
Sahil: Can you please provide an effective strategy for giving the quant section. Usually I get so involved in attempting probs that I find that many simple probs at the end of the test were not even seen by me

IMS: Hi. Use this strategy.
i. Skim through all the questions.
ii. Do the questions you think you will be able to solve easily based on your areas of strength.
iii. If time permits, repeat this exercise for the questions you did not attempt in step two.
---
asan dasari: Dont you think the iim's should start a model for mba to enterpreuners and the like who just need some skillsets for their business. Probably a requirement-based MBA training ?

IMS: Yes, they already have such programmes.


---
divya: what is the best strategy in case of a pattern like last year.considering the 2 mark questions are really tough

IMS: Hi. It is not about choosing between one markers or two markers. It is about maximising your overall score in each section in the given time frame.
---
suniel: sir,wht is the ideal percentile score for admission into T.A.Pai,& also does it consider any sectional cutoffs.plz answer this question sir.

IMS: Hi. Last year, TAPMI had invited students with a minimum of 92+ percentile.
---
Mihir: Which exam is more competitive and tougher than CAT or XAT?

IMS: Hi. All tests are relatively easy since they test your basics. What makes them tough is the competition. You should strive to perform well in the test.


---
Dhiren: I am having 2.5 years expeience. 2 years exp in manufacturing industry and presently i am wth ERP implementation company as Project Consultant.

I prepared for CAT but i am not very sure that I will be able to get through this year. Please advise what to do.

IMS: Hi. You should do your MBA from the best B-schools. Ensure that you do not compromise.

In case, you do not get a call from the IIMs, try for them next year.
---
sm: Are the institutes, SCMHRD and SIBM under the SNAP test good enough?

IMS: Hi. Both SCMHRD and SIBM are good institutes. They will be in the range 15 to 25 ranked colleges.


---
kishore: Hello sir, I would like to know which institutes in india are at par with IIMs ?

IMS: Hi. XLRI, FMS, SP Jain, JBIMS, MDI, NITIE, IIT School of Management and ISB will be at par with the IIMs.
---
Part I: How to improve your CAT score
Next: Part III of the transcript
DON'T MISS!
Illustration: Dominic Xavier
© Copyright 2005 PTI. All rights reserved. Republication or redistribution of PTI content, including by framing or similar means, is expressly prohibited without the prior written consent.



What do you think about the story?








Read what others have to say:





Number of User Comments: 3








Sub: querry

sir I m a up board stdnt I m good in english but not in word meaning wat shd i have to do for scoring ...


Posted by rahul rai









Sub: NMAT which is conducted by NMiMS(Narsee Monjee Institute of Management Studies)

Sir, I would like to ask you whether part time MBA programme has got the weightage equivalent to the MBA full time programme if it ...


Posted by shaks









Sub: CAT 2005

Hi. to all of my friends who are giving CAT 2005. I am expecting a paper with 4 sections this time around and it is ...


Posted by vikash sureka






Disclaimer