Whether Anoop Desai lasts in American Idol or not, one thing is certain, say his family members -- his passion for music will continue. Desai was back in the competition after being nearly booted out of it. As a reporter put it, 13 became a lucky number for him early March when he won a previously unannounced 13th spot in the next round of the hugely popular Fox singing contest in which viewers vote in millions.
'A spot in the American Idol finals looked like it was Anoop Desai's to lose in the first live-performance week,' wrote MTV.com's Katie Byrne, 'but when the 21-year-old student came out with a sleepy performance of Monica's Angel of Mine, he didn't make the cut... The judges saw something in the affable singer and brought him back as a wild card.'
Desai told Byrne: 'It was the pits, man. It was the difference between having all your dreams dashed and then three seconds later, they're alive again. It was a shock, it was a genuine shock for me. I'm just glad I'm still here.'
Just as there are many rooting for him, there are also many who complain he cannot really dance or sing. But one of his closest family members, his aunt Kirti Desai, says he is extremely disciplined and will continue doing research in folk music. He has taken a semester off his studies of Masters in Folklore and Music at University of North Carolina, Chapel Hill (UNC) to be in the competition, she said.
"Music is his biggest passion," she added. "We first heard him sing [at a family event] when he was 17,' she said. 'We knew he was fond of singing but we never suspected he was so good."
Family members and friends said they knew he has been singing in the school choir and was a member of his high school a cappella group. "But did we ever imagine that he was blossoming as a singer," his aunt said, chuckling. 
He is the second person of Indian origin to make an impact at the competition, which is watched each week by over 25 million Americans. Though he has not created the mass hysteria -- and derision too -- 17-year-old Sanjaya Malakar did two years ago, Desai has received quite a bit of media attention. And there are quite a few stories that teens across the country have a soft corner for him.
Eonline.com wrote March 11: 'He's got something on his side: The admiration of young voters (who know how to use a telephone).' Other publications have said Desai has a high likeability factor and the judges, who can be ruthlessly critical, have a soft corner for him.
'We got a golden ticket to tonight's taping and noticed that out of all the kids with handmade signs for their favourites, nearly half were for frontrunner Adam Lambert (no surprise there),' Eonline wrote, 'and the other half were for...yep, Anoop'.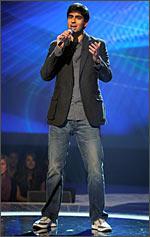 A week ago, he received the second-lowest votes in the competition. 'Anoop Dog has been more like a pussycat with his weakling attempts to play the bad boy,' wrote Daniel Bubbeio in Newsday March 17. Echoing these thoughts, Bob Payne wrote in Seattle Times: 'He's counting his blessings after nearly getting booted. How many second chances will America give him? The country theme this week doesn't do him any favors '
Desai, who hails from Chapel Hill, North Carolina, is as much interested in scholarly pursuit as in music, his friends and family say.
Many considered 'Anoop Dog' -- as judge Randy Jackson called him -- the underdog in the competition.
Desai has had erratic showing in the competition. Critics pointed out that he stumbled with his performance of Thank You by Boys II Men, but bounced back. His rendition of Michael Jackson's Beat It was panned too, yet he was not eliminated. A viewer wrote in his blog: 'It was a horrid performance. He destroyed a classic like it was a karaoke contest. I pray to God that he loses.'
Another American Idol fan wrote: 'I honestly think they [the show] are using Anoop to stir up drama this season. They know he has a HUGE fanbase and are using him to their full advantage by jerking him around from week to week. I love Anoop and hope he makes it to top five at least.'
Some viewers could have also been moved by his motivational story. He has said he is competing to honour Eve Carson, a fellow student at the University of North Carolina, who was brutally slain last March and who had urged him to audition for American Idol.
Desai said to Idol viewers, 'It's been a tough day. We're all thinking of Eve, and I love you, Chapel Hill.' Carson, the student body president, was shot multiple times in a robbery in a widely reported crime.
Desai talked about thinking of Carson, saying, 'When we graduated in May, they passed out to the entire senior class these big buttons that just say 'Eve' in Carolina blue letters on them, the buttons are black, and I carry that in my pocket every time I go onstage or go on to a results show just to remind myself that I'm doing it for her.'
His friends say Desai's passions include food. Though he was raised in a vegetarian family of immigrants who came to America about 40 years ago, Desai is a "typical American kid who eats typical American food," a family member said. "But he has a lot of discipline, and though he enjoys food greatly, we have never seen him overeat."
News&Observer.Com revealed an interesting fact about Desai: 'Before he hit the big-time, however, the Chapel Hill native was an honour's student as an undergraduate within UNC-CH's American Studies department,' it wrote. 'For an honour's thesis, he chose a topic near and dear to the hearts of North Carolinians: Barbecue.'
It added: 'The 60-page thesis... is an analysis of the various types of southern barbecue and its influence on the culture of southerners.'
The online news wing of News & Observer has also been offering free advice to Desai, who has become one of the best known young men from the state in recent weeks..
'You've come across as a kind of nerdy, a cappella singing college guy who can bust out the R&B,' it said. 'People love that twist. Keep it up.'
It added: 'Dumb down: You're a smart guy; that's pretty clear. You're studying for a master's degree. But sometimes on TV, intelligence turns into elitism. To win Idol, you have to be a man of the people. And the people won't get vernacular traditions, consciousness symbols or what the heck one does with a folklore degree. So let's downplay that... But play up your goofy charm. They'll eat it up!
His aunt said Anoop calls the shots himself. "Anoop listens to good advice," Kirti Desai said. "But he was raised to be his own person. One of the biggest lessons he learned in his childhood was to be humble and believe in the Indian philosophy of doing good karma."