A week before the release of Delhi 6, its producer and distributor UTV was suspecting that while the film was getting a wide release, with about 1200 theatres showing it across the globe, the movie wasn't going around setting records. On the other hand, they expected it to have long legs at the box office.
The weekend results for the film range from being promising to disappointing. It took in India $5.02 million on 945 screens, a decent but unspectacular performance while in the United Kingdom, it grossed a disappointing $160,887 on 43 screens. It fared far better in the Middle East grossing an encouraging $350,000 at 29 locations in its first four days. In the crucial North American market, it took in $600,000 on 90 screens.
"We could have done much better in North America given the very positive reactions from Friday and Saturday audiences," said Lokesh Dhar, the head of UTV's operations in North America. "But on Sunday we crashed by about 65 percent. I think the Indian audiences were glued to their TV sets watching the Oscars and rooting for Slumdog Millionaire [Images]."
It is quite possible the film starring Abhishek Bachchan [Images], Sonam Kapoor [Images] and a distinguished cast of veterans including Waheeda Rehman [Images] will recover and have a solid second week, Dhar said. He added that UTV expected the film to perform well in India all during the first week, and go into the second with solid word of mouth.
"The Indian business differs a bit from America," he continued. "Here, the business at the weekend is very crucial, with a dramatic slump thereafter till the next weekend comes around. But in India there is always a potential of a seven day strong box office."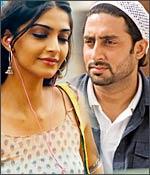 Some viewers were not happy with the non-linear narration of the film and that it was more episodical than a plot driven film, UTV said.
"So it is crucial that those who have really liked the film, especially women audiences in America, spread the word about it," Dhar said.
Earlier, UTV honcho Ronnie Screwvala had said the film was not going to be a one or two weeklong box office player. "We have a lot of things gong for this film including terrific music (A R Rahman) and strong performances but we are not expecting record setting openings," he said. "This film will grow on the audiences. I would not be surprised if many people will come home not knowing what exactly to make out of the film. But we hope they will think about it and the next day or so, and they could be saying, it was an interesting film, and let us go and see it again."
Meanwhile, Billu, which started promisingly in North America crashed by about 85 percent in its second weekend, grossing about $700,000, with no hope of reaching $1 million benchmark.
Meanwhile, in India, the two recent boxoffice heavyweights are nearing their theatrical run, with Ghajini [Images] grossing $33 million and Rab Ne Bana Di Jodi, $25 million. Each film has grossed over $7 million outside India. The miniscule-budgeted Raaz [Images]: The Mystery Continues, which was made for less than $1 million, too has had a strong run at the Indian box office, according to the box office tracking service boxofficemojo.com, earning about $8 million.