Home > India > Movies > Report


Discuss |
Email |
Print | Get latest news on your desktop

Irrfan Khan's new avatar for television

Abhilasha Ojha | February 03, 2009 12:30 IST


| | |
| --- | --- |
| Irrfan Khan | |
| | |
| | |
| | |
| | |
| | |
| | |
When Irrfan Khan [Images] began researching material for his new role, as an anchor for an important television show on FOX History and Entertainment channel, he says he viewed patriotism from a new perspective. "It wasn't like shouting from the rooftops and being jingoistic about anything," he reflects. In his view, the role as an anchor for the channel gave him a new way to connect with audiences.
Our meeting -- sadly, it's a telecon, since he's in Mumbai [Images] and I, in Jaipur [Images], incidentally where he was brought up, at the now-concluded Jaipur Literature Festival -- has been fixed for the sole purpose of talking about his new avatar, as an anchor of India Celebrates. It's a show that, according to Sudha Sadhanand, vice president, programming, Fox History & Entertainment, "relives the glorious past of India on the small screen and allows viewers to experience the change that is today's India".
On January 26, 2009, the channel had an entire day devoted to spectacular shows celebrating the Indian spirit on the occasion of Republic Day, all of which were presented by Khan. However, also on the agenda, through the next three months, are similar shows which will continue to offer a slice of India to viewers on the channel.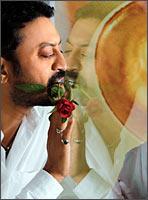 "Through this show, patriotism has meant fleshing out details, not just about the Indian side of the story, but also about the British side of the story. Finally," he says, "India Celebrates as a show will continue to give answers to many viewers. The segments of the show don't look at simply criticising those who ruled us, but yes, it offers a glimpse into the stories that were quietly changing India at a time when she was fighting for her independence."
Also changing the course of how one looks at contemporary Indian cinema is Slumdog Millionaire [Images], Danny Boyle's [Images] famous film that's been in the news for quite some time. Khan's been a part of it too, albeit in a smaller way than, say, Anil Kapoor [Images] or Dev Patel [Images], who clearly have far more screen space than him. Despite its unprecedented success the film is getting severely criticised for presenting India in such poor light. How does Khan deal with the anti-Slumdog Millionaire voices that have gained momentum especially in India where the film is set? Khan has a different analysis to the whole controversy.
"When you get out of an Indian airport, what do you first see? Beggars," he says, without waiting for any answer. "Danny Boyle," he defends, "has presented a humble story of an Indian from a lower economic background in an extremely mature manner. He's used Indian artistes and approached the storyline to create what can easily be called an entertaining and an effective film."
Effective yet entertaining is exactly the sort of work that attracts Khan, a former National School of Drama student, to scripts. "I've been bored stiff with Indian soaps and television and the reason why I said yes to the History show was because it offered so much information in such an entertaining manner," he says. Fo instance, he was stunned at the research for one of the episodes where they presented the story of Noor Khan, daughter of Sufi maestro Hazrat Inayat Khan, who was a German spy. "The story in itself was so engaging that I instantly felt a part of it," he says, just as we turn the course of our conversation towards his forthcoming films.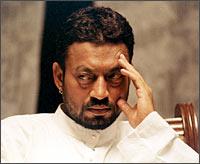 Khan's now working with big banners including Shah Rukh Khan's [Images] Red Chillies Entertainment which is bringing out Billu Barber, a story in which Khan, a barber, is best friends with Shah Rukh, a superstar. A modern Krishna-Sudama tale, isn't it? "Our films are in transition. It's a sign of change where our cinema is tilting towards the right directors, fresher stories and scripts and, most importantly, getting the right actors too," he tells us.
It's obvious why the last part makes him feel good about the Indian film industry. Clearly not the traditional actor material with superb biceps and a perfectly chiselled face, Khan's career graph has moved steadily but very, very gradually. Khan began his career moving from Jaipur to NSD and finally to Mumbai in 1987 where he started working in television serials. And though lady luck could've instantly smiled at him back then -- after all, he had a part in Mira Nair's Salaam Bombay -- his scene was deleted when the film was finally released.
Khan laughs and says that ever since the beginning of his career, "I wanted to redefine the image of the 'hero'." The "bumpy ride" -- as he calls his career -- didn't deter him since he had a lot of TV work to do.
Ironically, the West applauded Khan much before Indian producers and directors decided to seriously script characters specifically keeping Khan in mind. The Warrior, for instance, was one of the films that was extremely well-received on the international platform and did a lot to change the course of Khan in India. Khan, however, doesn't agree in entirety.
"Whatever recognition one gets abroad doesn't really reflect in terms of the work an actor gets in India," he says. In fact, he even laughs at the tag of being a "seriously good actor". "I shudder every time I hear this statement. It's anything but a compliment and puts you in a very awkward position because somehow people think that a 'serious' actor like Irrfan can't do comedy, or can he?" He considers Haasil, a film about college politics, the turning point of sorts in his career. Later, films like Maqbool, Life in a Metro and The Namesake [Images], to name just a few, only helped Khan firm up his position in Bollywood.
He's working with bigger banners and some of his films like Yash Raj's film New York, Priyadarshan's [Images] Billu Barber, Mira Nair's New York, I Love You, to name a few, will release this year.
And, he says, it's just the beginning.
Powered by
Email |
Print | Get latest news on your desktop