Home > India > Movies > Bollywood News


Discuss |
Email |
Print | Get latest news on your desktop

Naseer-Om Puri-starrer Shoot On Sight sinks

Arthur J Pais | September 30, 2008 17:54 IST


| | |
| --- | --- |
| A still from Shoot On Sight | |
| | |
| | |
| | |
| | |
| | |
| | |
Naseeruddin Shah and Om Puri [Images] are getting plenty of praise for their work in the thriller, Shoot On Sight, but the film itself isn't going anywhere, especially in America. It will not even come close to the South Asian-themed films in America, Brick Lane and Before The Rains, each of which ended its run with $1.1 million gross. Even the fact that Pakistan recently banned Shoot on Sight will not do the film any good at the box office. It has ignited little curiosity.
The film's producer Aron Govil could not get distributors for his film, and decided to distribute it himself. But just as he was getting ready for the film's release in America and the United Kingdom, he learnt that the film was banned in Pakistan. Jagmohan Mundhra, the film's director, told reporters that he was not surprised. The ban was because 'Pakistani actor Mikaal Zulfikar who plays Zaheer, a terrorist, is shown to be from that country.'
But for producer Govil, the market for the film was North America, Europe, and India. One of the more successful of Indian businessmen in New York, Govil, who has also hosted a number of Bollywood star extravaganzas in the city, released the film in 30 theatres in America. Though the film did not ignite the box office in its limited run and may not extend to more screens, Govil can have the satisfaction that he gave it a good shot. Unlike Mundhra's previous film Provoked, which had a scattered release and was shown in perhaps less than a dozen theatres in America, Shoot on Sight was at least shown in a decent number of venues.
'I have spoken to all the big distributors and at least they are upfront about why they won't handle the film,' he told a British publication, Spectator.com recently. 'They say it's too serious, it deals with issues that are too sensitive. So my attitude is, I made the film -- if I have to distribute it myself, then so be it. Obviously, after the cinema release it will have a future life on television and on DVD.'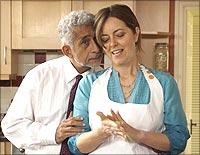 Of course, there are any number of 'serious' films on the marquee, including the Iraq-themed film The Lucky Ones, which opened in 425 screens on the same week as Shoot on Sight. At the recent Toronto International Film Festival, one of the most admired films was Kathryn Bigelow's The Hurt Locker. The film, which focuses on an army squad in Iraq that must defuse a bomb in a city, has found a distributor in many countries.
Shoot on Sight is based on a real life incident but most of its story is imagined for the screen. A Scotland Yard officer (Brian Cox [Images]) picks up the city's only high-profile Muslim commander, Tariq (Naseeruddin Shah [Images]), to investigate a suspected terrorist's death at the hands of an aggressive cop. He hopes Tariq, a father with a Westernized, interfaith family, can exonerate the police officer.
Soon we learn of Tariq's childhood ties to an extremist imam (Om Puri) and we wonder at the mysterious doings of Tariq's young nephew.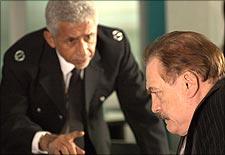 The influential trade publication Variety wrote the film had no salvation at the box-office and would be dead on arrival. '...is a disappointingly stilted melodrama masquerading as a political thriller,' it wrote. 'Looking and playing like a made-for-TV movie, pic is so busy making obvious points about Islamophobia vs Islamic extremism that it overlooks nuance and character development. Hot-button issues and name Indian stars may draw audiences for an initial look, but theatrical prospects are pretty much DOA .'
Wrote a commentator in boxoffice.com: 'A film dealing with the after-effects of the terrorist attacks in the UK, specifically dealing with a Muslim member of Scotland Yard...is not earning the reviews needed to overcome that. Finally, it is opening tonight in 30 theatres in select cities, which is going to be the deathblow to this film.'
Many reviewers said the film was well-intentioned but was too melodramatic and uneven in its flow. Wrote The Village Voice: ''Is it a crime to be a Muslim?' asks the poster's tagline; if you really need that answered, have I got a crude network-TV event of a movie for you.'
The New York Post complained that 'the performances are uneven, with the best work coming from Naseeruddin Shah as the dignified inspector, Brian Cox as his nervous boss and Om Puri as the scary imam.' The film, 'starts out as a thriller inspired by that city's 2005 Tube and bus bombings but gets bogged down in a family soap opera.'
The New York Times was a bit more generous than most other critics. The film 'is an earnest melodrama that struggles to surmount its good intentions,' it wrote. 'The movie's lack of subtlety is countered by an unswerving commitment to impartiality. Characterisation may be superficial, but it isn't bigoted, and the director, Jag Mundhra, finds space between his broad strokes to hint at the smaller -- but equally destabilising -- frictions between Tariq's white wife (Greta Scacchi [Images]) and his Muslim friends.'
The Times singled out Puri's performance but wished it could have been more nuanced. 'Yet it's impossible to watch the magnificent Mr Puri without recalling his work as the pained Pakistani cab driver in My Son The Fanatic. Based on Hanif Kureishi's screenplay, the film a young Brit's embrace of extremist wing of the Muslim community was commercially released in the UK and North America in 1997 and made a small but decent profit.'
Email |
Print | Get latest news on your desktop